I had the pleasure of seeing Will Jay perform at the Highline Ballroom in New York City on June 26th, 2016. He took part in the 'Grow Wild Tour' with several other emerging artists and stood out from the rest of the pack. His professionalism at the age of 20 years old showed that he is more than ready to become the next major player in the music industry. I recently got the chance to chat with Will about his career and the music video "Gentleman."
Thanks for taking the time to do this interview Will! What is your backstory? Can you give me some fond childhood memories?
Sure! My name is Will Jay and I'm a singer-songwriter from Los Angeles, California. I'm currently promoting my single "Gentleman", which is the lead song from my brand new EP. Previously, I was in IM5, a boy band best known for our video "Disney Dudez" with Todrick Hall, and I made the Top 20 in season 4 of The Voice in China. I don't remember much about my childhood other than music and playing Pokemon; my parents tell me I cried a lot.
I'm currently reliving my childhood with Pokemon Go as we speak. When did you develop a love for music and performing?
I've loved music for as long as I can remember. My uncle was a piano teacher, so I was put into piano lessons at a very young age. Some of my earliest memories are me sitting at a dusty piano passed down from my grandfather trying to learn Fur Elise and Mozart's Minuet in G. My love for singing and performing came soon after; I did countless community theatre productions and open mic nights (basically any chance I had to be on a stage). I think it's safe to say music is all I've ever wanted and all I'll ever want.
What was it like to shoot your music video "Gentleman"? Any fun stories on the set of the music video? It is so refreshing to see a video like that out there in this day and age.
Shooting the music video was honestly such a wonderful experience. I'm so proud of how the video turned out because I feel like it's the first true representation of myself as an artist. Also, I came up with the treatment and concept for the video myself, so to see the reaction I've gotten is validation that my ideas are good beyond the music. One particularly fun story that comes to mind is when we shot the part with the crosswalk, we had to constantly stop because cars would be coming down the road at random intervals. Also, the dancing in the video is rather intense, so after every shot I had to tuck my shirt back into my pants. Shout-out to Redwall Entertainment for filming the video and bringing my ideas to life!
As a former tap dancer, I am impressed with the choreography of the music video. Do you have a dance background? Who was your dance partner in "Gentleman"? Who was the choreographer? How long was the rehearsal process?
I do! I took ballet and hip hop for a couple of years when I was younger; after that I joined the boy band and became very accustomed to picking up choreography. For that reason, the rehearsal process was very easy and fun; all in all it took me about three hours over two separate rehearsals to pick up the routine and practice with the choreographer and my dance partner (Anthony "Kanec" Carr & Brooke Maroon, respectively). Brooke and I actually came up with a lot of the less-intense moves on set, such as sliding the ketchup bottle across the table in the diner and dancing in the crosswalk towards the end.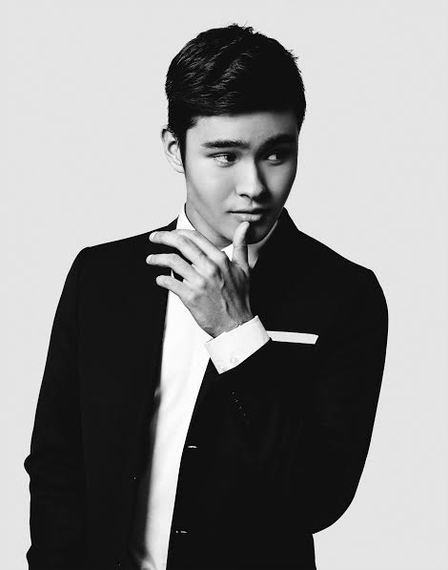 Photo Credit: Redwall Studio
Dating can be hard! What is some advice you can give guys and girls who are looking for love in the online dating world?
You can Tinder and text all you want, but the real connection comes when you meet someone face-to-face. For that reason, don't be satisfied behind a screen. I really make an effort to call people and most people are even surprised by that. Don't put all of yourself online; only allow that for someone who has looked you in the eyes and made the effort to connect with you on a human level.
Your mashup videos on YouTube are great! How do you put them together and select the artists and songs? What mashups can we expect from you in the future?
Thank you so much! I genuinely love making mashups; it feels like a way for me to pay homage to my favorite artists in a unique way. Regarding choosing songs, I'll pick an artist who I'm a fan of; I then go to their discography & write down all of their biggest hits. After that, I listen to all of the songs and pick out the parts of each song that I particularly like. When that's done, it's about fitting them all together like puzzle pieces in a smooth and cohesive manner, as if it's the same song. I've actually got a list in my phone of mashups I've yet to do, so you can expect a lot of them in the future, not only of my favorite artists but of full albums, musical genres and time periods!
We can't wait! I came across videos of you performing on The Voice season 4 of China. How did that experience come about?
I actually got an email randomly in April of last year from a producer of the show and thought it was a joke; when I found out it wasn't, I flew to China to properly audition and the rest is history! Fun fact: I flew back and forth from China seven times in that summer. Being on that show was such a crazy experience and made me realize that I'm stronger than I thought I was. I think being on The Voice in any country is a great experience and a lot of hard work.
Agreed. Why are your fans important to you?
I'm well aware that every artist on the planet says this, but my supporters are everything to me. For me, music is a chance for me to do something bigger than myself and connect with people I could never reach. I want to write the soundtrack for people's lives, whether it's a song that reminds them of a great time in their life or a song that simply gives them a good cry. As an artist, I can write something about my experiences and the listener can have a totally different interpretation that applies to their life. I genuinely want to know the people that connect to my songs because that means I connect with them on a different level.

You do that very well. Can you give your fans some details on the Radio Disney contest? Who are you up against?
I'm beyond excited to say that Radio Disney is currently playing my song! Their support has been absolutely wonderful. I suppose I'm up against everyone else they're playing, so if you go to their website and vote for "Gentleman" or call in to the station that would be awesome!
What are some goals and dreams you have for the future? Are there particular artists that you would like to work with?
My goals are just a continuation of what I'm doing now: I want to put out a lot more music, especially a full length album. I want to tour anywhere and everywhere they'll have me; I have a checklist of venues of various sizes across the country and the world that I want to play. I would also love to collaborate more with other artists and even tour with them as well. Bruno Mars is definitely at the top of my list with artists I'd love to work with, as well as singer-songwriters like Hozier and James Bay.
Where can new fans check out your work online? Are there any future tour dates that fans should know about?
To start, you can go to YouTube and check out the "Gentleman" music video! As I mentioned before, I also just put out a EP, so you can check that out on all digital platforms. As of now, there's no tour dates but you can go to willjaymusic.com and sign up for my mailing list to stay updated!
Thanks again for your time Will! You have a lot to be proud of.
Popular in the Community