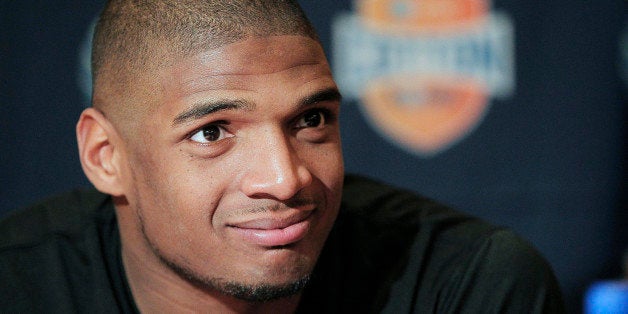 The NFL has been plagued by homophobic train wrecks. Just last week New Orleans Saints linebacker Jonathan Vilma expressed his fear of taking a shower knowing a gay player might be within eye range. There's former Minnesota Vikings punter Chris Kluwe now charging that he was fired because he supported gay marriage publicly, and saying he has witnesses to assistant coach Mike Priefer allegedly saying that "we should round up all the gays" and "nuke them." San Francisco 49er Chris Culliver last year threatened that gays better not even think about coming out in the NFL anytime soon (and got a slap on the wrist), and the New York State attorney general got involved after reports surfaced of a college player being asked during a scouting combine if he "liked girls," which would violate New York's law protecting against discrimination based on sexual orientation.
Now we have college football star Michael Sam, a former University of Missouri defensive lineman expected to be an NFL early draft round pick in May, coming out and getting a whirlwind of media attention. One reason he came out now, he says, was to get it out of the way, as it was widely known on his college team -- where players who knew supported him or just didn't care -- though not publicly discussed. And the issue was now coming up. "At a showcase game for college seniors last month," The New York Times reported, "several scouts asked Mr. Sam's agent, Joe Barkett, questions about whether Mr. Sam had a girlfriend or whether Mr. Barkett had seen him with women."
Exactly what big, strong linebackers like Jonathan Vilma are afraid of has always been puzzling, but homophobia is of course a phobia -- an irrational fear -- in its purest sense, and that's how phobias work. Guys like Vilma are cowardly for not facing their own bigotry and fear. But they're actually not as cowardly as the anonymous sources in the NFL responding to Sam's coming out by telling Sports Illustrated that professional football's not ready for an openly gay player. Here's someone identified only as an NFL player's personal assistant: "I don't think football is ready for [an openly gay player] just yet. In the coming decade or two, it's going to be acceptable, but at this point in time it's still a man's-man game. To call somebody a [gay slur] is still so commonplace. It'd chemically imbalance an NFL locker room and meeting room."
A "man's-man game"? "Chemically imbalance" the locker room? Really, that's pretty ugly. That Sports Illustrated even allows these people to say such crap without being quoted is rather pathetic. Imagine if a source had said any other minority group would "chemically imbalance" a locker room? Would Sports Illustrated give that person such cover? After all, Sam would not be the first gay player in the NFL by far, as we know there are many who are closeted, just as in every profession, and many who've come out after they left professional sports. These arguments against having openly gay players right now are the same offensive rationalizations used by those who said gays and lesbian couldn't serve openly in the military. And we see how that's worked out just fine.
Publicly, the NFL is being supportive, putting out a statement saying, "We admire Michael Sam's honesty and courage," and adding that they "look forward to welcoming and supporting Michael Sam in 2014."
But in the Sports Illustrated article numerous unnamed sources say Sam's going to be a "distraction" and not a problem any team is going to want to take on, questioning his coming out now and claiming it will hurt his chances. "It's one thing to have Chris Kluwe or Brendon Ayanbadejo, advocates for gay rights, on your team," one source said. "It's another to have a current confirmed player."
Cyd Zeigler at LGBT sports site Outsports, which covered the back story of Sam's coming out, dismissed all this, tweeting, "Don't listen to the NFL jerks who think Sam will be too big of a distraction," adding the hashtag #oldguysinsuits. Michael Sam presents an incredible opportunity for the NFL to put all the ugliness behind it and move into the future. We'll see if Zeigler is right, and if Sam will save the NFL from its homophobia.
REAL LIFE. REAL NEWS. REAL VOICES.
Help us tell more of the stories that matter from voices that too often remain unheard.