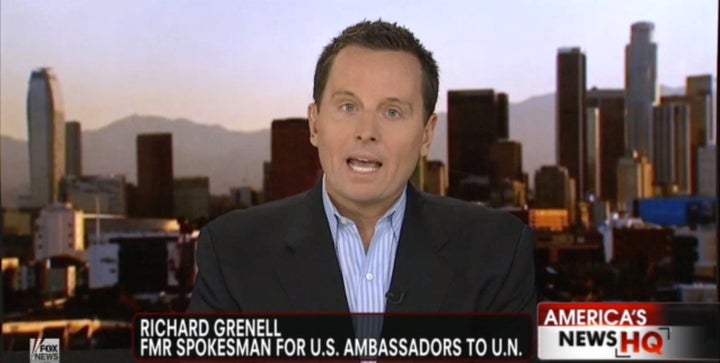 While courting evangelical voters in Florida just three months ago, Mitt Romney said he would "propose and promote" a federal marriage amendment banning gay marriage in the U.S. Constitution, markedly distinguishing himself from President Obama, who is opposed to such an amendment and who Romney accused of "aggressively trying to pave the path to same-sex marriage." Romney's newest spokesman, however, has admittedly been paving his own path to a gay marriage. And it looks like his opportunity to walk down the aisle has finally arrived.
Richard Grenell, the openly gay man named as Romney's new foreign policy spokesperson, made quite a splash in recent days, both with attention to his having scrubbed his tweets and the attacks already beginning from the antigay zealots.
I'll weigh in tomorrow with thoughts on what this choice by Romney means. But I had to point to something that glared out at me while reading an interview with Grenell from 2008. The gay Republican who served in George W. Bush's administration as spokesman for the ambassador to the United Nations lamented to Kerry Eleveld of the Advocate that he couldn't get married at that time in the state of New York, where he met his partner, Matt Lashey. But it was clear that when it became possible, the two would tie the knot.
"It is not an option for us in New York, but hopefully someday soon it will be," he said. "In my mind, and in Matt's mind, this is it. We're married."
Well "someday" actually arrived nine months ago, when the first gay and lesbian couples began marrying in New York, 30 days after Governor Cuomo signed the historic marriage equality bill into law. From his comments in 2008, it's reasonable to assume that Grenell and his partner would want to get married as soon as possible. I'm actually surprised they didn't do it already.
So, will they get hitched during the campaign? Or will they wait until after the election? And that begs yet another question: Will candidate Romney and his wife -- or perhaps President and Mrs. Romney -- along with the rest of the Romney clan, be in attendance at the Grenell gay nuptials? What kind of gift will Mitt and Ann pick out for the newlyweds? The questions are endless.
Seriously, even if Grenell and his partner are waiting so as not to cause a distraction -- and even if Grenell put it off for the past nine months, perhaps knowing he'd have this job -- it's safe to assume from his comments that he and Lashey will be getting married at some point. The question is when, and if Romney will be president. How bizarre would it be for President Romney to "propose and promote" that marriage amendment he'd promised social conservatives shortly after a trusted aide had enjoyed a beautiful day with family and friends celebrating gay love? Surely, the culture warriors on the right are figuring this one out.
Popular in the Community