On May 16 Narendra Modi's Bharatiya Janata Party (BJP, Indian People's Party) and its allies won 336 out of 543 seats in the Indian parliament, giving them India's strongest political mandate in over 30 years, and putting them within reach of the 2/3 majority needed to change the Indian Constitution.
The decisive win means Prime Minister Modi can now reshape India's listless foreign policy.
Modi is credited with being an exceptionally focused administrator, with over a decade of experience running one of the country's key states, Gujarat. While Chief Minister of Gujarat, he spurred growth by tackling corruption, leveraging the Gujarati diaspora to increase investment and business opportunities, and successfully worked with a range of international partners, including China, Japan, Israel, and yes, the US.
Modi and his experienced team have had a lot of time to craft a national foreign policy and plan its implementation. Modi's main drive is stable and secure growth that makes India -- all of India -- stronger. According to the BJP's election manifesto:
The vision is to fundamentally reboot and reorient the foreign policy goals, content and process, in a manner that locates India's global strategic engagement in a new paradigm and on a wider canvass, that is not just limited to political diplomacy, but also includes our economic, scientific, cultural, political and security interests, both regional and global, on the principles of equality and mutuality, so that it leads to an economically stronger India, and its voice is heard in the international fora.
This is a far more complex, comprehensive and holistic foreign policy than classic International Relations theory is used to. Those looking to explain Modi's India with labels like 'right-wing' or 'religious fanatic' are going to find themselves stymied.
So, what will India's foreign policy under Modi look like?
A main priority will be to generate investment. Among many options are an amnesty for untaxed "black money" which is estimated to be in the trillions of US dollars, an active pursuit of illegal money stashed abroad, and the appointment of a Special Envoy for Development Diplomacy to facilitate foreign investment into India, especially from Asia and the Gulf Cooperation Council (GCC).
The foreign service will be revamped, including the changing of key Ambassadors (some of whom are perceived to have been appointed more out of their loyalty to the Nehru-Gandhi family than to India as a whole).
Modi will reinvigorate India's soft power in partnership with the Indian diaspora worldwide. For example, Africa and the GCC both have large, established Indian communities that can facilitate a range of partnerships with India.
Modi will also consolidate India's relationships with its immediate neighbors, and with regional organizations such as SAARC and ASEAN. In a widely welcomed and groundbreaking first step, Modi invited leaders from all SAARC countries (and Mauritius) to his swearing-in ceremony, followed-up by bilaterals. All came, including Afghanistan's President Karzai who passed up the opportunity to meet President Obama, but made sure to meet Modi.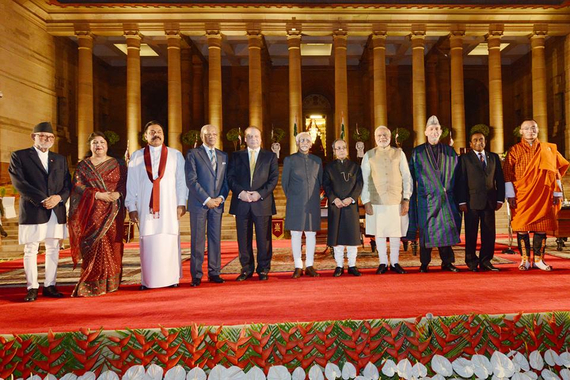 A new era in regional relations? SAARC leaders attending India's Prime Minister Narendra Modi's swearing-in on 26 May 2014. From left to right: Nepal's Prime Minister Sushil Koirala, Bangladesh's Speaker Shirin Sharmin Chaudhury, Sri Lanka's President Mahinda Rajapaksa, Mauritius' Prime Minister Navin Ramgoolam, Pakistan's Prime Minister Nawaz Sharif, India's Vice President Hamid Ansari, India's President Pranab Mukherjee, India's Prime Minister Narendra Modi, Afghanistan's President Hamid Karzai, Maldives' President Abdulla Yameen Abdul Gayoom and Bhutan's Prime Minister Tshering Tobgay.
Modi is likely to be tested, particularly by Pakistan, but he has strong backing in India's intelligence and defense communities and, unlike recent administrations, is likely to fight back hard, and smart.
Within Asia, primary growth partners will be China and Japan, and to a lesser degree old partner Russia. That may appear contradictory to some, but in the complex calculus of Asia, countries are not as bound by the zero-sum game 'you are with us or against us' policies.
Economic engagement may dovetail with strategic interests that could see, for example, India and China working together in Afghanistan (possibly even with Russia and, to some degree, Iran), a lowering of tensions on the India-China border and, eventually, a larger Indian presence in the wider Indo-Pacific. Watch for a growing and strong India-Japan technology partnership.
As for Western engagement, the Devyani case is instructive. In December 2013, female Indian diplomat, Devyani Khobragade, was arrested and strip-searched by New York police officers for an alleged visa violation. This led to a series of strong protests from Delhi, including Delhi's refusal to meet US delegations. Ultimately, US ambassador to India, Nancy Powell, quietly left her post mid-term.
The episode was a useful wake-up call to Washington that power balances are shifting, and it will need to adapt from an approach of allegiances to one of true alliances if it wants to maintain its relationships.
Equally important for India was that it signaled to countries around the world that increased reciprocity is possible. India's moral leadership position in Asia, Africa and Latin America rose dramatically for defending 'one of its own' against perceived injustice from a stronger state. Delhi's stand hinted at the possibility that India might offer a different path in international relations that is not Western nor is it Chinese. Real or not, many find the concept intriguing.
Against this backdrop, how will India engage with Europe? Modi is pragmatic, and looks for pragmatic partners who will treat India equitably and seriously. Germany, apart from its high-tech compatibilities, was one of the first European countries to note Modi's rise and potential and it is likely that, on his way to the upcoming BRICS summit in Brazil, Modi will make Germany his first European visit.
Given the size and potential of the Indian market, other European countries are already jettisoning old approaches towards Modi, if not to India. Their success at engagement will depend on if there is a true reassessment not only of India, but of what they themselves have to offer India.
US-India relations are complex and multifaceted, and includes Indo-Americans, Buddhists, the business sector, both main political parties -- many Indians view Bush 43 as friendlier to India than either Clinton or Obama -- counter-terrorism, and more (if the US wants to quickly gain trust with the new Indian government, it could be better at sharing information, at the very least on mutual terror threats).
From a US perspective, the size of India's economy, and its potential for double-digit growth, means relations are "too important to fail." That and India's geostrategic location makes India an essential partner if the United States wants to stay truly globally engaged.
For his part, Modi has said the two countries are intertwined and no single issue can overwhelm the whole. The visa "controversy," triggered when Modi's request for a diplomatic visa to visit the US was denied, and his existing visitor's visa was revoked over his alleged mishandling of riots in Gujarat in 2002, is a non-starter. Modi's take away from that experience, and from the US House of Representatives Resolution 417, is that opaque, and possibly foreign, funded domestic lobbies have a lot of leverage in Washington.
However, now Modi has a massive lobby of his own. The Indo-American caucus is one of the largest on the Hill, and the Indo-American community is one of the country's wealthiest and most internet savvy. They overwhelmingly support Modi. As Modi reaches out to them in ways that previous Indian administrations did not, Washington will wake up to a whole new set of issues.
On other fronts, Modi's India is likely to move towards building its domestic civilian nuclear program (including research on thorium-based reactors) and ramping up indigenization of defense procurement with up to 100 percent FDI in defense in some cases. Overall, there will be major openings for FDI and public-private partnerships though, as was seen with the failed attempts at limiting nuclear liability, India will insist on more equitable agreements than some US business might be accustomed to.
Modi's goal of a strong India engaging in a global, holistic foreign policy has the potential to rewrite international relations. It will not be easy. Systems do not like change but, for now, all eyes are on New Delhi.
Related
Popular in the Community