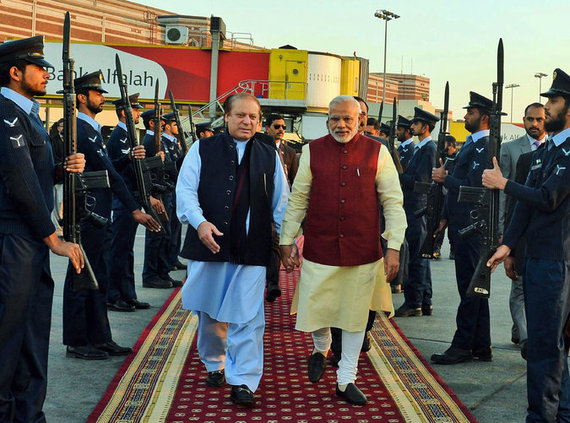 India's Prime Minister Nirendra Modi surprised everyone by suddenly landing in Lahore to visit his Pakistani counterpart, Mian Nawaz Sharif. The visit due to its suddenness and departure from the normal diplomatic protocols is definitely in the news and has led to intense media attention and analysis. The visit has come after a lot of tension between the two countries in the recent times and is therefore seen a welcome relief. As a huge supporter of peace between the two countries, the visit has delighted me immensely.
The verdict about meaning of this surprise tour is still out. Some say it was a genuine diplomatic effort to reinitiate the dialogue process and hence it was path breaking and extremely important. In contrast, some are skeptical and dismissing it as merely an attention grabbing stunt which is in line with personalities of both the leaders. Some are also saying that it was a master stroke by Modi to pacify Pakistan after his tour of Afghanistan in which he "plotted' again the latter's geopolitical interests. Some are also saying that this tour was to negate India's growing image of a rightwing hardline state.
Whatever the intentions, but one thing is clear: A step like this could have only be taken by a rightwing Prime Minister. No Congress leader could have dared to take such a step for the fear of being branded as "unfaithful' to Indian interests. Indian rightwing is the major stakeholder and their "acceptance" is needed for making peace overtures. A rightwing Modi or Vajpayee can pacify their own constituency which is hyper nationalist and virulently against any normalization of relations with Pakistan. That is why most of the time, the real initiatives with respect to dialogue with Pakistan have come from the Indian right and not left. BJP Prime Ministers are better placed to deal with the Indian rightwing compared to Congress.
On the Pakistani side, historically the opposition has come from religious right as well as the military establishment. In fact most of the time military in Pakistan has been deeply skeptical of any concrete efforts from civilian rulers ( including from Nawaz Sharif) to normalize diplomatic relations with India. In 1999,Nawaz Sharif ended up losing his government through a military coup mainly because of the friction caused by military's Kargil's misadventure. Some quarters say that the main purpose of Kargil offensive was to sabotage the peace process initiated by the civilian leadership from both the sides.
It remains to be seen whether both Modi and Nawaz Sharif actually took into confidence the aforementioned stakeholders as eventually their "acceptance" will determine the future course of events. In fact the visit could even prove costly to Mr. Nawaz Sharif if the military establishment was not taken into confidence and if it was not happy over the visit. In the last one and half years, the civil military balance has tilted a lot towards military which now controls Pakistan's foreign as well as security policy. Despite the fact that Nawaz Sharif is the elected Prime Minister, military may simply view this development as encroachment on their domain and may try to create hurdles in future. If Nawaz Sharif is able to bring military on board, and Modi is able to pacify some of his hardline allies like Shiv Sena, then this visit can actually lead to reestablishment of much needed dialogue process between the two nuclear armed neighbors. The task is tougher for Pakistani Prime Minister as Modi is not in a coalition government and can easily deal with hardliners. Nawaz Sharif though also in majority, has military establishment as a possible opponent. If they don't approve and create hurdles then this visit will not lead to anything and will only be remembered due to its impromptu nature.
REAL LIFE. REAL NEWS. REAL VOICES.
Help us tell more of the stories that matter from voices that too often remain unheard.