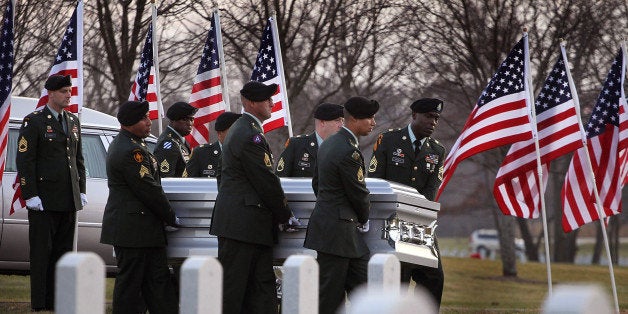 When I heard that a senior member of my former Army unit committed suicide, not only was I sad to hear about the loss of his life, but my thoughts went immediately to his family who also shared in his long career. After more than 20 years in the service, retirement is something that everyone should look forward to -- especially our war-weary families who have bore the burden of multiple deployments and aggressive training cycles that limit time with those you love. Yet, after these initial painful thoughts, one question pushed its way forward amongst all others: Will his family receive death benefits if he committed suicide?
Part of me felt somewhat repulsed by this question. Yet, as a former noncommissioned officer, it was a moral imperative to know if my comrade's troops -- his family -- were going to be taken care of financially. When searching the Internet for an answer, what I found was truly heartbreaking. Robust message boards worked to answer this question; a heartbreaking article featured a widow that questioned whether Service members' Group Life Insurance (SGLI) might contribute to suicide because it pays when a veteran was not in their right mind. Commenters online ranged from calling SGLI the "death option," to describing the choice of committing suicide, and even begging others to get help for asking the same question that I did.
After further research, I realized quickly that my question about death benefits and suicide is not military specific. It's an integral part of FAQs for many life insurance providers for the general population. As a result, widely reported issues of suicide for veterans in the military should not be articulated in isolation. More importantly, we must leverage the strengths of those most impacted to improve outcomes for everyone. In the case of veterans seeking answers on message boards, the positive role of their peers presented itself quickly. These online veteran peers began engaging their veteran brothers and sisters around their common bonds to move them away from "end of life" preparation to "beginning of life" problem-solving.
The role of peer support has taken notice by medical institutions like the Veterans Affairs (VA), state governments, and private philanthropy as well. In Illinois, foundations like the Robert R. McCormick Foundation are funding veterans that serve organizations with clinically trained peer support specialists to help identify those struggling and to navigate them to appropriate resources. This support is following the lead of the VA, which has pushed peer support in many of their hospitals. The Illinois Department of Veterans Affairs is also backing these efforts by integrating with organizations like Dry Hootch and the Depression Bipolar Support Alliance to strengthen communities with trained peers who have successfully recovered from difficult mental health and substance abuse issues.
Leveraging peer support with veterans who are used to similar common experiences of the rigors of military life is an easy fit. But the benefits are not limited to this group alone. Dedicated peer training to other demographics who suffer high rates of suicide and suicidal ideation should be part of a national strategy to improve the ability of various communities to support those most at-risk and help them navigate to the supports that they need.
With trained peers acting as a first defense against the worst outcomes of despair, it is my hope that we will no longer find message boards dedicated to "end of life planning" for those who have so much life to live.
This blog post is part of a series produced by The Huffington Post and NationSwell, in conjunction with the latter's Summit of Service (Nov. 10th, New York City), in partnership with NBCUniversal Open Possibilities. NationSwell is a media company and membership community that supports American innovation and service. For more information about NationSwell, read here.
Calling all HuffPost superfans!
Sign up for membership to become a founding member and help shape HuffPost's next chapter