Last week, I participated in a press event at NASA's Johnson Space Center in Houston promoting the DVD and Blu-ray release of The Martian movie. We spoke with several NASA officials and an astronaut about their plans to take humans to Mars. They all shared with us the significant challenges ahead in order to accomplish that goal. However, it is a goal they take seriously and are determined to achieve.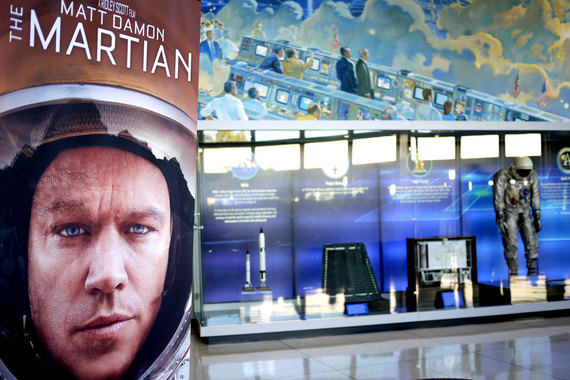 The Martian poster with astronaut Gus Grissom's space suit on display in the background at NASA's Johnson Space Center. Credit: Alejandro Rojas.
If you haven't seen the movie (minor spoiler alert), it is about a NASA astronaut who is part of a manned mission on the surface of Mars in 2035. He is hurt during a storm that requires the crew to return to their orbiting spacecraft, and he's left on the surface, presumed dead.
He actually isn't dead and wakes up stranded on Mars. He doesn't have the supplies to live long enough to survive on the planet for the length of time it will take for his friends at NASA to come back and get him, so, in his words, "I'm left with only one option, I'm gonna have to science the shit out of this."
In an interview in the auditorium at Space Center Houston, The Martian producer Aditya Sood told us the experience of working on the movie with NASA employees was amazing. He said he enjoyed "interacting with folks who literally science the shit out of things every day."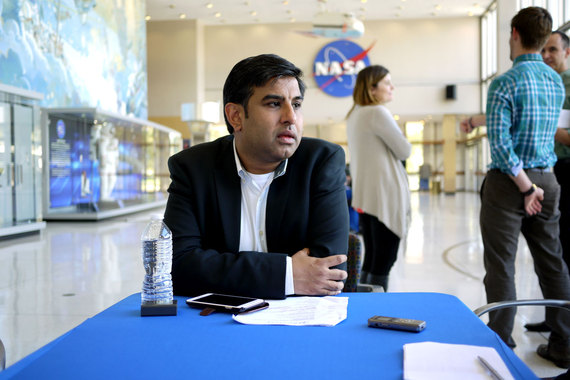 The Martian producer Aditya Sood at NASA's Johnson Space Center, December 3, 2015. Credit: Alejandro Rojas.
I got an idea of what Sood was talking about when we interviewed some of the scientists responsible for getting humans to Mars. They really are going to have to science the shit out of it in order to accomplish their ambitious goal of making that happen in the 2030s.
Planetary Science Division Director Jim Green told us in a Q and A that getting humans on the surface of Mars in 2035 is probably too ambitious. They are actually looking to get a "human presence in the neighborhood" by the 2030s, meaning in Mars' orbit. Their goal for getting boots on the ground on Mars is the 2040s or 50s.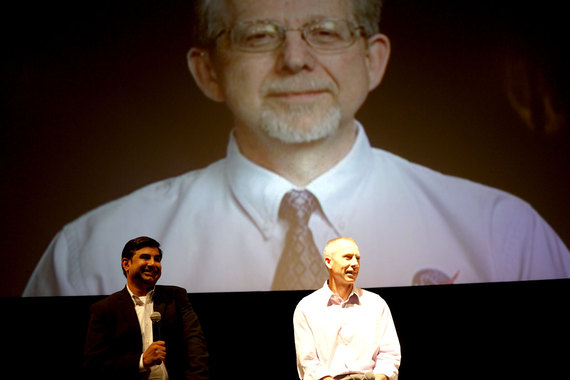 Q and A with The Martian producer Aditya Sood, Dr. Drew Feustel, NASA Astronaut, and Dr. Jim Green, NASA Planetary Science Division Director (on screen via satellite). Credit: Alejandro Rojas.
The spacecraft that will take humans to Mars will be the Orion. It is not quite as futuristic-looking as the spaceship in The Martian. In fact, The Orion looks more like the spacecraft that took us to the moon.
However, according to their website, "NASA's Orion spacecraft is built to take humans farther than they've ever gone before."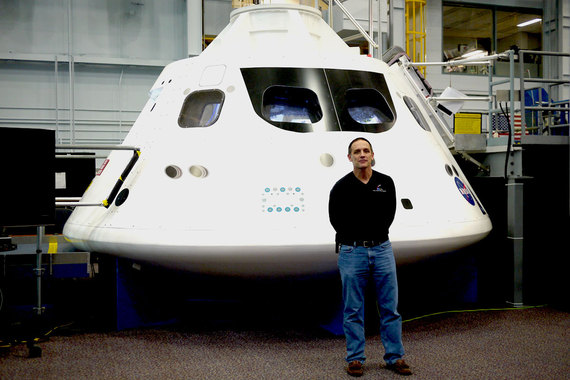 Manager, Mechanical, Pyrotechnic, Landing and Recovery Systems Stu McClung with a mockup Orion crew module at the Johnson Space Center Space Vehicle Mockup Facility, December 3, 2015. Credit: Alejandro Rojas.
When asked if they will really be ready to go to Mars in the 2030s, Stu McClung, the manager of Mechanical, Pyrotechnic, Landing and Recover Systems, who has worked at Johnson Space Center in the Orion Crew/Service Module Office since 2006, told us with confidence and pride, "My capsule will be ready!"
Although, he did make that statement with a bit of a wry smile. That is because he admits they still have a lot to figure out. Some of the challenges they face include, how to communicate with crew members in deep space, developing lighter radiation shielding, and where to store all of the food the astronauts will need.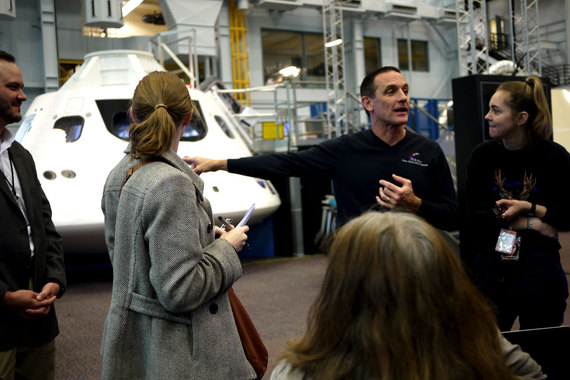 Manager, Mechanical, Pyrotechnic, Landing and Recovery Systems Stu McClung answers questions about the Orion spacecraft at the Johnson Space Center Space Vehicle Mockup Facility, December 3, 2015. Credit: Alejandro Rojas.
When it comes to food, where to store it is not the only thing they need to figure out, according to Vickie Kloeris, manager of the International Space Station (ISS) Food System. Currently, the ISS holds about six months of food storage. And, especially with the quick turnaround of some of the commercial space resupply missions, astronauts are able to enjoy fresh foods, such as fruits and vegetables.
This will not be the case when it comes to long duration flights. A trip to Mars would have a round trip time anywhere from 245 to 450 days. According to Kloeris, the food has a long shelf life, and would be safe to eat, but we are not sure what the effects of radiation or microgravity would be on the state of the food. It might be rendered unpalatable.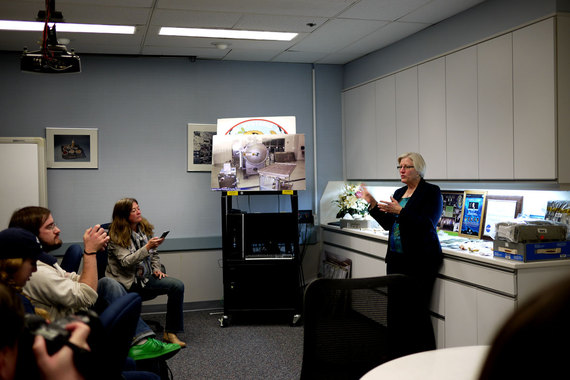 Manager, International Space Station Food System Vickie Kloeris addresses the press at Johnson Space Center, December 3, 2015. Credit: Alejandro Rojas.
There is also a possibility, Kloeris suggests, that spaceflight has an effect on flavor receptors. There is currently anecdotal information that this. However, according to Kloeris, they have not been able to prove this in testing, nor have they been able to determine what might be the cause. For instance, Kloeris adds, the effect on flavor could be due to aroma. Perhaps on the ISS the heat from the food does not cause the aroma to float up to the astronauts' nose as it does here on Earth. Or perhaps the other aromas in the ISS affect the astronauts' ability to taste.
On the Q and A website Quora, Astronaut Clayton Anderson wrote about the smell on the ISS. He says the ISS air purification systems work very well, and gives them a "significantly 'odor-free' environment."
However, according to Anderson, there is a smell to space. He writes: "Ever distinct -- I would know it instantly if I smelled it -- it has been likened to smells associated with welding or burning of ozone (now, who the heck really knows what that smells like?!). Most noticeable following a spacewalk, when crews and their equipment returned to the inside of the ISS, I remember being able to smell traces of this unique scent for several days following an excursion into the unforgiving vacuum of space."
Even with all of the challenges outlined above, as in The Martian movie, NASA scientists are busting their humps to accomplish their lofty Martian goals.
Astronaut Drew Feustel told me that, although he might be able to fly on an Orion mission, he is probably too old to be one of the astronauts to go to Mars. However, he believes the mission to Mars is vital for the survival of the human species.
With a background in earth sciences, Feustel says life is fragile. We have only existed a short time on this planet, and we know other species, such as the dinosaurs, did not survive due to planetary changes. He joked that the dinosaurs didn't have a space program, but we do. That makes the study of other planets, and the ability to travel to them, crucial to the future of human existence.
The Martian will be released on Digital HD on December 22, and on Blu-ray, 3D Blu-ray and DVD on January 12, 2016.
REAL LIFE. REAL NEWS. REAL VOICES.
Help us tell more of the stories that matter from voices that too often remain unheard.