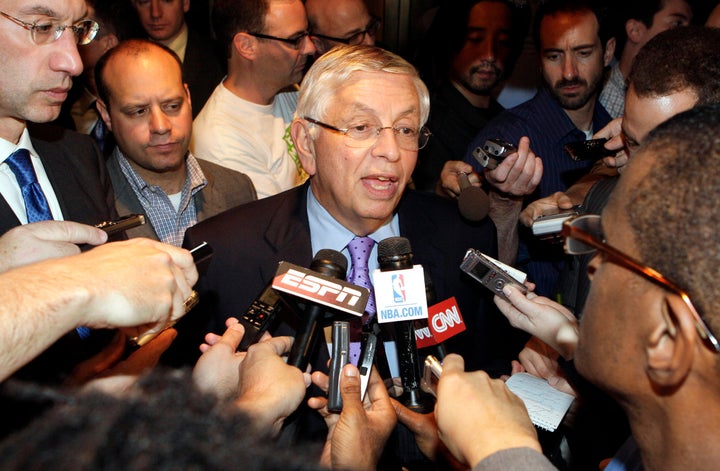 Basketball fans aren't happy that the first two weeks of the basketball season have been cut and more games could be put on the chopping block. Meanwhile, the business owners who cater to fans are arguably even less pleased.
With no agreement in sight over how $4 billion in revenue should be split (the players want 53 percent -- the league has suggested 47 percent), NBA Commissioner David Stern this week decided that the season will begin on Nov. 14 instead of Nov. 1 -- assuming, of course, that an agreement can be reached before then. In any case, 100 basketball games have been eliminated around the country.
We contacted a people running sports bars across the country to see whether they're feeling a little anxious -- or if they understand the players' and the owners' cause. Surprise! They're not all that sympathetic.
The place: The Clevelander Bar & Grill Location: Cleveland The Clevelander is about 1,000 feet east of the Q, the arena where the Cleveland Cavaliers play. "I don't want to say we live and die by the Cavaliers, but it's a better scenario for us to have the Cavs here, especially in the winter months," says Patrick McGinty, who co-owns The Clevelander with John Granvier. "For us, the Cavs season really helps us tread water through the winter until the spring, so if the entire season goes, not having 41 home games would be a big hit for us. But I'm trying to stay optimistic and take the advice of [Chicago mayor] Rahm Emmanual, who says, 'Never let a serious crisis go to waste.' We're trying to use this time to trim the fat and make the business leaner. We're still in a wait and see mode, but the other owner and myself have put together a little crisis plan: We'll cut back operation hours, which, of course, hurts the staff who are trying to make their living, and we've talked to our landlord in case there's a scenario where we would have to shut down. At this point, we serve lunch every day, and hockey draws a good crowd, but a lot of people are getting hurt by it, from the beer driver delivering the kegs to the servers to the customers who come in. We're getting hurt by it, and you know, [the players and owners] have all the money in the world."
The place: Portland Sports Bar & Grill Location: Portland, Ore. "While there's the baseball playoffs and football going on, I'm not too worried," says owner Jon Ottman, who says he is pretty much always behind the the counter or somewhere in his establishment, which has six employees. "Until January, I don't think it will affect us too much, and if it does go on through January, well, I always try to plan ahead. We're a pretty small business, and here in Portland, wintertime always affects the business a little anyway. We probably have 20 or 30 people watching a game at night, so if the basketball season doesn't happen this year, it's not going to help, but it's not going to be the end of my business, either." Meanwhile, Ottman is sympathetic to the players, and not so much with the owners. "The players make a lot of money, but the owners make a lot, too, and while the players may look greedy, that's not necessarily the case. The owners are asking the players to take pay cuts, and they knew that wouldn't go over well. Nobody wants to take a pay cut. I wouldn't want to take a pay cut, and you wouldn't want to."
The place: The Greatest Bar Location: Boston This is, if not the greatest bar, ever, a very big one, with four floors filled with people on a very good night. But if basketball season doesn't start soon, there will be a lot of bad nights, predicts events coordinator Jill Gallien -- they stand to lose $14,000 a night every time a Celtics home game isn't played. "We have been preparing for this for a while," says Gallien, who, along with the Greatest Bar's owner, Peter Lucido, the general manager and about 50 employees, has recognized for some time that the basketball season was in jeopardy. "We've been trying to bring in new business, like corporate events for companies, and brainstorming about what else we can bring in here. We have bands that come in on Wednesday nights, for instance. But we have huge crowds before and after the games, so the Celtics not playing will have an effect here. When there are no games and nothing else going on, we might have one person behind the bar and one floor open. But during the games, we have several people staffed on every floor, and the kitchen is fully staffed. It's unfortunate that the negotiations are now, the way the economy is. It affects our staff, but it also affects the staff at the Garden. People aren't going to be working much if there isn't a season."
The place: Champs Sports Pub Location: Burbank, Calif. Joe Handy, who founded and co-owns Champs with his wife, Helen, says, "I'm not a happy camper about the NBA lockout. It's not going to be good for business -- anytime there's a strike, everyone loses. I hate to see this happen over a 3 percent difference in negotiation. It reminds me of bunch of kids in a courtyard playing chicken. In the meantime, we all suffer." But so far, Handy's problem with the situation is more philosophical than practical: "Our business is doing quite well, even in middle of this recession. Thank God for the NFL. Basketball -- it's like a little pinch. They'll probably start playing in December or January, and that's when football ends. And the beginning of the [Los Angeles] Lakers season is different from the end of season. This won't hurt us that much. It's not going to be devastating. It's always the small guy who gets hurt most -- the vendors, the guys selling souvenirs or soda aren't working -- they're not going to get their $8 or $9 an hour while these guys are making millions. It's very unfair."