The 1,300 cop city council (which they will forever be known as) yesterday proposed changes to New York's wildly abusive treatment of street vendors. Since 1983, there the city has capped the number of permits required to legally sell on the street. For years, street food vendors not lucky enough to have a permit sticker, the overwhelming majority of whom are immigrants and people of color, have become targets of cops and city inspectors, who ticket and arrest them--and even brutalize their families. While some rent permits on the black market for tens of thousands of dollars, most operate in the shadows, completely vulnerable to fines that can go $1,000 a pop.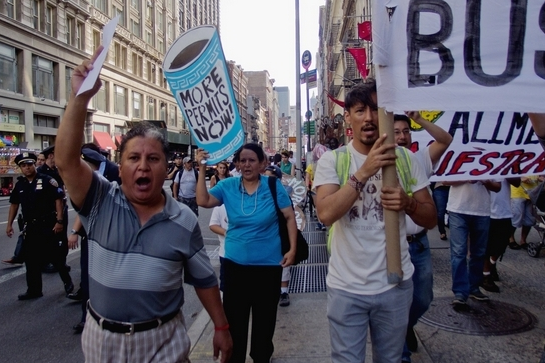 Vendors have been protesting to lift the caps for years (Photo: NY Press)
The council, led by speaker Melissa Mark-Viverito, has finally (after years and years of prodding by vendor advocates) introduced legislation which might change some of this. But will it change things for the better? The council bills on the table, known collectively as the Street Vending Modernization Act (SVMA), will be debated later this month but are already being touted as a big win for vendors as they may eventually double the number of permits available.
Hooray. Now let's look at some of the details.
The bills will not lift the cap entirely, as many vendors and advocates had wanted. For a city that was handed its ass by Uber, the ride-sharing app company, over a fight to cap the tens of thousands of Uber cars driving on city streets, there is still political will to forcefully cap street vendors. Merely raising the cap will still leave thousands on the outside looking in . Some estimates of unpermitted vendors in the city go as high as 12,000. The number of new permits that could be made available through the SVMA will only reach a few thousand, up to 600 new permits per year, which would only bring in a fraction of vendors into legality (assuming the number of vendors doesn't go up during that time). Also note that the price of two year permits under the proposed bills would jump from $200 to $1000. But most troubling, perhaps, is language about "a new dedicated vendor law enforcement unit" and an "advisory panel" which will "monitor enforcement" and influence the rules.
More enforcement? I wrote this summer about how immigrant vendors in Spanish Harlem and Queens had been seeing an uptick in an enforcement, which has always been a major problem. Will the SVMA lead to more intense ticketing and arresting of vendors who don't get one of the new permits? Will this mean newer and stricter rules for vendors who do get permits? Without getting too libertarian, it's important to note that more regulation and enforcement is not exactly what many vendors want. It might also be prudent to ask who'll lead new enforcement efforts and what role the NYPD will have in all this. Early versions of the SVMA say that the mayor would create the office and appoint its head. While it's possible that Bill de Blasio could appoint a not-that-bad enforcement commissioner (though I wouldn't even give him that much credit considering he's already been bought and sold), what about future mayors? Can you imagine a big business-coddling mayor like Michael Bloomberg or Rudy Giuliani, who famously waged a war against vendors in the 90's, selecting someone to regulate vendors? It'd be a nightmare.
And what about that advisory panel? Ideally, such a panel would be comprised of actual vendors. In corruption-prone New York, it wouldn't be surprising if business voices found their way onto the panel to to stifle and bury vendors with red tape. An adversarial advisory panel could work against vendors, leading many to think it'd be better to continue to operate outside the system. Already the city council and mayor have put into law terrible changes (which were vehemently opposed) for costumed performers, like in Times Square, that severely limit their movement. That legislation was largely driven by the Times Square Alliance, a business advocacy group representing some of Times Square's most powerful corporate neighbors. It's precisely those hidden hands of business interests, like business improvement districts (BIDs), that are always at play in city politics.
Despite all of the proclamations of love of vendors by city lawmakers Thursday, there is little reason to trust the council. Some lawmakers, like Manhattan Borough President Gale Brewer, crowed about the new enforcement measures. Viverito decried "unscrupulous permit-holders", but not BIDs, when speaking of the pain and hardship suffered by street vendors. Well it's been BIDs who've been instrumental in keeping the number of permits capped--which has always been the principal source of the problem. Their roles in this ordeal have been purposely omitted.
The devil is nearly always in the details. In a city of immigrants, but dominated by business, legislative tweaks should always be scrutinized. It's no mistake the city wants to regulate performers and vendors but walks away with its tail between its legs when dealing with a big company like Uber. Part of the legacy of Broken Windows is that it was a political push as much as it was a policing strategy. It has always sought to target vulnerable groups. Squeezing performers and vendors for the sake of business interests and BIDs, like the Times Square Alliance, is baked into the bread of city politics. This is why they won't ever lift the caps entirely.
These vendor law proposals will be debated October 26th in the council chambers. We should all attend and listen to what's actually being proposed. Will vendors be pulled into a Trojan Horse of ramped up enforcement? Will gentrifying hipster-peneurs with food trucks and carts full of organic muffins and fair trade coffee get preferential treatment over immigrant vendors with tacos and tamales? The feel and look of the city may be at stake so it's important to see and hear what the council is serving up.
Calling all HuffPost superfans!
Sign up for membership to become a founding member and help shape HuffPost's next chapter