Southern fried rock. For me, KTel defined it in a 1980 album with songs from The Marshall Tucker Band and Blackfoot, among many others.
I still have the vinyl, which I nearly wore out.
Will Overman and his band, with the exception of uber-talented drummer Chris Helms -- think Sebastian Bach in the Gilmore Girls' Hep Alien band -- weren't born until a few decades after my KTel find.
The debut album by Will Overman Band, released June 4, is the epitome of that Southern fried rock. The kind of music I played incessantly on the first stereo turntable I bought with my first paycheck -- hard-earned during the long, hot summer of '79 picking berries on an experimental farm in Washington state.
Listening to Will Overman Band's self-titled release takes me back to a time when, stealing from Wikipedia, the music emphasized boogie rhythms and fast guitar leads with lyrics extolling the values, aspirations -- and excesses -- of Southern working-class young adults.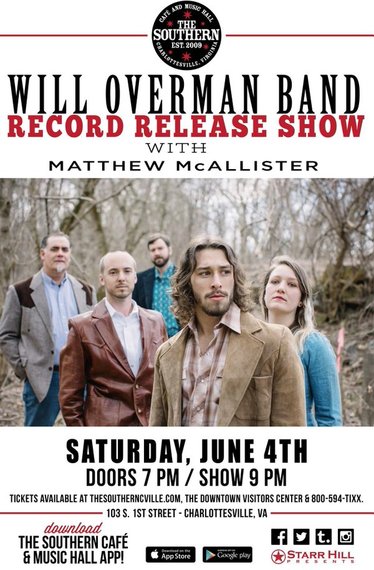 I discovered WOB at Rooster Walk Music and Arts Festival in 2015. Sitting in the pine grove of the New Belgium Stage, the band had me here:
"It's one more mile, one more line I've done,
racing through time zones, never beating the sun,
I get paid for these miles and miles,
and these ceaseless, empty weary nights,
I'm a glorified gravedigger just trying to stay alive,
but these graves I'm digging, they might be mine."
Paired with a melody and lyrics Marshall Tucker founder Toy Caldwell himself could have written, it's one of the best new songs since the birth of so-called Southern fried rock.
It should come as no surprise, really. Overman, a 22-year-old rising senior and sociology major (which clearly helps with his insightful songwriting) at the University of Virginia, is a son of the South. His love for his home state resonates throughout the album lyrically and melodically. What I do find surprising is that it has taken nearly three decades for someone, anyone, to create a fresh, new approach to what for some has become a tired genre, full of "cover" bands made up of a few remaining members of the amazing bands of my youth.
WOB's sound is a throwback to bands such as the Allman Brothers and Marshall Tucker Band -- with shades of Bruce Springsteen, Bob Seger, the Eagles, Simon and Garfunkel and even Glen Campbell. But don't mistake this for a country band or try to categorize them as Americana. Because as lush as the melodies and the lyrics are -- they appear to be written by someone much older -- this album just plain rocks. Just as you're lost in a haunting melody, the electric guitar, bass and drums kick in. You'd also never know that this band has been perfecting its sound together for mere months rather than years.
For example, the chorus of the opening cut, the aptly named "Ode to Virginia," states:
"Take me back to Virginia,
Back before I had a name,
Lay me in a golden field on a mountainside,
Let the blue sky fill my veins,
Let the James carry me home and wash away all my sins,
Like an old dogwood, I'll die where I began."
There are many great gems in between the first and the last cut on this 58-minute album produced by Dave Stipe at Monkeyclaus Studio in Nelson County. It was mixed at the studio of another Charlottesville artist, Sons of Bill's Sam Wilson, who cameos on the pedal steel on "Son."
In true Album-Oriented Rock fashion -- another throwback that seems to have been forgotten by many young artists -- the first and last song bookend the album nicely with an intro offering insight into the band's heritage, ending with an epilogue about what life on the road in a struggling band is really like.
The late, great Merle Haggard once said he didn't know he was signing up for a 40-year bus ride when he became a professional musician. WOB puts a new twist on that sentiment with a fitting final album cut that's a distinctive ode to being out on the road. The song's called "Pilot Mountain:"
"State by state we pay our dues
Is that a sunrise or a Shell sign? I don't know
One more night then we're homeward
One more show then we're through
Tonight we're playing for the bartenders
Sometimes you got to rock an empty room ..."
The debut album covers a lot of life's heavy issues -- cancer, troubled relationships, the struggles between fathers and sons -- and mixes it up with funny, punny tunes, including, "All The Women" -- woven together with constant message of the promise that tomorrow will be a better day.
Overman's unique and talented vocals -- he made it through two levels of NBC's "The Voice" -- harmonize beautifully with Brittney Wagner, with whom he shares lead, backup and acoustic guitar picking. Add to this the combination of the aforementioned Helms on drums, the amazing fun of J. Wilkerson on bass and the classically trained Daniel McCarthy's riffs on electric guitar, and you have a powerful musical mix.
In the end, WOB's debut album is a strong start to what promises to be a long, successful musical journey.
But don't take my word for it. No Depression recently gave the album high praise in this review.
WOB released two singles from the album -- "All I Say" and "Son" -- at MerleFest in April that have been receiving a lot of airplay and buzz in Virginia and beyond.
But why wait? Buy the album and give it a listen for yourself here. I can hardly wait to hear what you think.
Popular in the Community