Sarah Palin's erstwhile attorney Thomas Van Flein issued another of his bizarre missives on Palin's Facebook page yesterday in what appeared to be a strange portent of a forthcoming legal ruling ready to crash down on Palin.

In a commentary posted on a judge's recent ruling in Alaska dismissing a suit filed by Alaska political watchdog Andree McLeod regarding Todd Palin's emails, Van Flein--who has the expository grace of an Arctic muskrat--noted that "some claims and suits are pending and are getting resolved in time." It hardly has the sound of justice triumphant, does it?

Van Flein concluded:
"There are, of course, some remaining issues to address....There will be times when Sarah Palin will have to take one for the team in order to continue on with her message to the country and simply resolve matters without having to incur crushing personal debt. That is the cost, unfortunately, of public life today. When that happens, read the details closely--like the details in this court opinion. Every time you do you will see that Sarah Palin has always acted with honest intent. You will see that again soon."
It doesn't sound like good news for the Thrilla from Wasilla to me. Van Flein and Palin have obviously been warned that another legal storm is on the horizon.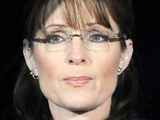 And what might that be? Sources of mine in both Anchorage and Juneau involved with Alaska's Department of Law and the Alaska Public Offices Commission (APOC) are speculating that an ethics act complaint filed last year against Palin and the establishment of her Alaska Fund Trust is about to be settled--against Palin.

Nearly a year ago, on July 14, 2009, shortly after Palin resigned her governorship, Alaska Personnel Board attorney Tom Daniel issued a preliminary finding which found that:
"In light of the evidence that the governor expressly authorized the creation of the trust and the fact the trust website quite openly uses the governor's position to solicit donations, there is probable cause to believe that Governor Palin used, or attempted to use, her official position for personal gain in violation of Alaska statute."
Daniel's finding did not sit well with the Palin camp. There have been rumors of hard-core legal pushback for the past year by Palin and Van Flein, who were reportedly furious over the finding and have proved unsuccessful in getting it reversed.

According to legal sources in Anchorage, there also have been rumors that attorney Tim Petumenos -- who issued the infamous Troopergate finding in 2008 and who also handled the first ethics complaint filed by McLeod against Palin and found that a key member of Palin's staff, Frank Bailey, get "training and counseling" on the Alaska Personnel Act to "prevent the potential for future violations of the act" --has been brought into the case. What the role of Petumenos would be given that Daniel handled the original finding remains uncertain. And there has never been an explanation as to why this complaint has taken more than a year to be resolved. So much for political transparency in the Last Frontier.

Meanwhile, watchdog McLeod says she "looks forward to the next step" regarding her legal case involving Todd Palin's emails. She also had this to say about the pending ethics act complaint:
"I am outraged by the amount of time it has taken for the personnel board to mete out justice for Sarah Palin's abuse of power relating to her legal defense fund. Palin reportedly amassed hundreds of thousands of dollars before she quit. It's been over a year, and although we have strict laws that demand disclosure of these kinds of financial activities by our officials, the current administration refuses to get off the dime.

"Alaskans still don't know who gave how much towards Palin's personal benefit while governor. Palin still needs to be held accountable for her misconduct while in office...quitting doesn't make that go away."

Award-winning writer and filmmaker Geoffrey Dunn's book The Lies of Sarah Palin: The Untold Story Behind Her Relentless Quest for Power will be published by St. Martin's Press.
Popular in the Community