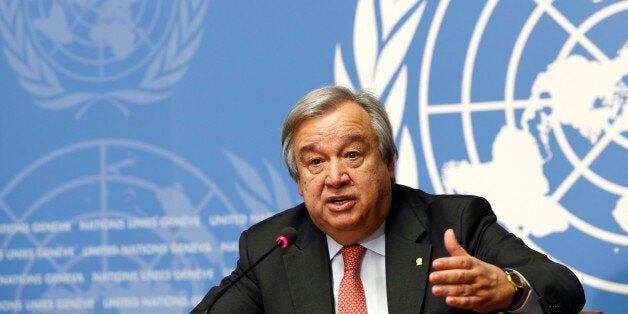 UNITED NATIONS - To state the obvious, it appears former Portuguese Prime Minister António Guterres will be the next UN secretary-general to succeed Ban Ki-moon. But this is not a sure bet.
Guterres, the former spirited head of the UN refugee agency, has been in first place in three informal straw polls among the 15 members of the UN Security Council. But the voting has not yet distinguished between the five council members with veto power (United States, Russia, China, Britain, France) and the other 10 nations.
Guterres received 11 votes in favor, three against and one "no opinion". In the first round last month, he had no negative votes. Diplomats believe Russia may have cast the negative vote. If so, this would throw the procedure into chaos and possibly a deadlock.
Surprisingly, Slovakia's foreign minister, Miroslav Lajčák was in second place after finishing second to last in the previous straw poll, according to the supposedly secret results leaked to journalists within minutes. (see full list at end)
Irina Bokova of Bulgaria, who heads UNESCO, and Serbia's former foreign minister Vuk Jeremic were tied for third place followed by Susana Malcorra, Argentina's foreign minister and the former chief of staff for Ban Ki-moon.
When the polling began, last month there were 12 candidates, six men and six women. Two have dropped out. Before the voting, British Ambassador Matthew Rycroft told reporters that the point of the straw polls was to gradually "winnow down the field" so that candidates with a poor showing would drop out of the race.
But with Lajčák's leap from the near bottom to the near top of the list, others might wish for the same and stay in the race. How they vote and how they leak The peculiar voting involves delegates marking ballots for each candidate with "encourage" or "discourage" or "no opinion." The results, mainly at the urging of Russia and China, are kept secret but journalists placed the numbers on Twitter within minutes.
General Assembly President Mogens Lykketoft organized sessions with each of the candidates submitting to questions from UN members, the first time in the 70-year history of the world body.
Annoyed that the Security Council itself did not release the results, he said that the "absence of any further details beyond the fact that the informal straw poll has taken place adds little value and does not live up to the expectations of the membership and the new standard of openness and transparency."
The post of secretary-general has usually rotated among geographical regions, including Asia, Africa, Latin America and Europe.
But Eastern European nations, most of who are in the European Union and/or NATO, say it is their turn because they have never had a secretary-general. Russia's Ambassador Vitaly Churkin has said he "prefers" a candidate from that region.
Therefore, if any of the "discourage" votes were cast by Russia or other permanent members, Guterres' candidacy is in danger. The winning candidate has to gain nine votes in the Council and no veto.
And the women? Secretary-general Ban Ki-moon who is in office until the end of 2016, said it was "high time" for a woman to hold his job after eight men in the post.
And Susana Malcorra told the Argentine newspaper Clarin there was still "a biased vote against women" at the United Nations. She noted that U.S. Ambassador Samantha Power was the only woman on the Security Council.
Led by Colombia's Ambassador María Emma Mejía Vélez, about 56 nations have campaigned for a woman. And among those from Eastern Europe, only Irina Bokova of Bulgaria has a chance.
In sixth place was former Macedonian foreign minister Srgjan Kerim followed by former New Zealand Prime Minister Helen Clark, who heads the U.N. Development Program. Both Malcorra and Clark had shown themselves extremely knowledgeable about UN affairs.
Slovenia's former president Danilo Turk, once tipped for the top post, was in eighth place followed by a tie for last place between Moldovan Foreign Minister Natalia Gherman and Christiana Figueres of Costa Rica, who headed the UN project for an agreement on climate change.
The next straw poll is expected in September. -------------------------------------------- Results of Third Straw Poll Candidate (Encourage-Discourage-No Opinion Expressed) António Guterres 11-3-1 Miroslav Lajčák 9-5-1 Irina Bokova 7-5-3 Vuk Jeremić; 7-5-3 Susana Malcorra 7-7-1 Srgjan Kerim 6-7-2 Helen Clark 6-8-1 Danilo Turk 5-6-4 Natalia Gherman 2-12-1 Christina Figueres 2-12-1 Igor Lukšić Withdrew Vesna Pusić Withdrew
--- - Results of the First and Second Straw Polls (Encourage-Discourage-No Opinion Expressed) António Guterres 12-0-3..... 11-2-2 Danilo Türk 11-2-2......7-5-3 Irina Bokova 9-4-2........7-7-1 Vuk Jeremić; 9-5-1....... 8-4-3 Srgjan Kerim 9-5-1....... 6-7-2 Helen Clark 8-5-2........ 6-8-1 Miroslav Lajčák 7-3-5....... 2-6-7 Susana Malcorra 7-4-4........ 8-6-1 Christiana Figueres 5-5-5....... 5-8-2 Natalia Gherman 4-4-7........ 3-10-2 Igor Lukšić 3-7-5....... 2-9-4 VesnaPusić 2-11-2...... Withdrew
REAL LIFE. REAL NEWS. REAL VOICES.
Help us tell more of the stories that matter from voices that too often remain unheard.