UPDATE: State Rep. Ken Dunkin, D-Chicago, appeared Wednesday on WTTW-TV's "Chicago Tonight" and defended his decision to not cast votes on two Democrat-supported human services bills on Tuesday. Dunkin's non-vote meant both bills failed by a single vote.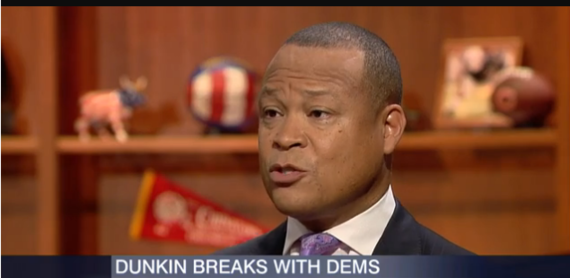 Under questioning from host Carol Marin, Dunkin said he resents being portrayed as a traitor to his party and human services advocates. He said a compromise he worked out with Gov. Bruce Rauner made the bills unnecessary:
"What this compromise proved is that the governor is willing to work with us, and if I can penetrate the governor's stoic approach towards him reforming government and get him to fund child care at 85 percent-and at 100 percent next year, when we get our act together with a real budget-and to have him do an about-face with the determination of need, that's a gateway to a successful budget negotiation, pension negotiation, education negotiation. I should be, as members are, ecstatic that this governor is willing to work with us."
The video is above. The full story from "Chicago Tonight" is here.
Victory, defeat, betrayal... Depending on which side you're on, you may have experienced all or some of those feelings following Tuesday's action at the Capitol.
Gov. Bruce Rauner could claim victory after his authority to set eligibility requirements for state-subsidized child care and home health care services remained intact at day's end.
House Democrats and advocates for child care providers, the elderly and disabled suffered defeats when, by a single vote each, two bills aimed at limiting Rauner's power to restrict access to state-funded child care and home health care failed.
For them, the element of betrayal came in Chicago Democratic Rep. Ken Dunkin's refusal to support those bills. For Dunkin, it was the second time in nine weeks that he earned the ire of his caucus by failing to cast the deciding vote on Democrat-supported bills -- all three of which were intended specifically to limit Rauner's power.
Democrats had been angry since July that Rauner lowered the maximum income for a working parent to qualify for state-funded child care from 185 percent of the federal poverty level to 50 percent. They tried Sept. 2 to undo Rauner's changes, but Dunkin was the lone Democrat who didn't show up that day. On Monday, the administration announced it had raised the eligibility standard back to 162 percent of the poverty level. It also said it had dropped plans to raise the level of disability required to qualify for state-funded in-home assistance for the elderly and disabled.
Republicans said those moves made Tuesday's bills moot. Several Democrats, however, said in floor speeches that Rauner could not be trusted to not institute the cuts again. In this video, from Illinois Public Radio Statehouse Bureau Chief Amanda Vinicky, Dunkin tells a group of the bills' supporters at the Capitol that the governor's actions make them unnecessary. His audience does not seem receptive: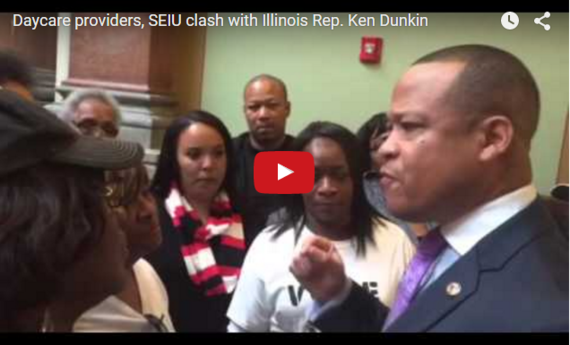 Calling all HuffPost superfans!
Sign up for membership to become a founding member and help shape HuffPost's next chapter