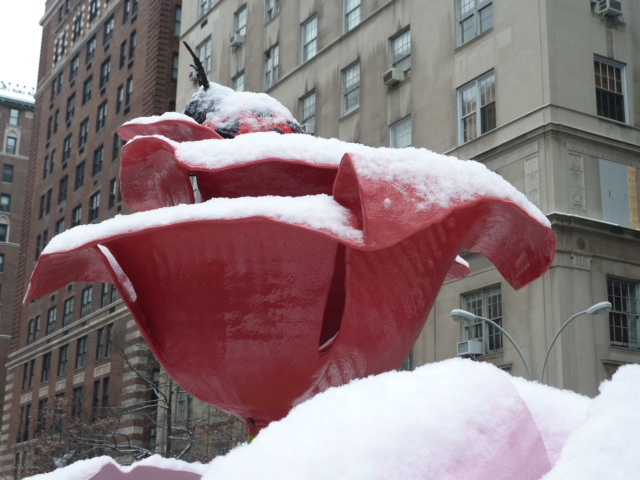 Now that I'm a New Yorker, the Park Avenue malls are as close to having a garden as I'll get. Saturday morning, while the temperatures hovered in the teens, I witnessed Will Ryman's playful urban Eden - 25-foot stemmed cotton candy pink and Venetian red roses with grass-green colored foot-long thorns - sprouting nearby. Nothing like a bit of whimsy to warm you up on a freezing cold day.
PHOTO GALLERY
Will Ryman: The Roses
Ryman's sculpture is made of plaster, wire mesh, PVC tubes, stainless steel, yacht-grade fiberglass resin, automotive paint, and brass. The octet of blooms, loose petals that double as chairs, and sculpted ants, aphids, beetles, ladybugs and one monumental bumble bee will be on view along Park Avenue between 57th and 67th Streets through May 2011.
The 41-year old Bowery-based playwright turned artist proposed his wacky idea via email to New York City Parks and Recreation Commissioner Adrian Benepe more than a year ago. "I wasn't sure he [Ryman] could pull it off," said Benepe. But he did. "He's earnest."
And a hard worker. Over this past weekend, the artist and his crew were outside putting the petals in their places and doing their best to avoid frostbite in the arctic weather, while snacking on blueberries and strawberries.
Involved from "A to Z," says Ryman, he came up with and delivered the proposal for the site-specific piece on his own. The explicit public art submission guidelines are available on the NYC Parks and Fund for Park Avenue websites. He raised $800,000 for the installation by pre-selling half of the works on view and with a crew of men, he dug the holes and placed his giant perennials.
This is Ryman's first public installation. As for what's next, it's anyone's guess but for now, a bit of downtown brightens uptown.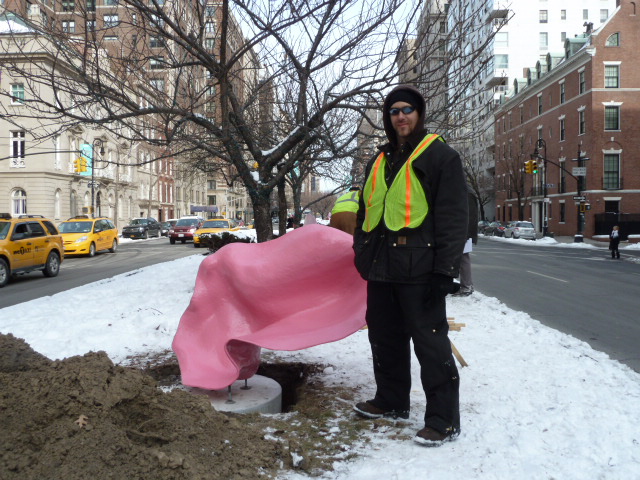 Will Ryman and a flower petal chair, Photos by Susan Sawyers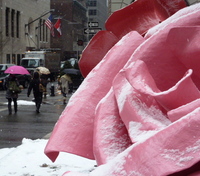 REAL LIFE. REAL NEWS. REAL VOICES.
Help us tell more of the stories that matter from voices that too often remain unheard.