If you have found yourself in Flatiron District recently, you may have noticed a recent addition to its plaza in the shape of a lofty 12-foot steel raven crafted out of nails in varying sizes. This neighborhood newcomer is an installation by none other than New York City's Will Ryman, whose Bird is featured as part of the NYC Department of Transportation's Urban Art Program, an initiative aimed at enhancing New York City's streetscapes with temporary art installments.
The five-ton sculpture is a piece from Ryman's previous exhibition Anyone and No One, which opened at the Paul Kasmin Gallery last February. Constructed of both actual and fabricated nails, Bird is the first art structure to be displayed at this location, and part of DOT's new effort to bring more contemporary art to the public space. Ryman, who was also the first artist to hold simultaneous exhibits at each of Paul Kasmin's gallery spaces, shares his inspiration behind the piece.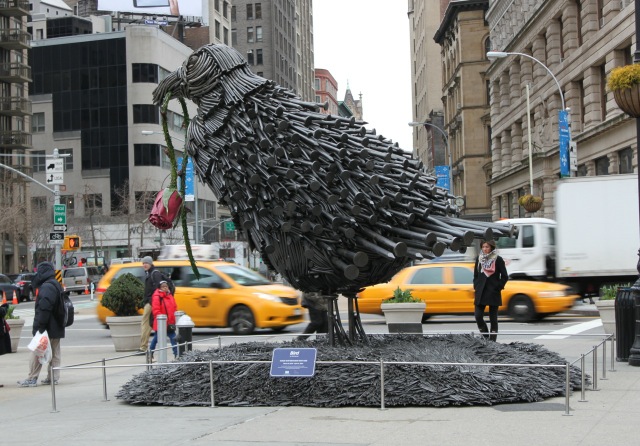 How did your collaboration with DOT's Urban Art Program come about?
DOT reached out to me, I want to say, last summer. They showed me several different sites around New York to see if I'd be interested in showing anything, and Flatiron stuck out to me. That was what I wanted and what they wanted so it came down to the right piece at the right time, really.
What drew you to that particular location?
They showed me that and they said, "This would be a great site. We would like to do something here." I thought that was my favorite site as well, mainly because of the Flatiron Building -- the historical and architectural relevance of that building. I thought the piece would look really good in front of that. And also because I grew up in that neighborhood and I've seen the progression evolve over the years. Those two things are really what interested me the most. There were several sites in DUMBO, but they weren't big enough. The footprint wasn't big enough and the bird needs a big footprint for it to walk around, and for it to exist.
The bird itself is huge. I wanted to ask about the appropriation of space in your works.
It depends on the installation. With this particular piece, it really had to do with changing the meaning of the object by changing the scale of the object and also using them in great abundance. The bird really is about the relationship between realism and abstraction. What's interesting to me about the work is the abstraction that the nails form with the piece. When you look at the back of the bird, you don't see a bird. You see abstractions of these nails coming towards you, and then when you walk around it the abstractions sort of turn into this image. It's like looking at something with a magnifying glass. It's a negation of perception.
The bird was based on Edgar Allen Poe's raven, correct?
The image of the bird, maybe, but very loosely. It's really more about the abstraction of the nail, and the rose in the bird's beak is a reference to my last public installation on Park Avenue [Roses].
In the gallery space the bird was shown without the base that now accompanies the piece. It now sits on a bed of nails?
I made the base specifically for the Flatiron Plaza. The reason I did that was because they wanted it to be up on a base, and I generally don't like sculpture on pedestals. I wanted to make a different base, and I wanted to incorporate it into the sculpture. I wanted it to be about the object, the nails, because that's what the piece is really all about. I wanted him kind of standing on almost a nest of nails. Those are all actual nails -- they're not fabricated or anything. They're all nails that were store-bought and welded onto a frame.
In regard to your distaste for pedestals, you've also spoken before about feeling constricted by the "Chelsea white box."
I usually try to incorporate the entire space within whatever it is I'm doing. The Chelsea white box is a clear boundary. I think it can be restricting in that it is very slick and clean -- which is good -- but I feel that a lot of shows are more about the gallery space than they are the art. I try to make the art and the space, wherever it is, be part of each other.
Bird will be on view at Broadway and 23rd Street from March 24-April 21, 2013.
Popular in the Community