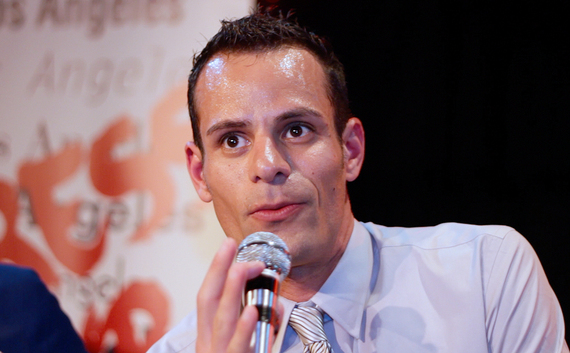 If a top deputy at the San Diego City Attorney's office really means what she said in statement filed with the 9th Circuit Court of Appeals late last month, fundamental change in enforcement of nudity laws could impact tourism, the swimwear industry, clothing retailers -- even Comicon.
The city's new zero-tolerance policy for butts on the beach, in city parks and in public places such as the Convention Center, where Comicon is held, comes as part of an attempt to prove cops did not discriminate against a gay man who wore a leather kilt to LGBT Pride in 2011.
Responding to an appeal now before the 9th Circuit, the San Diego City Attorney's Office has effectively banned beachwear, g-strings, bikinis and Speedos that reveal any portion of the buttocks or upper thigh on city beaches.
The city's argument that police officers' decision to detain and arrest a man who wore a leather kilt to a gay pride event in 2011 did not discriminate against him because he is gay took a drastic turn in a December filing by Deputy City Attorney Bonny Hsu.
When I agreed to help with the media side of this case, it never crossed my mind that the city would go so far as to claim in a court document that women wearing swimsuits at public beaches in San Diego that show any portion of their buttocks are violators of a nudity ordinance. But last month it did.
Will Walters, the man who police detained because of a leather kilt he wore to the Pride festival, submitted into evidence photos of women wearing swimsuits at an annual, primarily straight, beach event called the "Over The Line Bat and Ball Tournament."
Although those photographs showed women wearing swimsuits that were not extraordinarily revealing, nor unlike bikinis that have been around since the early 1970s, they showed swimsuits that were more revealing than Walters' leather kilt.
Some of the photos even showed police officers standing near the women in the bikinis, not surprisingly unfazed by their attire. The point, of course, was to show the court that the women were allowed to wear these ordinary, albeit more revealing than Will Walters' kilt, swimsuits without being bothered by police.
But rather than arguing that the swimsuits were somehow different than the kilt, as might have been expected, the deputy city attorney's response to the evidence was stunning. She actually called the women violators.
"Having photographs of violators does not prove these violators were not subsequently contacted by police during the event," wrote Hsu in her response to Will Walters' appeal.
Take a look at the photos in question below. According to Deputy San Diego City Attorney Bonnie Hsu, they are of women who are legally nude on a public beach -- violators of Section 56.53 of the municipal code--and therefore should have been "contacted" by police.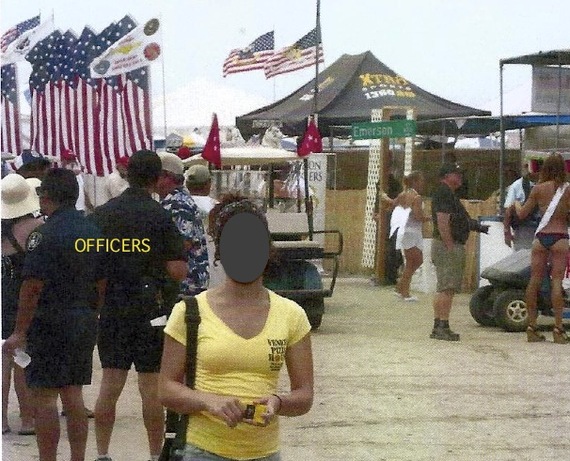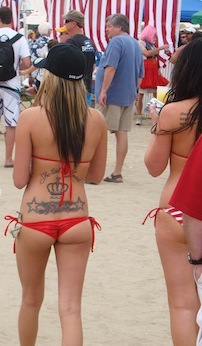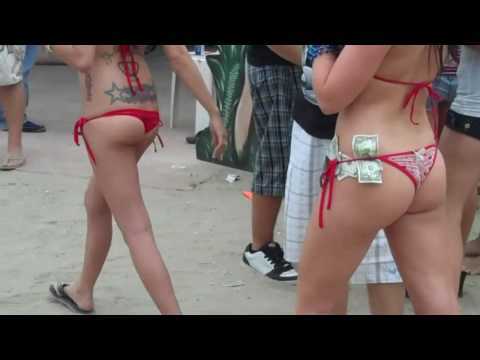 When Will Walters was "contacted" by police for wearing a leather kilt to Pride, he ended up being paraded in handcuffs through the festival (apparently nude -- at least according to officers), taken in a police car to a call officers responded to along the way to jail, kept locked in the back seat of a police car with no air conditioning for nearly half an hour on one of the hottest days of 2011 with the windows closed, and spending a night behind bars.
"Essentially, by trying to prove that officers didn't apply a different standard of enforcement of the city's nudity ordinance to my client at the LGBT Pride festival than they would apply to anyone else, the deputy city attorney is now saying that anyone wearing attire that shows any portion of the buttocks or upper thigh can be detained on suspicion of nudity," said Walters' attorney Chris Morris.
That ultra-strict enforcement standard will be a tough sell in a city whose primary industry is tourism, especially considering that much of that tourism -- perhaps a majority of it -- centers on beach and aquatic activities. Few women's bikinis offer complete coverage of the buttocks or as much of the upper thigh as the new standard asserted in the city's December court filing.
"I'm sure they didn't think this through," said Morris. "Or, maybe they just hoped the precedent their argument sets wouldn't be noticed by the media or the public; that it would just get buried in court documents. But if they keep digging this hole, eventually we'll all have to go back to those full-body swimsuits from 1926."
It's clear the city is trying to have it both ways: on the one hand saying women at the beach are subject to the same standards as gay men at Pride. Then, telling local media that no one (except Mr. Walters or possibly other gay men wearing less revealing kilts at Pride) need to worry about getting arrested for wearing skimpy clothing.
"Attorney Chris Morris' comments about banning clothes are utter nonsense," City Attorney's Office spokesman Gerry Braun told ABC affiliate, 10 News. "As Morris knows well, the City Attorney's Officer is responsible for defending the city, and in this case was successful."
By "successful," Braun was referring to the initial dismissal of Walters' discrimination suit against the city. That dismissal is under appeal at the 9th Circuit.
All Will Walters asked for initially was an apology from police for the fact that police violated his 14th Amendment right to equal enforcement and protection of the law. If the city wants to continue denying that there was any discrimination in this case, it may now have to prove it by arresting people for wearing swimwear that has been acceptable for decades.
Popular in the Community