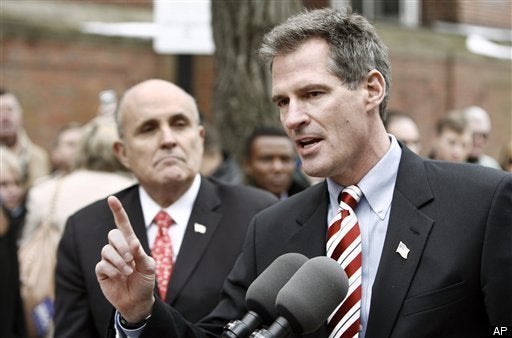 It is now a given that if he wins a Massachusetts Senate seat on Tuesday, Scott Brown will destroy the Democrats' plan to pass health care reform. But he will also destroy the Republicans' not-so-secret plan to pass health care reform.
In Washington, where everyone is desperate to know what's happening behind closed doors, all you have to do to keep something secret is do it out in the open, preferably on C-Span. Mitch McConnell did exactly that when he entered a unanimous consent agreement with Harry Reid about how to proceed on the health care bill. McConnell knew that agreement was going to make it impossible for Republicans to amend the bill and would put it on a fast track toward passage.
McConnell accepted an agreement brilliantly designed by Reid that required 60 votes to pass an amendment. McConnell did that without anyone noticing anything odd after a year of saturation coverage of the importance of 60 votes in the Senate. Everyone outside the Senate now thinks it takes 60 votes to do anything. Not amendments. Amendments pass by a simple majority, 51 votes. Amendments are usually debated for a couple of minutes or hours or days, then voted on. Once in a while, a 60-vote cloture motion is needed to end debate on an amendment. What McConnell agreed to was an implicit cloture motion in every vote on every amendment, thereby completely surrendering the minority's real power. In all my years in the Senate, I never saw a leader make such a mistake. If it was a mistake.
There are no real filibusters in the Senate anymore. The way you "filibuster" a bill that you want to kill is offer an endless stream of reasonable sounding amendments that have to be debated and voted on. It's easy to come up with one amendment per page of legislation. That's why the Republicans offered hundreds of amendments during the Senate committees' debates on the bill. When the majority leader brings up a two thousand page bill, the minority would normally come up with at least five hundred amendments that could drag out the debate for several months. That's what the Republicans did in 1994 when they killed the Clinton health care reform bill on the Senate floor. No filibuster, no forcing the Democrats to clear 60-vote procedural hurdles, no forcing a reading to the bill, just an endless stream of reasonable sounding amendments -- so reasonable that some of them passed with votes of 100 to 0. And the Democrats, seeing this could go on forever, surrendered. Fifty-seven Democrats were defeated by forty-three determined Republicans.
This time, Republicans tried to look obstructionist. To the media, the Tea Partiers, and Sarah Palin, it sure looked like Republicans were pulling out all the stops -- forcing a reading of the bill, forcing a frail elderly senator to vote in the middle of the night. But the Republicans only offered four substantive amendments along with five hopeless motions to send the bill back to the Finance Committee. One Republican amendment actually got 51 votes, but didn't pass because McConnell's 60-vote agreement with Reid sabotaged it. A Democratic amendment on re-importation of prescription drugs got more than 50 votes but did not pass. It would have shot a hole through Harry Reid's bill, as would other Democratic amendments that got more than 50 votes and failed. McConnell's unanimous consent agreement with Reid made Reid's bill impenetrable on the floor.
There are no columnists or pundits who understand Senate parliamentary procedure. There are actually very few senators who do. McConnell knows that. He knew everyone would fall for the silly stunts that looked obstructionist while he was surrendering all his power to Reid.
And now the strategy becomes clear: Repeal it! That is the Republican Party battle cry for the 2010 election. Repealing Obamacare is going to be the centerpiece of their campaign to take back the House and Senate. But how can you repeal it if they don't pass it. Hence, Mitch McConnell's enabling.
President Obama threatening to violate a campaign pledge by taxing workers' health care plans is one thing, but actually doing it is a dream come true for Republicans. They know the health care reform bill has a handful of taxes like that, none of which were mentioned by any Democrat in the last campaign. They can't wait to campaign to repeal those taxes. The internal Republican strategy debate now is should we repeal the whole bill or maybe leave some of the more popular sounding bits alone? But how can they run on any kind of repeal if Scott Brown wins in Massachusetts and steps into the Senate just in time to kill Obamacare?
If that happens, and the Democrats then scale back their dreams on cap and trade and other liberal ideas, then maybe moderate independents -- including some of Scott Brown's voters -- might think Mitch McConnell has all the Republicans he needs to keep the Democrats on the moderate course those voters prefer. So who is Mitch McConnell really rooting for in Massachusetts?
Popular in the Community