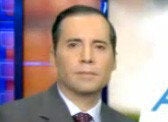 ESPNews anchor Will Selva has been suspended following the news that he read an entire passage from a newspaper column on-air without attribution.
Orange County Register columnist Kevin Ding wrote about the Lakers Sunday, opening his column with the following lede:
Christmas isn't over yet, Lakers fans.
The big game, it turns out, will be the game after the supposed Game of the Year.
In San Antonio on Tuesday night, the Lakers will be out to give themselves and their fans the much-needed gift of hope.
Wednesday afternoon, Selva read an almost exact replica of that paragraph, without crediting Ding or the Register.
"I made a horrible mistake and I'm deeply sorry. I did not live up to my high standards or ESPN's," Selva said in a statement. "I sincerely apologize for my sloppiness, especially to Kevin Ding, viewers and colleagues. In my 15 years in broadcast journalism, nothing like this has ever happened and I will make every effort to ensure it won't happen again."
"This is something we take extremely seriously and we've taken appropriate action. We looked into how it happened and found that this very bad mistake was made because he should have been more thorough, even on deadline, not because he was intentionally trying to claim someone else's work as his own."
Related
Popular in the Community