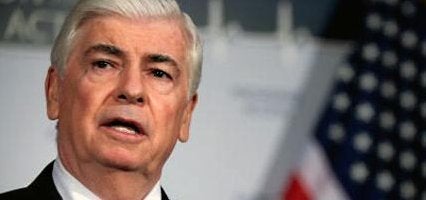 As you have no doubt heard by now, Sen. Christopher Dodd (D-Conn.) will not be seeking a sixth term in office. My first reaction: Good riddance. While it is common to act as if Dodd's decision is somehow shocking, the truth is this is a pretty obvious move: Dodd was facing an uphill climb in a reliably blue state, circumstances for which he only had himself to blame.
But more importantly, by disconnecting himself from the political rat race, he has the opportunity now, if he chooses to take it, to go out a hero.
With the future of financial regulation very much in his hands, he can recapture his former reformist mantle. He can act in a way that proves to the citizens of Connecticut that he has not been corrupted by financial interests - and nobody can say he is just doing it to get re-elected.
The nuts-and-bolts of what brought Dodd to his lowly state were outlined in a June 12, 2008 Portfolio piece, that documented how Dodd was the beneficiary of sweetheart loan deals from Countrywide Financial.
At the time, Dodd was deep into work on the Wall Street Bailout Enhancement Act, which was viewed by many to offer reciprocal sweetheart deals to Countrywide. The sketchiness of this arrangement was compounded by Dodd's claim that he had no idea that he had received favorable loan treatment from Countrywide, a claim that was disputed by at least one former loan officer from Countrywide, who said that Dodd was "told from the start they were getting VIP mortgage discounts."
The Senate Select Committee on Ethics subsequently cleared Dodd (this is something the Senate Select Committee on Ethics is getting pretty good at), but the charges have hung around his neck all the same.
Dodd would have been, for good reason, the poster boy for Democratic corruption and coziness with Wall Street in 2010. The best-case scenario for his supporters would have been a deeply ugly win.
As it stands right now, the Senate version of the reform bill that Dodd helmed from his chair of the banking committee is a far more robust offering than its House counterpart. Pat Garofalo described it in November as "more ambitious," and said that it "would go further in terms of blowing up and replacing the current system." In contrast to the House version, the Senate bill would not allow any financial institutions exemptions from the proposed Consumer Financial Protection Agency, would create a consolidated "super-regulator," and would place systemic risk regulation under the purview of a new agency, rather than the Fed.
Naturally, if you've been watching the health care reform debate and are wondering how it came to pass that the hyper-timid Senate has a more robust reform bill on offer than the House, there's a reason for that: it's Dodd. But what's not clear is whether he shepherded such a bill as a matter of principle, or as an electoral gambit.
Now it will become clear.
Portfolio's Kent Hoover sees Dodd's decision to quit the race as a sign of retreats to come - or, as he puts it: a renewed hunt for bipartisanship.
The Wall Street Journal's Michael Crittenden writes that Dodd's original bill "likely represented the high-water mark for the Senate's ambitions to overhaul regulation of financial markets." Crittenden goes on to add:
Senate aides and industry analysts said Sen. Dodd already had to compromise on some issues in order to move legislation through the Senate; Wednesday's expected announcement only solidifies the likelihood the legislation will be moderated.
With the opportunity to go out fighting for toothsome reform at hand, why would Dodd continue to compromise? Let's go back to the Wall Street Journal:
"Presumably now he has a greater interest in leaving a legacy," Thomas Gallagher, an analyst at International Strategy & Investment said in a note on Wednesday.
Calling all HuffPost superfans!
Sign up for membership to become a founding member and help shape HuffPost's next chapter