Some artists never stop creating. Will Sergeant has spent 30 years as the lead guitarist for Echo and the Bunnymen, and now he is coming to Los Angeles for his first U.S. art show. MELROSEandFAIRFAX was fortunate enough to score an exclusive interview with Will about what it is like to be an artist rocking out with different mediums.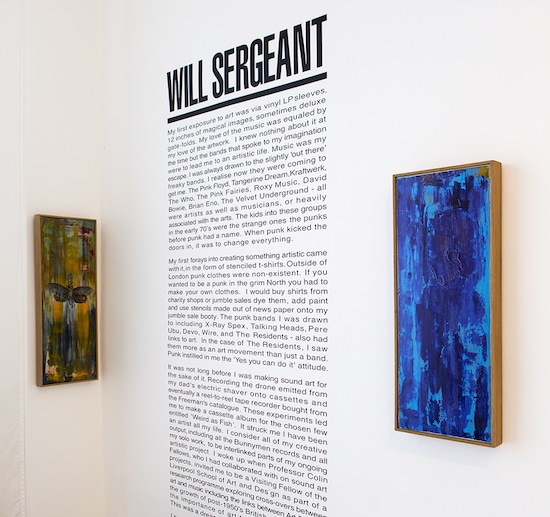 Photography: David Studarus
You are an accomplished guitarist from Echo and the Bunnymen, and now the Substrate Gallery is hosting the first U.S. solo art show showcasing your visual work. Do you feel that the music and the visual art are related? Is there any creative overlap?
Totally I see its as all part of the same thing. It all comes from the same parts of my brain and is linked, and is as one. The art I like is because of the music I like, and the music I like is because of the art I like.
I am into drones and one chord freak outs and the paintings I am into are more minimal things the New York colour field painters and the soviet schools of the early/mid 20th century suprematism and constructionism.
With the Bunnymen that is a kind of team effort so compromise is always involved. I do try and get some simplicity into the Bunnymen world but it's difficult when you have to accommodate others. But with my own solo recordings and projects I can set my own path.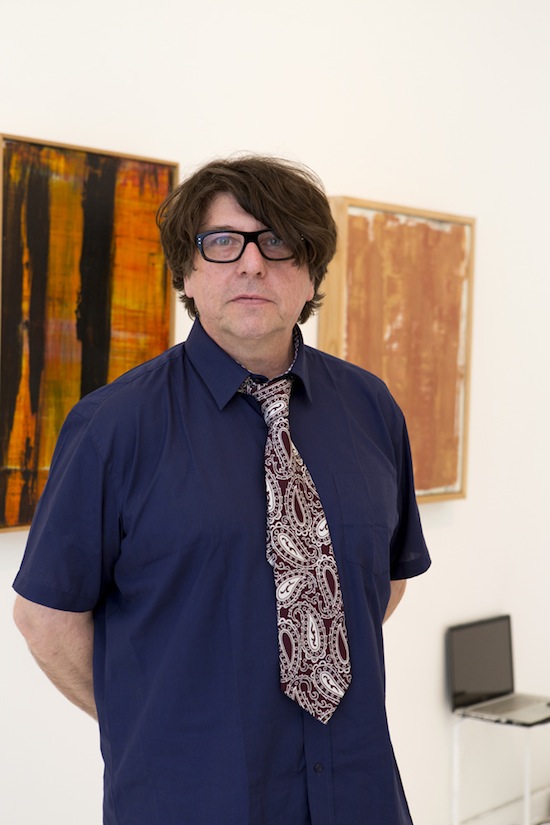 Photography: David Studarus
Do your fans respond to your music and visual art respond differently?
Up to now all the fans of the band have loved the art. I guess some fans like art and get it, others are just into the music, don't really turn up and have an opinion. The fans that have shown interest are all with me all the way.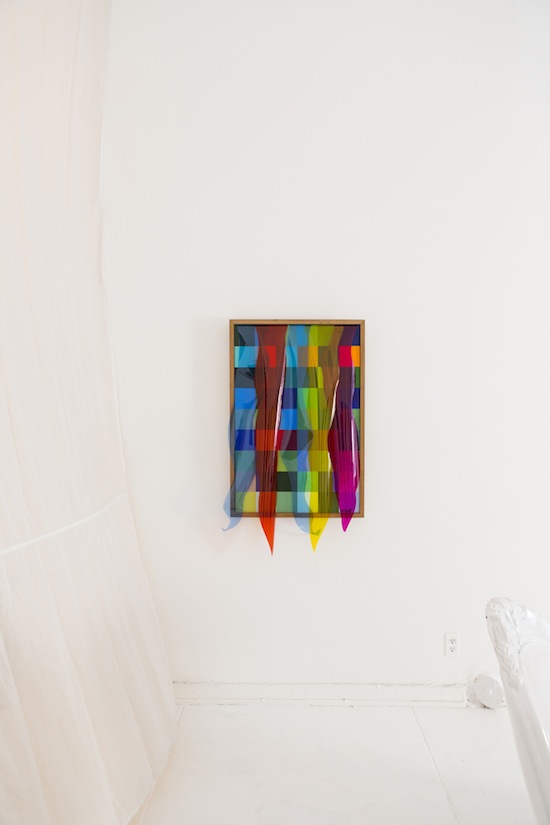 Photography: David Studarus
Is a gallery art show similar to playing a concert? Do you prefer one over the other?
Oddly the stress and tension is more doing the art show than doing a concert. I guess because I have done lots of concerts and know what to expect. The art show at Penny Lane Gallery in Liverpool went very well. This gave me the confidence to go forward with the art. I see the art and music as two sides of the same coin sort of; they are totally interlinked.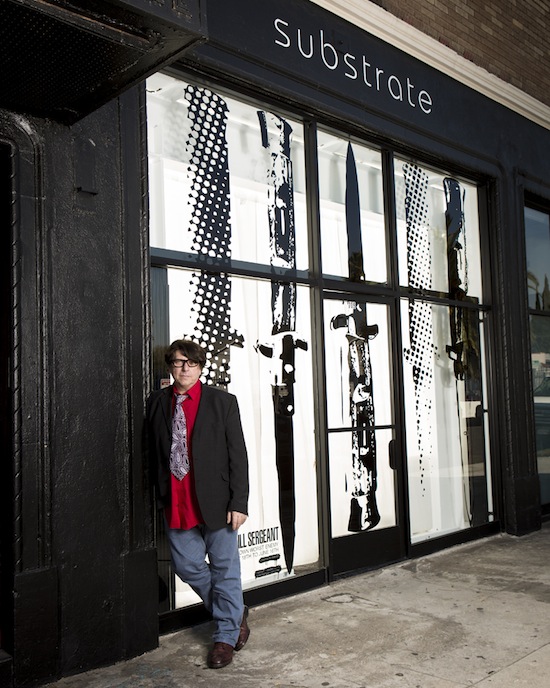 Photography: David Studarus
The work from My Own Worst Enemy utilizes many different mediums including abstracts, collages and screen printing. What is your favorite piece in the upcoming show?
I know it sounds like I'm dodging the subject, but I don't have a favorite. I like some works more than others. Sometimes my view of a piece is colored by the reaction of others. Some of my least favorite pieces have been the most popular, and I have changed my view on them a bit.
I am experimental in my approach to both mediums. I like to try things out. Not all are successful but they will be recycled and the traces left behind will become the bed for a new things. Just like layering tracks on a recording, layering paint or images to form a new piece.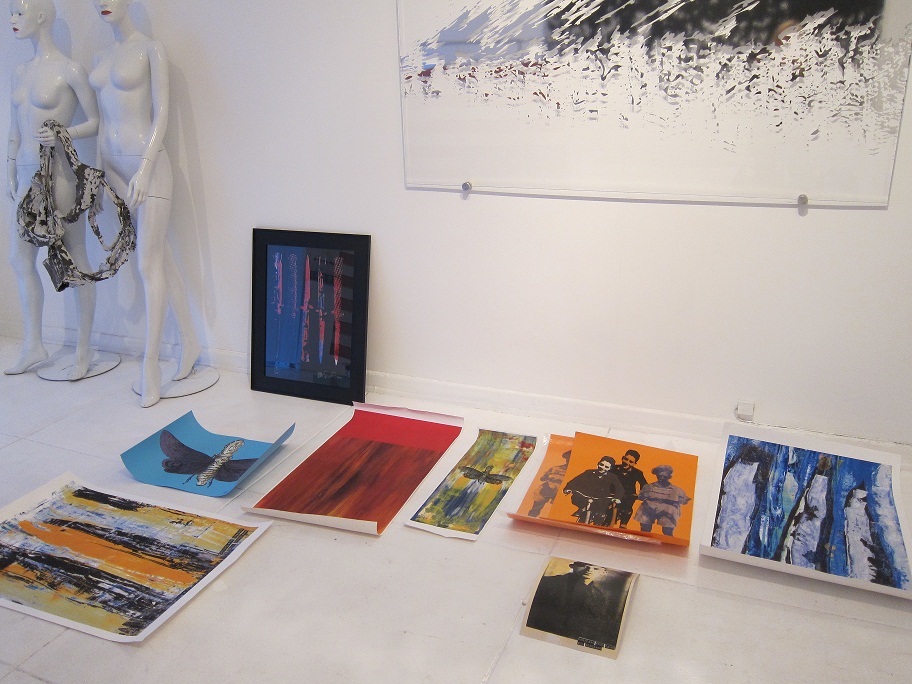 (Pic from Will Sergeant's art blog)
Is there anything else you would like to mention?
I have just moved into a new workshop/studio just round the corner from my house. I will be making more art and some larger pieces. Now I have the space. I have some more works in progress and they are taking shape. I have a new solo musical project coming soon -- Things Inside -- via my own label website Ninety Two Happy Customers. Lots of plans for more records and art.
Folks in L.A. can check out Will's art in person at his show at the Substrate Fine Art Gallery located at 709 North Ridgewood Place, Los Angeles 90038. The opening is May 18th from 7 to 11 p.m., and the artist will also make an appearance on May 19th from 2 to 6 p.m. My Own Worst Enemy runs until June 16th 2012.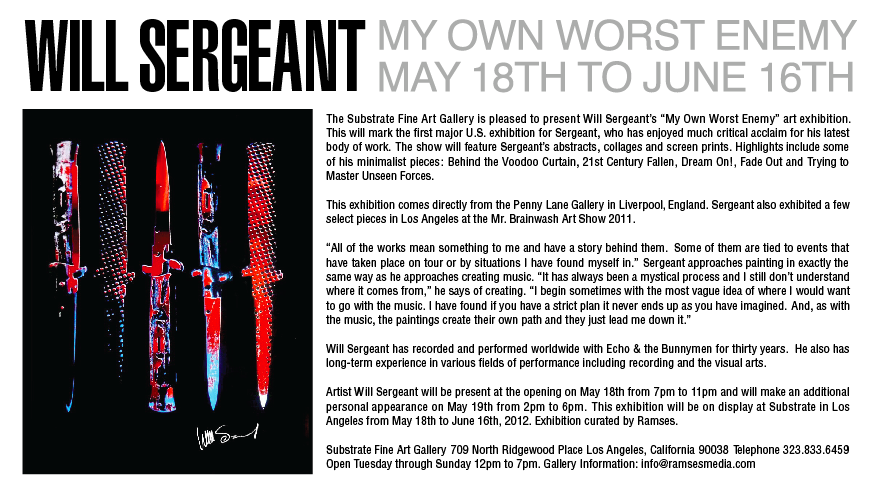 Related
Popular in the Community