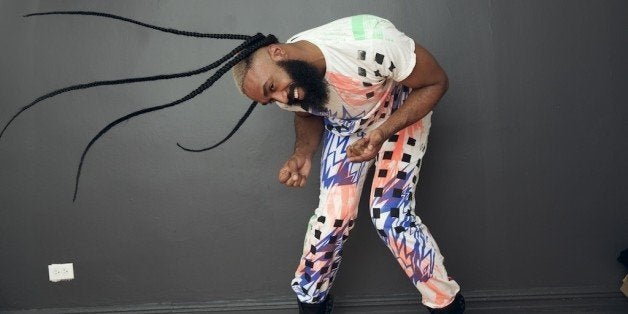 "ASSEMBLAGE" is an inquiry into the different ways artists utilize performance and technology to explore and express different notions of identity. An effort to push forward marginalized artists with a focus on people of color, non-western nationalities and those along the queer/trans spectrum, "ASSEMBLAGE" provides a platform for analysis of how art and performance intersect with the lives of these individuals who are visibly and openly existing in the digital age. This is the third installment.
Will Sheridan is a groundbreaking hip-hop artist and performer whose work is heavily informed by both his time in the sports world and global work as an activist.
Sheridan was the second former Division I basketball player to come out of the closet at the age of 26 in an interview on ESPN.com following his retirement from the sports world. He is also well-known for the non-profit he founded with his ex-partner, Ruiru Rising, that funds and supports orphans and impoverished youth aging out of government assistance in Kenya.
Over the last five years, Sheridan has expanded his journey into the realm of hip-hop and queer performance, navigating many nuanced layers of identity as a queer person of color, artist, musician, activist and sports icon.
"I was tired of artists telling the same story that everyone is telling in this whole circle of hip-hop and underground rap," Sheridan told The Huffington Post.
Sheridan's work as a queer artist found its roots in a frustration with the kinds of bodies, stories and identities receiving visibility and recognition within the hip-hop realm. His first album, "GIANT," straddled the art and hip-hop worlds, aiming to provide a point of entry for the spectrum of queer identity to hold a footing at the intersection of these two communities.
"'GIANT' is an acronym for 'Going In And Never Timid," Sheridan explained. "You're big enough to be who you are -- you're a giant too. It's an all-inclusive brand and storyline... As far as my identity, I'm 6 feet 8 inches, 240 pounds, I am literally GIANT myself. But if I can empower other people to become comfortable with who they are and what they do and encourage them to be a better version of themselves -- then that, itself, really is GIANT."
The dynamic nature of Sheridan's music and brand, at its heart, is grounded in empowering those who experience it and instilling passion for queers to reach their full potential. From his early days playing college basketball in front of 80,000 people to late nights performing in packed New York City clubs, Sheridan has become become a fully-realized and driven performer who is serious about the impact he, as a visible, queer "GIANT," has on those around him.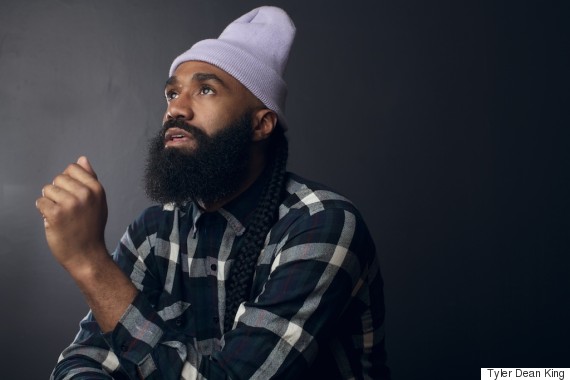 When Sheridan came out on ESPN long before Michael Sam kissed his boyfriend live on air, he made a statement about queerness in a way that had largely never happened before within the historically heteronormative sports world. He told The Huffington Post that he chose to come out in such a visible way in an attempt to share his story and break down assumptions surrounding the way queer identity intersects with the sports world.
"I think of my time playing sports as a form performance as well," Sheridan continued. "As far as the opportunity to come out on ESPN... there was this kind of radical queerness about it in a way, because I didn't even know really what I was doing -- I was just being normal… How noticeable and visible I am now kind of stems from that, and that's interesting because even in queer sports or the gay community now I'm still a radical. They challenge me to cut my hair and cut my beard and look more conservative. But really, I'm an artist in a sports world. I'm part of this spectrum and I don't think there's anyone else like that."
Perhaps the most compelling component to Sheridan's work is the activist framework through which so much of his career has operated and how his time in Kenya has influenced his identity as both a sports icon and artist. Sheridan's nonprofit Ruiru Rising is a response to the needs of young Kenyans who are afforded minimal life opportunities and age out of the system at only 16. The organization provides not only safe housing for these teens, but access to secondary education in order to develop a trade and enhance their quality of life.
"We stay in the orphanage, we live with the kids, we visit the kids, we visit their schools, we talk to their professors and that's just a part of me," Sherdian said. "They've influenced me so much. When I walk around Kenya these kids scream, "Giant! Giant!" but they don't even know that they're calling me by my performer name and that I'm a queer radical hip hop artist. But they know that I'm doing good in the world and that I'm there because I want to support them... everything from my haircut to who I am as an artist now is influenced by Kenyan culture and the Ruiru tribe."
In this way, Sheridan's identity as a performer is largely shaped and understood through his work as a global activist. While the hyper-political nature of his work isn't necessarily blatant, his work typically contains elements of social commentary -- whether it relates to navigating the world as a queer person of color or global social injustice.
"I think that I've learned to have a lot of fun with my music and sneak in substance," Sheridan explained. "My activism and my message is also in my story. I'm progressive enough and political enough that I am a political statement every time that I walk down the street or get on the train."
Sheridan is currently working on his next album "#GIANT II: Journey" and is engaged in a Kickstarter campaign to fund the project. Through this new endeavor he hopes to elevate culturally relevant conversations surrounding identity politics and queer identity.
"My album will have some material on it about the current situations with race, sexuality and where we are as a people," Sheridan told The Huffington Post. "I belong to so many communities -- I'm black, I'm queer, I'm a sports person, I'm a hip hop artist, I work in fashion. I'm a part of all these communities and my message represents all of that... finding that identity and performing it has really given me a voice."
Want to see more from Sheridan? Head here to check out the artist's Soundcloud or here to visit his Kickstarter campaign. Missed the first two features in "ASSEMBLAGE?" Head here to learn about queer musician NEOCAMP or here for trans South Asian trans performance artist duo Dark Matter.
Calling all HuffPost superfans!
Sign up for membership to become a founding member and help shape HuffPost's next chapter