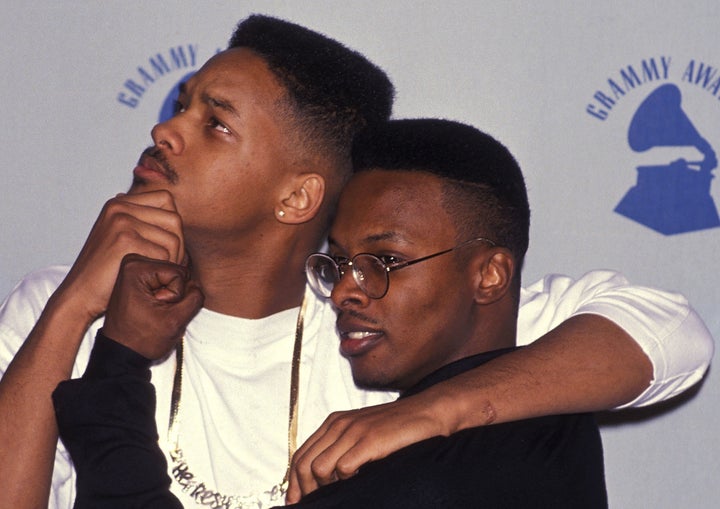 Actors Will Smith and Jada Pinkett Smith will not attend the 2016 Oscars ceremony to protest vast racial disparity in the nominations. But it's not Will Smith's first boycott rodeo -- he also refused to appear at the 1989 Grammys for their lack of inclusivity.
In 1989, the Grammys included a rap performance category for the first time, nominating Smith and DJ Jazzy Jeff for their hit "Parents Just Don't Understand." It was a step toward rap music gaining mainstream recognition, however, that segment of the show wasn't going to be televised. In a video "Entertainment Tonight" unearthed from its archives, the rap duo explains why they considered that decision "a slap in the face."
"We don't have a problem with the Grammy as an award or the Grammys as an institution," Smith says in the clip, "we just had a problem with the 1989 design of the awards show."
Smith summed up the issue as "ignorance" on the part of the National Academy of Recording Arts and Sciences (NARAS), which puts on the Grammys.
"They don't know anything about rap music," he said. "Our boycott was to open their eyes to rap music so next year, some rap group will be able to perform at the Grammys, and the awards will be televised, because the music is large enough and important enough to be on that show."
"Everybody to their own opinion," he said.
Lo and behold, the following year's Grammy awards did televise the segment honoring rap performers. But it wasn't until 1995 that NARAS allowed rap a Best Album category, like other major music genres.
PHOTO GALLERY
Actors Of Color Who Should've Been Nominated For An Oscar
Calling all HuffPost superfans!
Sign up for membership to become a founding member and help shape HuffPost's next chapter