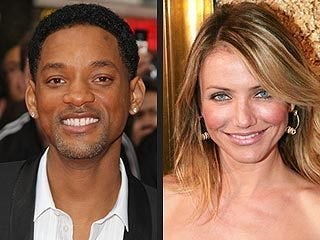 It's been a very good year for Will Smith. Not only is his Hancock a runaway box-office hit, but he also banked an impressive $80 million - making him Hollywood's top money earner last year, according to a new ranking from Forbes.
Cameron Diaz is no victim of the current economic pinch, either. Making $50 million last year, the Shrek and What Happens in Vegas star was Tinsel Town's top-earning female, reports the business publication.
Among others in the financial stratosphere: No. 2-ranked Johnny Depp, with a $72 million paycheck, and, tied for third place, Eddie Murphy and Mike Myers, with $55 million each - even though Myers's recent The Love Guru tanked.
Leonardo DiCaprio, with $55 million, rounded out the top five.
And while Atonement leading lady Keira Knightley earned $32 million, and Jennifer Aniston pulled in $27 million, Forbes notes that, once the gold dust settles, men make twice as much as women in Hollywood.
Popular in the Community