It's been nearly a year since Smith caused a seismic reaction by striking Rock for joking about Jada Pinkett Smith's hair loss. But the two stars remain connected to the awards show like super glue.
Smith, banned from this year's Academy Awards on March 12 and nine more ceremonies whether nominated or not, accepted the Beacon Award with director Antoine Fuqua at the African American Film Critics Association Awards in Beverly Hills.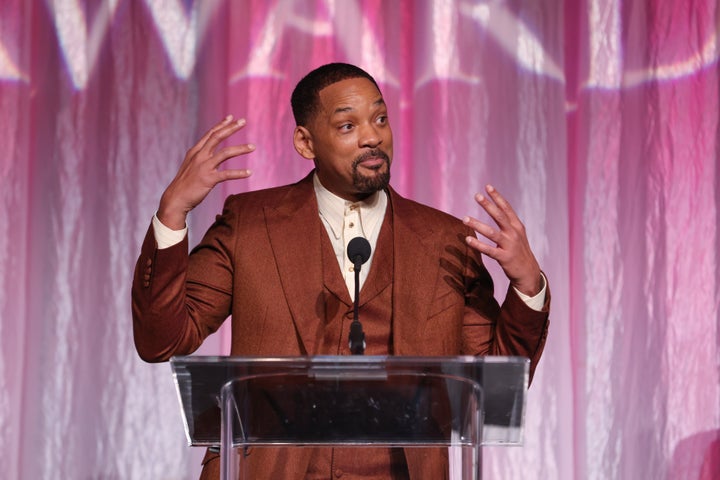 Smith spoke of playing a runaway slave in "Emancipation," his first major film release after you-know-what.
"'Emancipation' was the individual most difficult film of my entire career. It was all outdoors, that is true," Smith joked, per Variety.
Smith repeated an anecdote about getting repeatedly spit on by a white actor in an ad-libbed moment ― but expressed relief that director Fuqua asked for a take without the spit.
"In that moment, I knew that God was real," Smith told the audience.
Smith offered thanks ― to AAFCA and to Apple for adapting to the film's burgeoning budget, the trade daily reported.
"They make iPhones. They can do it," he said.
Across the country, Rock was also aiming for the funny. His set at the Comedy Cellar in Manhattan included a jab or two at the slap, our sources say.
Outlets are reporting that the comedian has been polishing material about Smith ahead of his live performance on Netflix Saturday.
Among the cracks heard at recent Rock gigs that could potentially land on the streaming broadcast:
"The other day, I watched 'Emancipation' just so I could watch him getting whipped." (per New York Post).
"The thing people wanna know … did it hurt? Hell yeah it hurt. He played Muhammad Ali! I played Pookie (in 'New Jack City'). Even in animated movies I'm a zebra, he's a fucking shark. I got hit so hard, I heard 'Summertime' ringing in my ears." (per Wall Street Journal).
"Will Smith is a big dude. I am not. Will Smith is shirtless in his movies. If you see me in a movie getting open heart surgery, I'm gonna have a sweater on." (per CNN.)
Popular in the Community