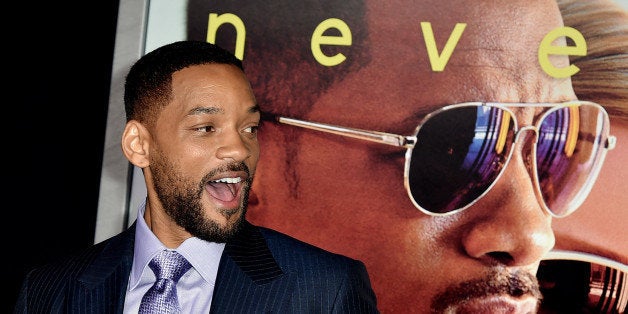 To be clear, "Focus" came in at No. 1 and performed well at the box office considering it's an R-rated film released in February. But $19 million dollars is not good relative to the gold standard of Literally Any Movie Starring Will Smith. Thus, the death rattle of his career has echoed through the blogs.
"To everyone's horror, Smith fell like Icarus while trying to make son Jaden into his own movie star in ['After Earth']," Jen Yamoto wrote for The Daily Beast. "Last month, Smith finally admitted that 'After Earth's' massive failure 'broke' him free from the need to be the box office Ali. Conveniently, that also meant he already didn't care if 'Focus' biffed it at the box office."
"It is a huge relief for me to not care whether or not Focus is No. 1 or No. 10 at the box office," he said (via The Daily Beast). But what if it's No. 1 and only rakes in half his usual numbers?
This was an important film for Smith. A sort of stepping stone back into the career he once had. As Betsey Sharkey of the Los Angeles Times wrote of "Focus:" "The Hollywood stakes for Smith are as high as they are for the con man he plays." Yet, there's more contributing to this supposed "failure" than his waning cool in the eyes of those under 25 critical consensus of "meh" in response to "Focus."
At Vulture, Kyle Buchanan attributed the decline to diminished returns for movie stars in general. He asserts that franchises are what matter most in the current market. "More than ever before, the source material is the star attraction," he wrote. "Actors have become truly secondary to the power of a strong franchise."
Emily Yahr, writing for The Washington Post, argued that the "the criteria for making the A-list in 2015 -- or staying on it -- has changed." She outlines different sorts of A-listers, noting the power of the franchise, but also tying in the likes of prestige, gravitas and marketability.
"The shelf-lives of A-listers are just much shorter," Jeffrey Ulmer (the author credited with coining the letter-based ranking) told the paper. "Basically, you find a lot more actors having that spark of an A-list spark. The ability to structure a career almost as completely and militantly as someone like Tom Cruise" -- who conquered Hollywood hit by hit -- "is very tough."
Still, Smith has a certain star pull that brought "Focus" numbers it would likely not have earned otherwise. "'Focus' is the kind of movie that needs a star of Smith's stature to work," wrote BuzzFeed's Adam B. Vary. "At the box office, at least, Smith's star power seems to have paid off."
This general idea is that he still has this "star power," though not as much as he once did, because, well, he's over and all movie stars and just good movies in general are over, and we are ruled by the franchise. Long live "Fifty Shades," "Twilight," etc.! And R.I.P., Will Smith's career. This is the state of the industry now.
Calling all HuffPost superfans!
Sign up for membership to become a founding member and help shape HuffPost's next chapter
BEFORE YOU GO