The opportunity for the United States to take a lead in ushering in a new modern era of cosmetics safety testing by ending tests on animals is fading fast. Other countries around the world continue to surpass the United States by enacting laws and policies that prohibit animal testing for cosmetics. The latest country to beat the United States on this issue might be South Korea.
Following two years of detailed work with South Korean officials, Cruelty Free International has welcomed the announcement by South Korea's Ministry of Agriculture, Food and Rural Affairs that the use of animals to test cosmetics will be part of its Five Year Plan for Animal Welfare. Further, the Ministry announced that the testing of finished cosmetics product on animals will be banned and there will be consideration of a further ban on the testing of ingredients.
The plan outlined by South Korea is a familiar one. It closely follows strategy used by the European Union which saw the complete phase out of animal testing for cosmetics beginning with finished products and moving on to ban the testing of cosmetics ingredients. This breakthrough makes South Korea the second country in Asia, after India to set out a firm route to completely end animal testing for cosmetics. This is more than the United States has done.
In addition to the European Union, India, and South Korea other countries that have advanced ahead of the United States in modernizing policies on animal testing for cosmetics include, Greenland, Norway, Israel, which have had testing bans in place for several years, and Brazil and New Zealand which recently made significant strides toward ending animals testing via legislation or policy decisions.
Don't get me wrong, the issue of animal testing for cosmetics isn't exactly being ignored by the United States. Indeed, last year's introduction of the federal Humane Cosmetics Act was a great step in the right direction. Coupled with tremendous bi-partisan support for and passage of the California Cruelty Free Cosmetics Resolution, as well as celebrity support , the profile of this issue in the United States was possibly greater in 2014 than it had been for nearly a decade.
Unfortunately, at the national level the United States often seems to move at a glacial pace especially with regard to animal issues. However, continued progress in other countries should help nudge the U.S. along.
It is important for U.S. decision makers to understand that ending cosmetics testing on animals not only benefits animals, it also benefits human health, consumers and the industry. Modern non-animal alternatives are often cheaper, faster and more predictive for humans. Plus, polls show that the American public overwhelming supports ending animal testing for cosmetics. Moreover, it is in the interest of industry to have broadly similar global safety testing regulations so that each product could have one safety dossier that would be universally accepted.
Last year, the Humane Cosmetics Act garnered the endorsement of 133 companies and stakeholders in the cosmetics industry including luxury professional hair care brand Paul Mitchell®, global beauty giant The Body Shop, and natural personal care icon Kiss My Face.
It's quite rare to have consumers, business, animal advocates, and international governments all beating the same drum, but that is exactly the situation we are increasingly finding ourselves in. Let's make 2015 the year that the United States starts marching in earnest to the cruelty-free cosmetics beat.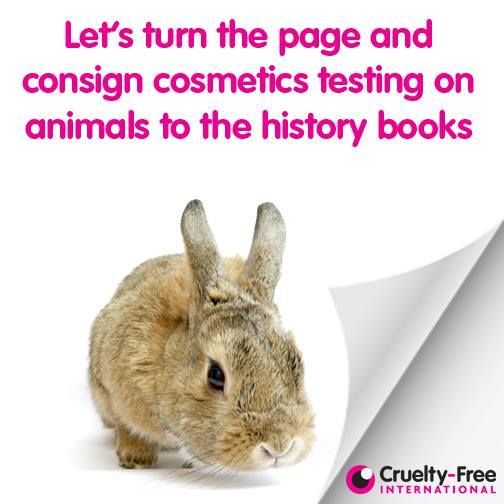 Calling all HuffPost superfans!
Sign up for membership to become a founding member and help shape HuffPost's next chapter