The big question in Illinois politics this week is whether Democratic State Rep. Ken Dunkin's direct challenge of House Speaker Michael Madigan's authority signaled the beginning of the end of Dunkin's 13-year tenure in the Illinois House.
Dunkin's decision to not vote on two bills important to Democrats meant that both failed.
Will Madigan, who also is head of the Democratic Party of Illinois, mount a primary challenge to Dunkin?
Will Gov. Bruce Rauner, with whom Dunkin made deals without Madigan's blessing, use his campaign fund and a Super PAC he controls to support Dunkin?
Another Super PAC, IllinoisGO, was founded with the goal of supporting Democrats who make "difficult decisions" -- which means those who vote for the kinds of business and political reforms that Democrats typically have not supported and which, coincidentally, are components of Rauner's Illinois Turnaround agenda.
But putting up a successful primary challenge to Dunkin won't be easy, even for Madigan. Dunkin has represented his district for 13 years and won re-election in 2014 with 83 percent of the vote. The Super PACs mentioned earlier can't donate directly to or coordinate any activities with the Dunkin campaign, but they can pour unlimited resources into advertising that promotes Dunkin as the man who stood up to Madigan. They also can portray any Madigan-backed primary opponent as a puppet of the Speaker.
Those could be messages that resonate with voters who are very familiar with 13-year incumbent Dunkin.
For his part, Dunkin maintains his not voting for bills to strip Rauner of power to make rules on who qualifies for subsidized child care and home health care was not an act of defiance. In an appearance on WTTW's "Chicago Tonight" the day after his non-votes, he said he helped negotiate Rauner's restoration of most of his cuts. That made the bills moot, he said.
Several weeks ago, I made a promise to my constituents to do everything within my power to reverse Gov. Bruce Rauner's devastating cuts to child care. I promised -- and I delivered. And now, 100,000 more kids will have access to child care by the end of the year.
We'll know soon if Dunkin will face a primary challenge. Nov. 30 is the deadline for candidates to file petitions for the March 15 primary.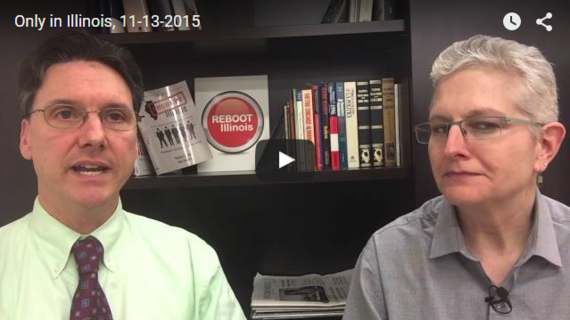 REAL LIFE. REAL NEWS. REAL VOICES.
Help us tell more of the stories that matter from voices that too often remain unheard.