"I always get nervous when I see female pastors/chaplains. Here is why everyone should as well:
"First, women are not called to be pastors, and since a chaplain is supposed to be a pastor in uniform—it exposes their rebellion.
"Second, the office is permitted for men only, and women are prohibited from teaching (1 Timothy 2:12).
"Third, people should be very worried when they see women pastors/chaplains teaching. Why? It could be God's judgment upon them (Isaiah 3, "…and women rule over them")!"
The above are the words of Captain Sonny Hernandez, an Air Force Reserve chaplain for the 445th Airlift Wing at Wright-Patterson Air Force Base in Ohio, posted as a comment on a blog post by Air Force Lt. Col. Jonathan Dowty on his "Christian Fighter Pilot" blog — a blog on which Lt. Col. Dowty has provided his readers with a steady stream of misogynistic, gay-bashing, Islamophobic, and other very "Christian" posts for over a decade.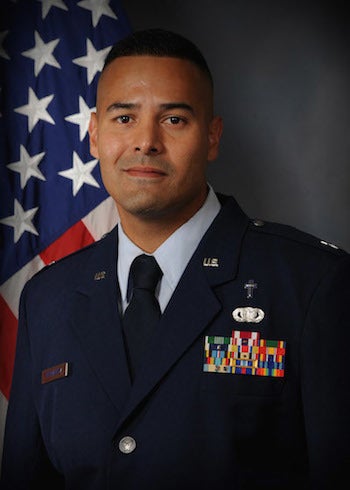 In the post that Chaplain Hernandez was commenting on, titled "Kansas Army National Guard Commissions Female Chaplain," Lt. Col. Dowty had expressed his opinion that female chaplains are not acceptable, writing: "… there are some who advocate that chaplains should be able to meet the needs of all of their troops, and a 'minority' chaplain actually undermines that cause. While every Christian denomination represented in the military accepts a male pastoral leader, a substantial percentage do not accept female pastoral leaders."
And it's not just the gays in the military that Chaplain Hernandez has a problem with. One of his other favorite groups to rail against is other Christian chaplains who aren't the right kind of Christians — those false prophets, as he calls them, who aren't the kind of "Bible-believing" Christian that he is — writing posts like "Bible-Believing Military Chaplains Wanted," in which he warned service members:
"It is important to note that not all military chaplains that profess to represent Christ are ambassadors, as some are apostates. Just because Christian chaplains wear cross insignias, reference Scripture, and are amicable, it does not mean that they are regenerate, born again Christians. The Devil quoted Scripture (Matthew 4:6) and masquerades as an angel of light (2 Corinthians 11:14), which is why Christ warned:
'Beware of false prophets, who come to you in sheep's clothing but inwardly are ravenous wolves."
With both Lt. Col. Dowty and Chaplain Hernandez being so unabashedly misogynistic and homophobic, you can imagine their response to the appointment of a new commandant at the Air Force Academy who is both a woman and gay!
As I wrote a few weeks ago, Lt. Col. Dowty's response was to write a post on his blog titled "BGen Kristin Goodwin and the USAFA Honor Code," in which he accused Brig. Gen. (Select) Goodwin, who has been nominated to be the Air Force Academy's next commandant of cadets, of being a liar. Dowty's basis for this accusation? Goodwin graduated from the Air Force Academy in 1993, but the policy of "Don't ask, don't tell" (DADT) wasn't implemented until 1994. Therefore, according to Lt. Col. Dowty, Goodwin, who is a lesbian, must have lied about her sexual orientation in order to join the Air Force, asking in his blog post:
"How did Col Goodwin — an open homosexual — enter the Air Force without lying?"
By his publicly calling his superior officer a liar, and doing so in what was a clearly anti-LGBTQ context, the slew of military policies and regulations potentially violated by Lt. Col. Dowty is extensive — ranging from the DoD's Diversity and Equal Opportunity policies to Article 89 of the Uniform Code of Military Justice (UCMJ) — Disrespect toward superior commissioned officer.
Lt. Col. Dowty has since edited his post, rewording and deleting the words "without lying" from the accusatory sentence quoted above so that it now reads: "How was Col Goodwin — an open homosexual — able to enter the Air Force?" Whether he was ordered to do this by his superiors as a result of MRFF's complaint or did it on his own to make it appear to anyone reading his post now that he is innocent of having accused Goodwin of lying is not known at this time. (A cached version of Dowty's unedited post with his original accusation can be found here.)
But it wasn't Lt. Col. Dowty himself who responded to MRFF's filing of an official complaint against him. For that task, he turned to his surrogate, Chaplain Hernandez, who proceeded to show his own utter disregard of all of the same policies and regulations listed in MRFF's complaint against Lt. Col. Dowty by writing a post on Dowty's blog titled "'BREAKING': Mikey Weinstein and the USAFA Commandant's Homosexuality," in which he defended his homophobic blogging buddy, claiming that Dowty "did not call Brig. Gen. (Select) Kristin E. Goodwin a liar. Instead, the CFP commentary posed a rhetorical question – by definition, one whose precise answer isn't relevant or easy to determine – to inspire discussion on philosophy – by definition, analysis of difficult problems – and morality at the US Air Force Academy and society." And, in addition to defending Dowty with his ludicrous "rhetorical question" defense, Chaplain Hernandez expressed his own opinion on the subject, with statements such as: "Leaders should be promoted because of sacrifice and integrity, not sexual immorality."
Chaplain Hernandez's defense of Lt. Col. Dowty's homophobic, disrespectful, and completely unfounded accusation against Brig. Gen. (S) Goodwin has now led MRFF's attorneys to file an additional official complaint with the Deputy Inspector General for Administrative Investigations — this time against Chaplain Hernandez.
Will the Air Force continue to allow this duo of virulently homophobic, misogynistic bloggers within its ranks to operate as usual with complete impunity? If so, as I said at the end of my previous post, our military might as well just chuck out the Uniform Code of Military Justice right now and replace it with the "Uniform Code of Military Jesus."
Popular in the Community