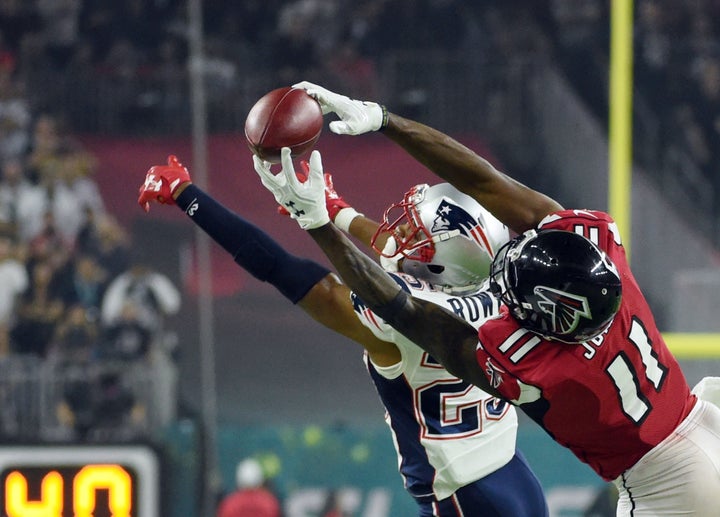 The Atlanta Falcons dominated Super Bowl 51 until Tom Brady and company decided that enough was enough. Through a series of Falcon's penalties and Patriots playmaking, New England hijacked the Lombardi Trophy in the greatest comeback in Super Bowl history.
Although the Falcons were up against arguably the greatest quarterback in NFL history backed by a formidable team, when you're up by 20 points and lose, somethings amiss. Not even the magic of Matt Ryan and Julio Jones was enough to save them. So instead of returning to Atlanta as Super Bowl champions, the Falcons are forced to settle for second best.
The Falcons have a rallying cry: "Rise Up." This season every football fan in Atlanta has been proudly chanting it as the "Birds" made mincemeat out of almost every visitor to the Georgia Dome. But now the fans have left the building and the excitement is gone. The dream of being crowned Super Bowl Champions in 2017 has been relegated to the dustbin of history. No one will remember the team that took second, only that Brady and his Boston bandits never quit and were crowned.
What's unknown in this story is how the Falcons will respond. Coach Dan Quinn did a magnificent job of leading his team to Houston, but he will undoubtedly be scrutinized for his team's inability to close out a game that his gridiron warriors clearly dominated.
In the long run, only one thing really matters: Will the Falcons "Rise Up" after being publically humiliated in front of a billion people? Or is this battle cry just a marketing slogan created at the Falcon's complex in Flowery Branch by guys in pin stripe suits and granny glasses? Is Matt Ryan, the 2017 NFL MVP, intelligent enough to learn from Professor Brady's class on mental toughness and roar back to the top in 2018? Or will he and the Falcons quietly return to Atlanta with their tails between their legs and shrink back into NFL mediocrity?
Time will tell, but here's the beauty of the scenario: Millions of kids that worship the black and red uniform and chant its battle cry are about to find out what "Rise Up" really means. The Falcons may have allowed the Super Bowl to slip from their hands, but that's not nearly as important as what they do now as their impressionable young fans watch them mourn. It's easy to be a role model when you're basking in the glow of victory, but when you've been embarrassed in front of 1/7 of the world's population, grace doesn't flow so naturally.
Yes, Atlanta is about to find out what its Falcons are really made of, and what's revealed will set the stage for the future of Arthur Blank's franchise. My hope is that Coach Quinn and his maestro, Matt Ryan, will lead this team to truly "Rise Up" from the ashes of defeat and show their city that it isn't just a slogan, but a way of life. Football may only be a game, but it's also a great metaphor for living. It's not about how many diving catches Julio can make or how many completions "Matty Ice" can throw; it's about how much defeat, disappointment and despair they can suffer and still keep "Rising Up" with their heads held high and their hearts in tact. If the 2017 Falcons can pass that lesson on to their adoring young fans, it will serve them in a far greater way than any championship t-shirt they may have worn around school.
Note to Falcons: The big game is over. You're beat up, emotionally exhausted, and disappointed to the point of despair. Just remember that there are millions of us who look up to you as heroes, as Gods of the gridiron, and your extraordinary feats of magician-like athleticism not only entertain us, but also give us hope in a world that sometimes seems hopeless.
We will all be watching, and you have the opportunity to teach us how to bounce back in your moment of despair. So "Rise Up", Falcons, and show us what you're made of.
REAL LIFE. REAL NEWS. REAL VOICES.
Help us tell more of the stories that matter from voices that too often remain unheard.
BEFORE YOU GO