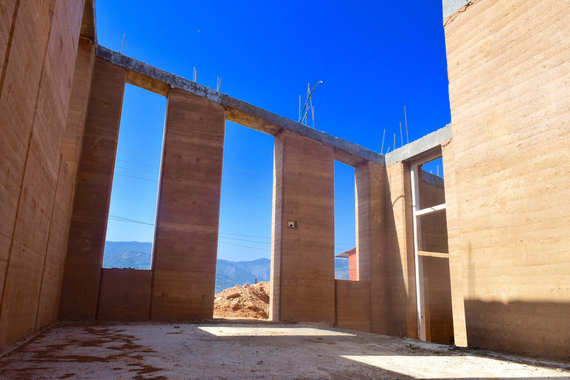 Nine months after the 2015 earthquake devastated central Nepal, a confusing mix of early success and later failures continue to quash expectations of millions of people. The immediate toll was quantifiable: nearly 9,000 people perished, almost a million homes and over 5,500 government buildings destroyed or damaged, economic losses exceeded a third of the national output of about $20 billion. The post-earthquake response hints at tall tasks ahead to mend the relationship between citizen and state, deepen democratic accountability, and strengthen the country's ability to manage complex projects and govern itself.
A core function of government is to protect, mitigate, and respond to disasters. When assessing its checkered record so far, Nepal's 250-year old legacy of an unresponsive state looms large. Extractive by design for over 150 years, Nepal has experienced only a few decades of democratic exercise after 1950, which has been intermittent, and marred by corruption and violent conflict. After the abolition of the monarchy in 2006, the new republic was expected to pave the way for economic prosperity on the bedrock of inclusive democracy. Yet, the country has been trapped in a long transition that has weakened state legitimacy and competencies.
A seven-year stalemate over the drafting of a republican constitution that reorganized a unitary state into seven federal provinces was partly made possible by the earthquake. Juxtaposed against the ravages of the largest natural disaster the country faced in over 80 years, the wrangling over the constitution seemed petty, and the politicians appeared to unite for a cause larger than themselves. Nepal's Post Disaster Needs Assessment (PDNA) was one of the most rigorous and credible efforts marshalled anywhere, leading to a large pledge of over US$4 billion -- 100 percent of stated public needs -- at an international conference where India, China and the West jostled for the top prize in generosity. To spend this money on reconstruction, an "extra-ordinary mechanism" in the form of the National Reconstruction Authority (NRA) was created. The line ministries, such as health, were also allowed to streamline decision-making and to establish mechanisms for rebuilding partnerships with national and expatriate organizations.
However, this was short-lived. Two months after the disaster, the two leading political parties bickered on the leadership of the Authority, and failed to secure parliamentary ratification of the bill that created the NRA. The Authority was placed in a legal limbo as parties switched attention towards issuing a new constitution. Although highly progressive, with clauses open to amendment, heavy-handedness on the part of ruling parties triggered a protracted agitation in the southern plains of Nepal against the new constitution. Displeased that its own wishes were ignored, India abetted the protest by blockading the border for five months, curtailing the import of essential fuel, food and medicines. This blunt intervention delayed reconstruction, and deflected criticism of government incompetence towards an external force.
When the National Reconstruction Authority was set up finally in December, it found itself racing against time. Thousands of citizens have had to weather the winter under harsh conditions, with at least eight reported to have died in the district of Sindhupalchowk alone. A central government hamstrung by post-conflict challenges, and the absence of functioning locally elected government for over a decade aggravated the apathy and unresponsive attitude towards suffering citizens.
Where does this bring us? What can both the government and international community do? Next week, we will attend the Nepal Earthquake Summit at Dartmouth College. There, we will pause to reflect--and look forward. We see no choice but to expedite reconstruction by committing to hard rebuilding targets, leveraging advances in mapping technologies and citizen engagement, and demonstrating a level of transparency that compels the international community to also step up.
Nepal must tap again the spontaneous fountain of support it received in the aftermath of the quake: the volunteerism of its youth, the generous support of its expanding diaspora, and a vibrant civil society that hosts, for instance, dynamic open source, crowd-supported mapping communities to rebuild effectively. Alongside targets that are displayed on open data and mapping platforms, mechanisms to facilitate citizen oversight and redress grievances. In the end, there is no substitute for government efficiency and propriety: it must demonstrate a level of transparency--via crowd-sourced data platforms--for the dispatch of funds and completion of projects on time and within budget.
We believe that Nepal can be a beacon of inclusive, progressive democracy and development in a region that is home to a large share of the world's youth. The tragedy has not shaken the state to act to the extent expected, but it still has the opportunity to build back better, demonstrate effective delivery for citizens, and set the country on a path to sustainable development by increasing land productivity, robustness of infrastructure, and safety of homes. While a commendable start to the recovery process was scuttled by politicians behaving badly and a large neighbor going rogue, there is still time to correct a derailed approach to reconstruction. Indeed, this is the first serious test for the new federal republic as it seeks to demonstrate returns on the deep investments Nepali citizens made for democracy over the past seven decades.
Swarnim Wagle, PHD, is an an economist who served as a Member of Nepal's National Planning Commission from May 2014 to November 2015. SP Kalaunee is the Director of Governance and Partnerships of Possible, which delivers public sector healthcare in rural Nepal. Duncan Maru, MD, PHD is the Chief Strategy Officer of Possible and Instructor in Medicine at the Division of Global Health Equity at Brigham and Women's Hospital in Boston.
Photo credit: Subeksha Poudel
Calling all HuffPost superfans!
Sign up for membership to become a founding member and help shape HuffPost's next chapter