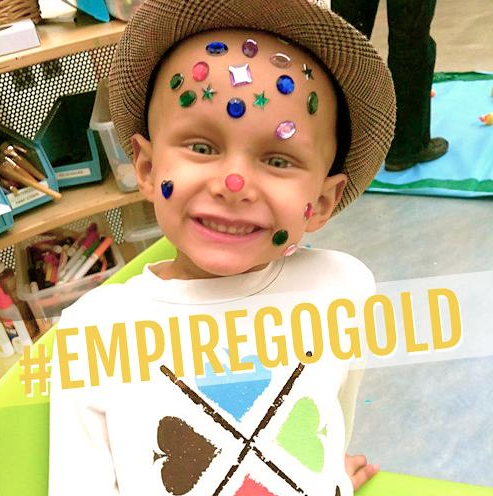 (Photo credit: Maya Thompson & The Ronan Thompson Foundation)
What do World Cup finalists, the 100th Anniversary of Little League Baseball and the Teenage Mutant Ninja Turtles have in common?
The light that beams from an international icon, a pillar of the New York skyline -- part of the city's heart, and history.
In 2012, the ownership of the Empire State Building installed a LED light system, sixteen million dazzling colors that change to honor various organizations and occasions. Since then, the Empire State Building illuminates the sky for holidays, and the aforementioned, along with Frank Sinarta's eightieth birthday and the release of The Simpsons movie. From purple, pink and white for the release of a Mariah Carey album to yellow for Snapple, the Empire State Building has beamed bright in every color in the palette.
Except, it would seem, gold.

Over the past several years, numerous pediatric cancer advocates have requested that the Empire State Building be lit gold in September, for Childhood Cancer Awareness month. After several attempts filling out the Lighting Partnership application, childhood cancer awareness has been denied yet again.
And advocates, families, survivors, concerned citizens and bereaved parents will not go quietly.
Despite applications, emails and petitions, the Empire State Building refuses to channel the power of their glow into awareness for pediatric cancer. Now, passionate supporters-turned-activists have taken to social media to voice their hurt, disapproval and outrage. The hashtag #empiregogold is the latest plea that has taken the need for childhood cancer awareness viral. The uproar has dominated the Empire State Building's social media, full of appeals and requests that the Empire State Building seems to be blocking.
But why the hush-hush? Unfortunately, devastatingly, pediatric cancer is hardly rare. According to statistics shared by The Ronan Thompson Foundation, childhood cancer remains the number-one disease-killer in kids, and forty-six children are diagnosed with cancer every day.
Do these children really not deserve awareness? Or funding? Or a cure for a disease that is, at best, horrifying? Do they not deserve a day of gold, the color of childhood cancer awareness?
If the name "Ronan" sounds familiar, maybe you've read the blog of his mother, childhood cancer activist Maya Thompson, who started The Ronan Thompson Foundation after losing her three-year-old son to Neuroblastoma. Maybe you've felt your eyes fill with tears after hearing Taylor Swift's song, "Ronan," which she based on Thompson's blog and for which she gave her a co-writing credit.
Thompson, like thousands of other parents who have lost their children to cancer, wants no other child to go through what Ronan did, and wants no other parent to experience life without their child.
"I know the hard way how little attention childhood cancer gets. My son died because of it. Lack of awareness equals lack of funds and lack of funds is why childhood cancer is the number one disease killer in America," wrote Thompson on her blog. For her, and the millions of other families affected by pediatric cancer, this isn't just a cause -- it's a life. A life cut short.
Thompson mentioned that New York City is her favorite city in the world -- one where her son, Ronan, received treatment and was happy.
The similarities between New Yorkers and childhood cancer patients are striking: New Yorkers are known for their fighting hearts, their voracious ambition, their resilience. They are known for coming together in times of hurt and hardship, and their infallible spirits are both poetic and fierce. New Yorkers possess an explosive passion that is known and highly regarded.
Could that passion explode in gold?
It isn't about lights. It's about awareness. It's about the lives of children who were brutally taken by a disease that lacks the necessary awareness to bring about the funding and treatment needed to save the most innocent lives.
Lighting the Empire State Building gold would shine a light on childhood cancer, and allow it a national audience, which will hopefully manifest in support.
But parents and activists can't go gold alone. They need you. All of you. And they need you, New York. They need the city built on determination and bringing people of all types together, to be the voice that patients deserve. They need calls and posts and campaigns made in honor of the kids who can't do it themselves.
"Our kids fighting cancer do not have a voice. It is up to us as adults to advocate for them," wrote Thompson.
Let's be that voice. Let's go gold.
And encourage the Empire State Building to do the same.
Popular in the Community