For 80 years, Catholic Workers have helped lead the nation's peace movement. With a growing number of non-violent actions, arrests and hunger strikes in recent months, they have become the activists most closely aligned, in deeds, to Reverend Martin Luther King, Jr. Invigorated by Pope Francis' radical transformation of the Vatican, some feel that a new, transformative social justice movement is on the march.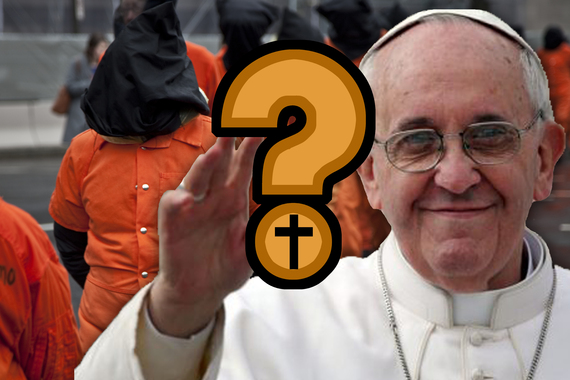 Often, Dr. King's legacy is limited to the narrative of equal rights for African Americans, but while the race struggle was at the core of King's work, it was part of his much larger, more revolutionary vision for social justice and peace. Indeed, many students of civil rights history, myself included, believe that it was his outspoken commitment to ending the warfare state, the Vietnam War, and poverty, that compelled America's hidden Powers That Be (likely the F.B.I.) to assassinate him in 1968.
I have had the privilege of being associated with the Catholic Worker movement for 30 years; most of it as an infrequent contributor to the group's newspaper, and a cook on New York's Lower East Side in one of the oldest continuous soup kitchens in the United States. Dorothy Day, the co-founder of the Catholic Worker movement (whose canonization is likely to be granted by Pope Francis), believed that directly helping the poor and incarcerated, and protesting for peace, are core commands of the gospel.
Pope Francis has shocked--and delighted--many, with his revival of the "social gospel" of the core deeds (feeding the hungry, healing the sick, clothing the poor and visiting the incarcerated), which Jesus reportedly commanded of his followers. He recently broke with centuries of grandiose Vatican tradition by visiting an Italian prison and kissing and washing the feet of prisoners --two of them Muslims and two of them women-- explaining, "Things from the heart don't have an explanation."
"It is a whole new moment," said Brian Hynes, a veteran Catholic Worker peace activist who will go on trial in a few days for his arrest, with 16 others, for protesting drone assassinations outside the Hancock Air Force Base near Syracuse, New York (the training and control center for most drone killings in Afghanistan). "Suddenly, the Christian peace activists are confused about not feeling embarrassed by the Pope. I think there is a lot of optimism."
According to Hynes, opposing the military industrial complex, war, and violence, is a core concern for Catholics of conscience. "Dorothy Day," explains Hynes, "said there is enough in the world for the teeming masses, but not enough in the world for the teeming masses and endless war."
Martin Luther King's courageous decision to provide leadership and religious authority to the peace movement was historic. In April, 1967, he said, "This business of burning human beings with napalm, of filling our nation's homes with orphans and widows, of injecting poisonous drugs of hate into veins of people normally humane, of sending men home from dark and bloody battlefields physically handicapped and psychologically deranged, cannot be reconciled with wisdom, justice and love. A nation that continues year after year to spend more money on military defense than on programs of social uplift is approaching spiritual death."
Seven years ago, a group of Catholic Workers founded Witness Against Torture, to literally march to the prison at Guantanamo Bay to perform the gospel deed of visiting the incarcerated. While United States media pays enormous attention to the Christian right, no attention was paid to 25 American Christians trying to perform a Christian rite at Guantanamo Bay. Catholic Worker Matt Vogel told the New York Times, "We don't take the gospel literally, but we take it seriously."
Since then, the orange jumpsuit and black-hood actions led by Witness Against Torture have continued, allied with groups like the Center for Constitutional Rights, Code Pink, and Amnesty International. They have become the nation's leading moral voice against the torture and unlawful imprisonment of the more than a hundred detainees at Guantanamo Bay who have never been tried for any crime.
To commemorate the 12th anniversary of the opening of the Guantanamo prison, more than 150 activists, led by Catholic Workers, occupied the atrium of Washington's crowded National Museum of American History. According to the group, the activists, "hung banners, stood in stress positions in hoods and jumpsuits, spoke to the tourists, and with their bodies and voices revised the museum's 'Price of Freedom' exhibit to include twelve years of torture and indefinite detention as the bitter cost of the United States' misguided pursuit of "national security."
New York Catholic Worker Erin Brock was among the protesters. Brock, 30, has lived a life of voluntary poverty and service in the Catholic Worker's New York House for one year, and has already been arrested four times protesting Guantanamo. She is in the process of converting to Catholicism, and says, "I feel so lucky that I am going to become a Catholic under Pope Francis. Now that Pope Francis says he doesn't believe in capitalism, it's no longer radical to say that. And I believe that there is a vast population who can affect the military industrial complex and the path we're going down."
Like Martin Luther King, Catholic Workers train protesters to practice radical non-violence. This means not just remaining peaceful during arrests, but working to "love thine enemy."
Finn Arefin a New York Muslim participated in the Museum action, where he strived to understand and respect those detractors criticizing the protests. Arefin is enamored of the Catholic Worker philosophy, and excited about the "awesome" new Pope who "says things that are unpopular." Explains Finn; "The message of Christ is that he calls on us to love one another regardless of religion. You cannot choose whom you love--you are there for the love of humanity."
Catholic Worker veteran Carmen Trotta, an articulate Witness Against Torture leader (and former head of the War Resister's League) says he is very excited about Pope Francis, noting that attendance at his father's church has doubled in the past year. Speaking in the call-to-individual-action language of the Catholic Worker movement, Trotta says, "We need a civil rights movement with at least half the courage that we had in the past. It's not going to happen on its own."
Popular in the Community