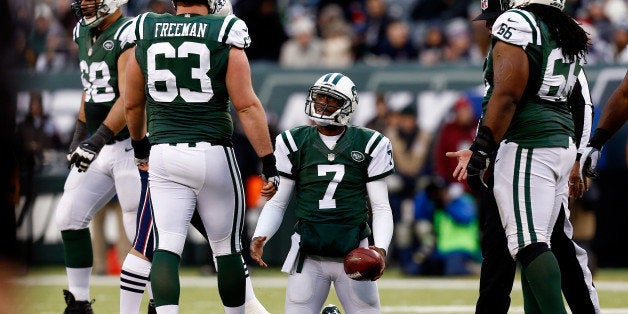 The season of our discontent is now mercifully over. The New York Jets, who only a few years ago (though it feels like eons) had legitimate Super Bowl aspirations, ignominiously crash-landed at 4-12. This was a Rich Kotite type of a season, punctuated by mistakes, turnovers, missed opportunities and, above all, losses. Will the Jets fly again? There is some reason for hope, but a lot of patience will be required first.
On the plus side, detested general manager John Idzik is gone. Rarely has a GM managed to alienate so many committed fans so much so soon. Funds were raised, billboards erected, penalty flags distributed and airplanes with banners flew over MetLife Stadium and Jets practice facilities disseminating the same message: "Fire John Idzik." This had nothing to do with fickleness or scapegoating and everything with common sense and collective wisdom. As the Florentine philosopher Niccolò Machiavelli reminded one of his friends: "the people are fickle and foolish, nevertheless, as fickle and foolish as they are, what ought to be done is frequently what they say to do."
What Jets Nation said had to be done was fire John Idzik and for excellent reasons. At the heart of Idzik's reign of blunder was his inability to draft wisely. Incredibly, he wasted most of the Jets' 12 2014 Draft picks. In what turned out to be a historically deep class in the wide receiver position, he somehow managed to miss every single one of these players. He had a chance to bring back Darrelle Revis and took a pass (even if Woody Johnson was opposed to such a move, a great GM has to be forceful and persuasive with ownership, not obsequious and sycophantic). Idzik at some point left the team with some $21 million in cap space but with no CBs and no secondary; and let's not forget that he drafted the turnover machine named Geno Smith. There is nothing necessarily wrong with a plan to rely on the draft. Look at the Dallas Cowboys. They missed the playoffs for four years in a row but drafted productively and created a near impregnable offensive line; and it all came together this year. Could anyone in his or her right mind have trusted Idzik to replicate such a feat with high draft picks in 2015? At best, he was a glorified capologist who set the franchise back at least two years. Nothing personal John, but good riddance; and Woody Johnson, thank you for listening to us fans.
Then there is the issue of the quarterback position. Geno Smith was certainly not pampered like Mark Sanchez but two years later we know that he is no franchise QB. Prone to turnovers, along with being careless with the ball, he tends to stare at his receivers and is unable to deliver at critical moments. His pouting and theatrics when he was passed over during the first round of the draft (for good reasons as it turned out) were in retrospect mistakenly overlooked. This is a QB who missed a team meeting, cursed at a fan, declared that he has "shown flashes of being a Pro Bowl-caliber quarterback" and after greatly contributing to a Jets loss at the hands of the New England Patriots with an interception and a sack pronounced to a stunned audience: "I think that I played good." What Geno is really showing are flashes of immaturity and perhaps delusion. True, he did have a career day in a meaningless game against the rather mediocre and certainly indifferent Miami Dolphins in the season's finale. But although I sincerely hope that I am proven wrong and Geno improves substantially, his future seems to be that of a serviceable back up QB.
With the sixth overall draft pick, and barring a trade or surprise (though neither should not be ruled out yet), the Jets seem likely to miss out on the Marcus Mariota and Jameis Winston sweepstakes. Finding a Tom Brady or a Russell Wilson in the later rounds of the draft is so rare and unique an occurrence that it can almost safely be discounted. At the same time, the free agent QB market is not particularly promising with Jay Cutler being perhaps the best prospect. All of the above suggests that the Jets' QB conundrum might not be solved for at least another year. Can there still be any hope?
Speaking of hope, that is precisely what Rex Ryan preached and offered during the early years of his Jets head coaching year. Like the famous director Orson Welles, his success came early in his career. Like the British statesman Sir Winston Churchill, (with whom he shares traits of indomitable pugnacity), he might have to wait until the end of his career to achieve ultimate success and recognition. Rex can be viewed as an unlucky, even tragic figure. He never had an Aaron Rodgers type of elite QB to work with and ended up not even having a secondary. As a defensive genius, he did exhibit certain flaws (clock management, personnel choices, sticking to players past their expiration date etc). But in many ways, he was a perfect fit for the Jets and the most demanding media environment in the world. He will be replaced, possibly by a more offensive minded HC. But he will also be missed. Godspeed, Rex Ryan,.
So here is where the Jets stand right now. Woody Johnson has reportedly brought in former GMs Charley Casserly and Ron Wolf as consultants. Both are respected, serious and experienced NFL persons, a fact suggesting that proper personnel choices will finally be made. A new GM will certainly be an improvement over John Idzik; a new HC should provide a fresh start especially on offense; there will be some $41 million in cap spaces to address (numerous) needs through free agency; high draft picks could allow some top quality players to join the team's ranks; and there is a small group of players like Muhammad Wilkerson, Sheldon Richardson Nick Mangold and Eric Decker on which the NY Jets can safely rely upon. In another words, what we have is a solid basis for a rebuilding year. It might not prove good enough for the playoffs but should represent an overall improvement. Barring a pleasant surprise at the QB position, the NY Jets will be able to fly again next year but not very high. The flight will be bumpy. Fasten your seatbelts.
Calling all HuffPost superfans!
Sign up for membership to become a founding member and help shape HuffPost's next chapter