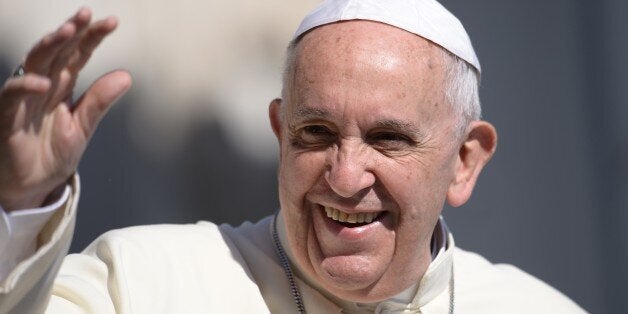 Next week, Pope Francis is scheduled to release "Laudato Sii" ("Praised Be You"), his eagerly anticipated encyclical (authoritative teaching document) on the environment.
I have never seen such excitement -- and controversy -- surrounding an encyclical. It speaks to the extraordinary global presence Francis has achieved in a relatively short period of time. This feels to me like one of those rare moments when the Message and the Messenger can combine to change the world in a very significant way.
Rising sea levels and catastrophic weather events have gotten people's attention. People are becoming more aware of the reality that climate change isn't just a theoretical conjecture, scientific debate or partisan political issue. It's real, it's happening now, and it's dangerous.
And Francis -- uniquely among world leaders -- has the ability to change the conversation around the need to protect our environment.
He can move the issue from "important" to "essential" in our politics. He has approval ratings that are strong enough to make any politician green with envy. His millions of Twitter followers can amplify his words almost instantaneously. His "common touch" gives him a moral authority that is as welcome as it is refreshing.
As we have seen with other issues, including women's rights, gay rights, and poverty, Francis is intent not on upending Catholic Church doctrine but on changing Church emphasis and tone. He seeks to transition the image of the Church from dogmatic and infallible to humble and present in the world's pain, suffering, and challenges.
It's important to remember that Francis will not approach the issue of ecology as a scientist (though he is a trained chemist) or as a politician (though he clearly has excellent political instincts).
Rather, he will address his flock as a pastor -- a teacher, theologian and spiritual guide. He will remind us that Creation is a gift from God, and that we have a moral responsibility to be responsible stewards of that gift.
Creation in this instance means more than the ground we walk on and the air we breathe. It also means all of humanity and our interconnected relationships with one another and with our planet.
We should expect his encyclical to remind us that confronting climate change and reducing pollution are not only important in their own rights but precisely because the global environmental crisis most adversely impacts the poorest and most vulnerable of our fellow human beings.
Cardinal Peter Turkson, the president of the Vatican's Pontifical Council for Justice and Peace, has previewed the themes of the encyclical and said:
We need to shift away from an unthinking infatuation with GDP and a single-minded zeal for accumulation. We need to learn to work together toward sustainable development, in a framework that links economic prosperity with both social inclusion and protection of the natural world.
This is not to say, however, that the encyclical will not have significant political impacts. Indeed, the timing of its release, three months before the pope's visit to the United States and six months before the climate talks in Paris, shows that the Vatican is being quite strategic about maximizing the encyclical's impact on the global political system.
That is precisely why those who most profit from the economic status quo have been among the most vocal in critiquing the pope before the encyclical has even appeared. They recognize his ability to dramatically change the global conversation. They fear his prophetic voice.
Policymakers need to take time to hear what this remarkable man has to say about one of the most important issues of our time.
Be informed about how climate change is affecting real people both globally and here in our own backyards. It's our moral responsibility.
Jim Wallis is the president of Sojourners. His book, The (Un)Common Good: How the Gospel Brings Hope to a World Divided, the updated and revised paperback version of On God's Side, is available now.