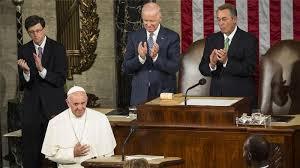 Over the past couple of days, Americans -- including myself -- have been glued to the TV watching his holiness, Pope Francis. With so much media attention being paid to the Pope and his every step here in our nation, we must ask ourselves this question: will the Pontiff's message of peace, redemption, mercy and love stay with us after he returns to Rome this Saturday?
When Pope Francis was first selected at the papal conclave two years ago, it was immediately evident that he exemplified Christian charity and was truly God's missionary to a world struggling with overwhelming hatred, played out in the forms of racism, homophobia, xenophobia and even some relics of colonialism. As a person who spends quite a bit of time in the media and analyzing it, a statement the Pontiff recently made defining his role as Pope particularly moved me:
The Pope has the duty, in Christ's name, to remind the rich to help the poor, to respect them, to promote them.
As the barricades are carted away in our nation's capital and the Papal flags are taken down, let us examine ourselves and ask a couple of very probing questions: Is our "Judeo-Christian nation" truly living-up to the Judeo-Christian values we say we are? Do we love our neighbor as we love ourselves?
Sadly, you don't have to look far to realize that the answer to both of these questions is no. Just look at those who have chosen to run for President of the United States. Many of them, while touting their Christian credentials, have trampled on the word of God. They use the lord's name to push forward misguided agendas that have hurt the poor, demonized the sick, crucified, those of Muslim faith, devalued the worth of black lives and destroyed many of the opportunities put in place to help uplift working families.
In 2013 while visiting a homeless shelter, Pope Francis said, "to love God and neighbor is not something abstract, but profoundly concrete." Loving our neighbors means thinking about their well-being, increasing their access to the American Dream, and most importantly, evaluating them not by creed, color, or citizenship, but by the content of their character.
So as the Pope journeys on to Philadelphia, where he will address the World Meeting of Families, let us take a moment to lay aside, many of the weights and snares that have resulted in our quickness to create division over unification, hatred over love, and inequality over justice, for that is when our nation is at its best.
And to all those out there who have made the noble choice to run for President, now is the time to leave the polls, pollsters, and pundits behind and start having a real conversation with the American people. Not a conversation driven by division, but a conversation about how we can improve our economy for all its players and how we can recalibrate our moral compass so its pointed towards justice.
It is our job in the media to tell the story. And to be frank, many of us have been forced to pick villains and victors. Not because we want to, but because we have no other choice. We shouldn't have to pick sides in ending poverty. We shouldn't have to pick sides in improving public education. We shouldn't have to pick sides in saving our planet from climate change. And we definitely shouldn't have to pick sides on the issues of immigration, for we are all immigrants to this great nation.
During his address to Congress, Pope Francis took a moment to define politics so poignantly by saying:
Politics is an expression of our compelling need to live as one, in order to build as one the greatest common good: that of a community which sacrifices particular interests in order to share, in justice and peace, its goods, its interests, its social life.
Taken in context of where we currently are as a nation, let us heed those words and work on making them a reality, both now and in the 2016 election.
Richard Fowler is the youngest syndicated progressive and/or African-American radio host in the United States.
Popular in the Community