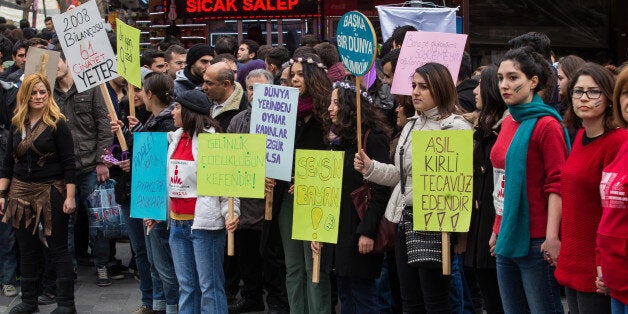 Since February 11, 2015, Turkey has been shaken by the brutal killing of a 20-year-old university student, Özgecan Aslan, who was allegedly killed after resisting rape. Her death became a rallying cause for activists campaigning to end violence against women in Turkey. Mass demonstrations took place to protest violence against women. Women nationwide have worn black in condemnation of the murder. Not only women but also Turkish men wearing skirts demonstrated in Istanbul to support women's rights in her memory. The slaying of Özgecan revealed the fact that violence against women has increased in recent years in Turkey. Human rights monitor Bianet says 281 women murdered in 2014. The number of murder increased 31 percent in comparison to the previous year. Nine percent of these women had asked for protection from the state. What went wrong and why has violence against women increased in Turkey?
Turkey also introduced several reforms in the area of women's rights. Turkish legislation on women rights has greatly improved through the changes in the Turkish Penal Code, Civil Code, Labor Code, Family Law and Municipality Law. In 2005, the penal code was changed to criminalize marital rape and level higher sentences for sexual crimes and harshen the sentences for those convicted of honor killings, which previously carried reduced sentenced because of "provocation". Thus, the prospect of EU membership accelerated already existing efforts of the women's movements in Turkey. In 2009, a Parliamentary Committee on Equal Opportunities for Men and Women was established for the first time. Turkey was the first country to ratify the Council of Europe's Convention on Preventing and Combating Violence Against Women and Domestic Violence (CAHVIO), the Istanbul Convention, in 2012. Despite the reforms made by the government and regional initiatives, which also covers not only Turkey but also the entire MENA region, violence against women in recent years has increased. Professor Aysel Çelikol, head of the Support for Contemporary Living Association (ÇYDD), drew a correlation between the increase in the inequality between the genders and increased level of violence men commit against women, arguing "women's rights are going backward as much as conservatism is increasing in the society."
Prevention or Punishment?
With the brutal killing of Özgecan Aslan, the necessity of effective ways to prevent domestic violence and rape cases has come to the agenda. Some politicians, like Ayşenur Islam, the Family and Social Policies Minister of Turkey, have even called for reinstatement of the death penalty, which was abolished in 2004 as a part of the democratization process in Turkey that was strongly motivated by the European Union. The emerging debate on the death penalty, which was banned as a part of Turkey's negotiation to join the European Union, also led to debate on the effectiveness of the EU and its transformative power on Turkey since the claims arose on the basis that this debate demonstrates waning EU influence.
As a part of these debates, Marietje Schaake, a Dutch member of the European Parliament, said the focus of the Turkish government should be much more on preventing cases from happening and not punishing the excessive cases after they happen. She is partly right. I am saying partly because reinstating the death penalty and its execution on rapists or murderers is questionable, since previously the death penalty was mostly executed on political activists or politicians for crimes against the state, the Constitution and military, while judges opted to give reduced sentences to rapists and murderers.
We should not discuss the reinstatement of death penalty; instead, we should ask ourselves who is responsible for violence against women? Judges who gave reduced sentences to rapists and murderers based on the oddest reasons, or the "good conduct" clause that enables reduction in prison terms for defendants with no record of past conviction, or conservative politicians who do not believe in equality between men and women and make remarks such as "women should not laugh loudly in public" or people who see rape as a right to retain if a woman wears a miniskirt and thinks that she "deserves it." Whatever the reason behind it, this catastrophic event indicated to us once more that enacting rules or making reforms cannot by themselves help to empower women and prevent violence against women unlike these reforms are internalized by the people from top to bottom. The government of Turkey should focus much more on internalization of the reforms (like those it pioneered once upon a time) to prevent them from being merely cosmetic.
Calling all HuffPost superfans!
Sign up for membership to become a founding member and help shape HuffPost's next chapter