Gov. Bruce Rauner cast House Speaker Michael Madigan and the "Chicago Machine" as the villains in his effort to elect his preferred candidate and punish a Republican incumbent in a downstate Senate race.
Madigan, meanwhile, cast Rauner and his wealthy political allies as the bad guys in his own punishment effort against a disobedient Democrat who represents a Chicago district in the Illinois House.
In both races, Rauner lost. Sen. Sam McCann, R-Plainview, survived an opposition effort that saw Rauner and his allies spend $3.2 million against him. McCann defeated Rauner's candidate, Bryce Benton, despite being outspent by a factor of more than 4-to-1.
In Chicago, challenger Juliana Stratton trounced Rep. Ken Dunkin, who earned Madigan's enmity by siding with Rauner on some key issues last year and publicly criticizing Madigan's leadership, by a margin of more than 2-to-1.
Rauner needed victories in both races to prove that he could match Madigan's political muscle by punishing Republicans who crossed him -- as McCann did -- and protect Democrats who defy Madigan and side with Rauner, which is what Dunkin did.
This had been the stick with which Rauner had threatened Republicans in the House and Senate as he sought to hold firm on his pledge to boycott budget negotiations until Democrats agreed to some of the business and political reforms he has pushed in his Illinois Turnaround agenda.
Now that the stick has failed its first potency test, the question is whether Republicans in the Legislature, as the budget situation causes greater and greater pain with constituents back home, will consider breaking with Rauner as the November general election nears.
The administration's statement the day after the primaries offered no recognition of this possibility. Instead, Rauner lamented the defeat of a Democrat who had demonstrated "independent thinking" and made no mention of the McCann victory. Nor did he commend McCann for independence.
We're talking about how this week's results might play into the campaign season to come and the ongoing budget crisis on this week's "Only in Illinois."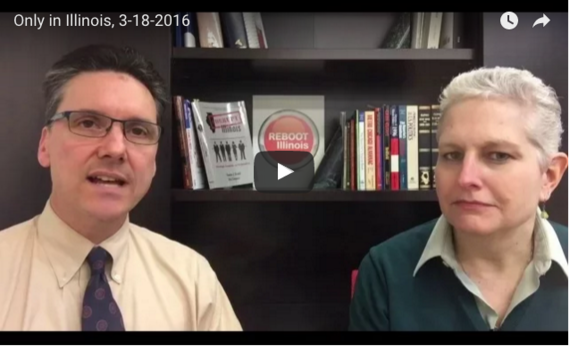 Calling all HuffPost superfans!
Sign up for membership to become a founding member and help shape HuffPost's next chapter