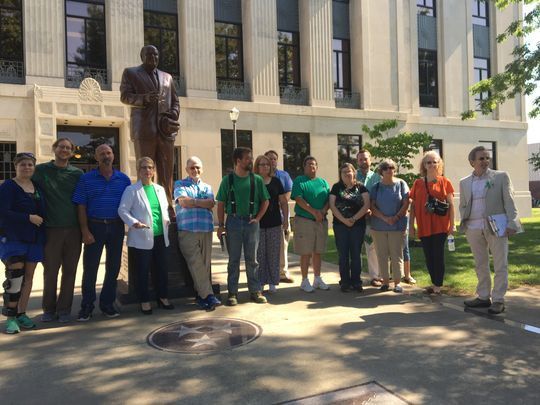 There is a misconception nationally about there being a virtual consensus of support for the repeal of the Affordable Care Act (ACA) in rural areas that traditionally vote for Republican candidates. The fact is that many people in rural areas of the country will be among the 24 million who will likely lose their healthcare coverage if the new American Health Care Act of 2017 (ACHA) gets passed by the Senate and signed by the President.
There are real consequences for people amidst the political showmanship that often occurs in Washington, D.C. around this issue. It will be interesting to see if GOP Congressional members who voted for the AHCA will face a backlash as the nation looks toward the 2018 midterm elections.
An example of the resistance to ACA repeal efforts in rural areas occurred on May 8th in Martin, Tennessee. Wendi Wright, a 35-year-old University of Tennessee at Martin student, got into a confrontation with GOP Congressman David Kustoff about his vote for the AHCA.
Wright was charged with reckless endangerment after she allegedly followed Kustoff after an event on the UT Martin campus. According to WPSD Local 6, she allegedly got out of the car and screamed at the Congressman for not addressing her questions related to his recent health care reform vote. Wright is the is the mother of a 5-year-old with pre-existing conditions. According to Wright's father, her daughter has an eye issue and a tumor.
Wright's father, Albert Wright, said in an interview that "she wanted to ask him what is a pre-existing condition, what's going on to be covered, what's not going to be covered, what in the state of Tennessee is going to change. I just think basically the frustration of not getting an answer is what drove her to try to find him."
Ironically, many opponents of the ACA actually agree with many of the core principles of the bill.
Wright's charges were dropped on the condition that she have no contact with Kustoff or his staff over the next year during a hearing on June 2nd. A crowd of people organized to show support for Wright outside of the courtroom on the day of the hearing. One of the supporters stated that "she's not alone here, and she's not alone in her frustrations that he's not been available to answer any questions of hers."
Wright's actions were extreme, but they did speak to the desperation that people feel who may lose health care coverage for themselves and their children. Will these emotions be widespread and potent enough to jumpstart a progressive movement in traditionally red states? Will the facts of their potential tangible losses register enough with them politically for people to change their voting behavior?
It is difficult to continue to make sense of why people would continually support politicians who vote against their material self-interests. The elephant in the room that people seem to not want to address is that the U.S. House of Representatives passed a bill that they knew little about because the ACA is attached to President Barack Obama.
Texas native and former President Lyndon B. Johnson once stated that "if you can convince the lowest white man that he's better than the best colored man, he won't notice you're picking his pocket. Hell, give him somebody to look down on, and he'll even empty his pockets for you." The question today is whether or not that same group of people will be persuaded to give up their health care coverage. There is undoubtedly a racial aspect to some of the vigorous ACA opposition.
The fact that the ACA was nicknamed "Obamacare" is likely to be the determining factor as to whether or not people support the ACA. The New York Times reported on a poll from Morning Consult that one-third of Americans don't know that Obamacare and the Affordable Care Act are the same. They may feel that erasing "Obamacare" will erase his Presidency of Barack Obama as we know it. Ironically, many opponents of the ACA actually agree with many of the core principles of the bill.
There is a need for a targeted information push by people who can go door to door at the grassroots level. This kind of personalized approach is necessary to overcome the noise from Fox News and other media outlets. The story of Wendi Wright suggests that there may be an untapped progressive movement in rural areas that can potentially shift electoral politics in traditional Republican strongholds.
Marcus Bright, Ph.D. is a Scholar and Activist
Calling all HuffPost superfans!
Sign up for membership to become a founding member and help shape HuffPost's next chapter
BEFORE YOU GO