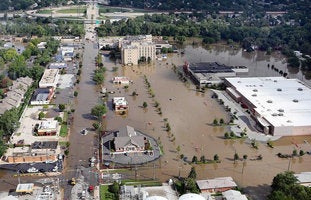 This week The Nation reports on a stunning scandal in New Orleans. Our cover story, Katrina's Hidden Race War, is the result of a tireless 18-month investigation by A.C. Thompson, exposing for the first time a rash of vigilante shootings in New Orleans, as white residents in the Algiers Point neighborhood formed an ad hoc militia and opened fire on black residents fleeing the Lower Ninth Ward for the nearest rescue point. In total, our report uncovered 11 separate incidents.
The investigation shows lawlessness, but also a stunning inhumanity. Thompson interviews unrepentant vigilantes, and a video accompanying the article includes footage of vigilantes joking that shooting blacks "was like pheasant season in South Dakota. If it moved, you shot it." Thompson details the suspicious death of Henry Glover, who according to eyewitnesses was shot by vigilantes and then bled to death in his car while police beat his would-be rescuer. Most troubling in all of this is the role of law enforcement, as witnesses allege that New Orleans police covered up and destroyed evidence, authorized the shootings and savagely beat witnesses.
To date, not a single incident has ever been investigated. New Orleans police, Homeland Security and the State of Louisiana have refused to answer questions for over 8 months, and Thompson (with the invaluable support of the Investigative Fund of the Nation Institute) had to sue to gain access to autopsy records. In total Thompson reviewed over 800 autopsies and state death reports, and amassed a pile of evidence that substantiate his report. "As a reporter who has spent more than a decade covering crime," he wrote, "I was startled to meet so many people with so much detailed information about potentially serious offenses, none of whom have ever been interviewed by police."
The full extent of the disregard for poor African-Americans and the embarrassing failure of leadership laid bare by Katrina still remains unknown. New Orleans, and gulf reconstruction, were barely mentioned in the 2008 campaign, and to many the storm is something we would rather put behind us. But Thompson's investigation -- and the extent of evidence about these attacks -- offer the promise of justice for New Orleans. In an editorial accompanying Katrina's Hidden Race War, we wrote that "If we as a nation are ever truly to transcend race, tolerance for racist violence in our midst must come to an end."
The Nation, and our friends at the advocacy group Color of Change, are calling for a full investigation into the vigilante attacks. We are urging Louisiana Governor Bobby Jindal to appoint a multi-agency task force to find the truth, and we're encouraging Representative John Conyers and Senator Patrick Leahy to use their subpoena power to compel local law enforcement to talk. Conyers has already released a statement, declaring on Thursday that he is "deeply disturbed" by the report, particularly the possibility that local police "fueled, rather than extinguished, the violence." It would be fitting if Eric Holder, after being confirmed as Attorney General, swiftly opened an investigation at the Department of Justice. There can be justice in New Orleans.
Popular in the Community