UNITED NATIONS - Nadia Murad was 21 years old when the Islamic State (known as ISIL or Daesh) captured, beat and raped her for months after massacring her family. She belongs to the Yazidi community, considered infidels, and used as a reward for merciless fighters.
She and her attorney, the British barrister Amal Clooney, attended a meeting of the UN Security Council, which adopted a resolution authorizing the United Nations to collect evidence in Iraq for acts that may be war crimes, crimes against humanity or genocide.
Both women have spent at least a year agitating for justice.
Britain has been on the case to get accountability for the atrocities but insisted Iraq agree first, a slow process. Its ambassador, Mathew Rycroft, drafted the resolution.
The new UN team, to be headed by a special advisor, has to submit terms of reference acceptable to Iraq, and deliver its first report in 90 days after it gets started, the resolution says.
The team is "to support domestic efforts" in holding perpetrators accountable. ISIS has also ruthlessly killed Christian and Shi'a Muslims although rarely have there been reports of slave markets that sell Yazidis.
Using the evidence in other courts has to be agreed to by Iraq on a case by case basis, the document says. But it seemed inevitable that if suspects are captured in Europe or in Chechnya they would be tried there, using the UN investigation as evidence.
Sweden's foreign minister Margot Wallstrom cautioned Iraq about executing suspects, saying this went against European standards. Baghdad is now considering killing a captured 16-year old German married to an ISIS fighter.
Russia's deputy foreign minister, Gennady Gatilov, said the Security Council had acted properly in seeking Iraq's permission and respected sovereignty. But he said the General Assembly, in approving an investigation of Syria, had not consulted Damascus.
Last July, U.N. Secretary-General Antonio Guterres appointed Catherine Marchi-Uhel, a former French judge, to lead that investigation and "closely coordinate" with an Independent International Commission of Inquiry on Syria, established by the Geneva-based Human Rights Council. The body wrote that war crimes were "rampant."
Alistair Burt, British, Minister of State for the Middle East, told reporters justice might not be quick but it could give innocents hope. He pointed to the trials after the war in the former Yugoslavia. He also said some victims in Iraq could identify their abusers.
Britain, he said, would provide $1.3 million for the UN investigative team.
The atrocities against women and girls raise the question of how many ISIS fighters join the militia in Iraq or Syria for free sex, denied to them in many Muslim communities. Not all abuse minorities but they are often matched up with a "bride" as a reward.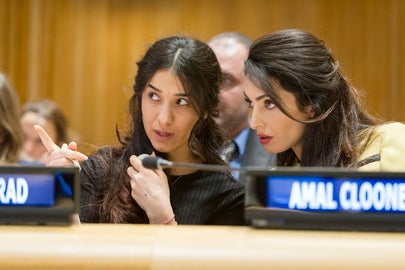 REAL LIFE. REAL NEWS. REAL VOICES.
Help us tell more of the stories that matter from voices that too often remain unheard.
This post was published on the now-closed HuffPost Contributor platform. Contributors control their own work and posted freely to our site. If you need to flag this entry as abusive,
send us an email
.