NEW YORK ― As one of the president's lawyers argues that his office grants him immunity from obstructing justice in the Russia investigation, Trump's legal team is trying a similar tactic against one of the women who accused him of sexual harassment.
President Donald Trump's longtime lawyer, Marc Kasowitz, stood in state Supreme Court on Tuesday, arguing that Justice Jennifer Schecter didn't have the authority to push forward a defamation suit brought against the president by sexual harassment accuser Summer Zervos.
In other words, Trump is above the law.
Though the U.S. Supreme Court's decision in Clinton v. Jones established that a sitting president could be sued for private actions occurring before they take office, Trump's camp has argued that this case does not apply because it's being held in state rather than federal court. 
 "The president is a unique officer in the Executive Branch," Kasowitz said in court, as Zervos and her attorneys looked on. 
"Are you saying that I'm not constitutionally responsible for state court cases or controversies that come before me?" Schecter asked.
"Not with regard to the president, your honor," Kasowitz responded. 
Zervos' attorney, Mariann Wang, contended that there's never been a court decision that state courts don't have jurisdiction in cases like these.
Of course, Trump's camp feels it has every reason to try and shut the case down ― not least because it has broad implications for both his presidency and others to come. If the case proceeds, some of Trump's past could be made public by Zervos' attorneys, and Trump could be called to testify, according to The Washington Post.
Celebrity attorney Gloria Allred, who's also representing Zervos, wouldn't say after the hearing whether she'd try to depose the president if the case went forward.
Zervos, who in October 2016 accused Trump of grabbing her breast and forcing kisses on her among other allegations, filed suit in January after Trump publicly called her a liar. Trump filed a motion to dismiss or delay the case ― a tactic former President Bill Clinton used before he was impeached ― and Tuesday's hearing was set to discuss that option.
Judge Schecter said she'd make a decision at a later date. If it does go forward, the case will likely be drawn out and ugly. Kasowitz argued again on Tuesday that Zervos' accusation was a political move, and that Trump's tweets calling her and other accusers liars are protected speech.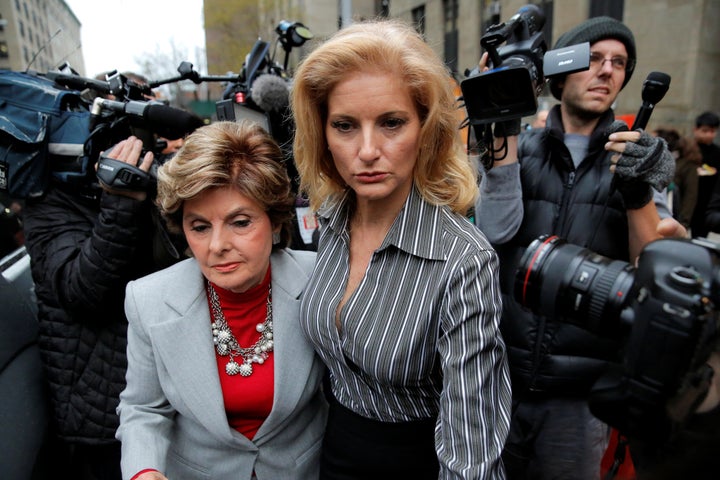 Calling all HuffPost superfans!
Sign up for membership to become a founding member and help shape HuffPost's next chapter