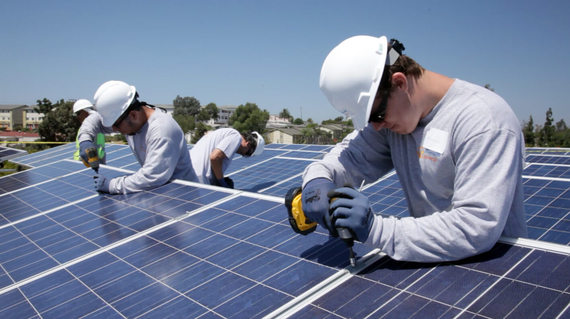 Now that he is our president-elect, will Donald Trump, the master of incendiary rhetoric and scorched earth campaigning, transform into a thoughtful leader who represents "every citizen of our land"?
That's the hope of the Americans who have worked so hard for so many years to build a wall against climate change. Like everyone else, the people who gave Trump his key to the White House are at risk from increasingly violent weather. Half of the American people and our major cities are located near the coasts, where sea levels are rising.
Trump vowed during the campaign that he would scrap all of President Obama's climate work on his first day in office. It was one of the ways he plans to shake things up. But a president for all Americans would take a more thoughtful approach than firing up his shredder without thinking things through.
Trump said he would pull America out of the Paris climate agreement, even though two thirds of the American people supported U.S. participation in an even stronger pact. He plans to rip up President Obama's Climate Action Plan, even though 75% of Americans say that global warming already is having a serious impact on the environment, or soon will. Sixty-four percent of us have told pollsters that we are worried about global warming now that fires, floods, droughts, heat waves and other disasters are so frequent and close to home.
Trump has every right of course to put his own stamp on energy and climate policy. But for the benefit of the many struggling middle-class workers who voted for him, he should think twice about reversing course on the most dynamic prospect for new jobs and businesses in the United States today. The fair and just transition to a 21st century clean energy economy and the infrastructure to support it would be an unparalleled economic stimulus.
Instead, his transition team reportedly has developed agency by agency guidance for undoing Obama's work on Day One of the Trump presidency.
So what would a thoughtful leader do? First, Trump would immediately make good on the promise in his victory speech to reach out to those who voted against him "for your guidance and your help so that we can work together and unify our great country".
He would test his own preconceptions about climate change by sitting down with America's best scientists to hear the evidence.
He would give a fair hearing to the many policy experts - including many Republicans - who have ideas about dealing with the profound risks that climate change poses to the health and safety of the American people. He would find that there are many ways to manage climate risks, including approaches that align nicely with conservative values and blue-collar aspirations.
President-elect Trump promised a revolution. What could be more revolutionary right now than ending Washington's gridlock on climate action? Or breaking the grip of special interests on energy policy? Or returning global warming to its rightful status as a nonpartisan issue? Or using this moment of Republican control of government to shape good market-based climate and energy policies by building upon rather than indiscriminately scrapping the work that has been done so far?
Simply shoving all the work of his predecessor into a shredder is not leadership. It's avoidance. It moves us backward, not forward.