Technology is democratizing the way media is produced, distributed and consumed. Today, teens in remote rural villages of Timor-Leste regularly access Facebook on their smartphones. But what kinds of interesting and relevant content are being produced and shared with them?
Our recent trip to Timor-Leste, sponsored by the innovationXchange at the Australian Department of Foreign Affairs and Trade, pushed the LAUNCH Food team to reconsider old information through new perspectives and to better contextualize the ideas surfaced through the 'Virtual Reality Development Hack' that we hosted in Canberra, AU, on October 6, 2016.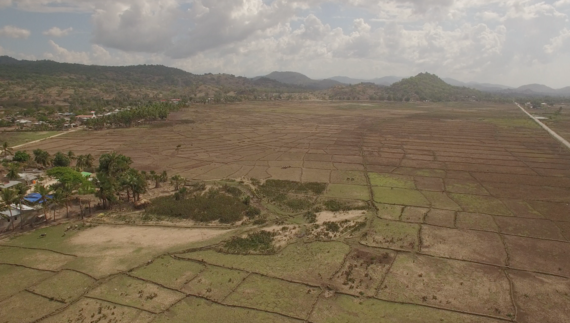 Timor-Leste is a young country: it became a sovereign state just 14 years ago. Its striking natural beauty contrasts sharply against its staggering rates of poverty, undernutrition, and stunting. By sourcing breakthrough development innovations, LAUNCH Food seeks to help improve stagnating nutrition outcomes both in Pacific and Southeast Asian nations, where malnutrition is an especially acute problem.
LAUNCH's growing global reach provides a tremendous opportunity to expand, engage, and fortify networks of changemakers. But this also means that we must be innovative in our methods to inspire them. We need to effectively synthesize the intimate and far-reaching effects of complex international challenges, and communicate those challenges in a way that emotionally resonates with people.
For their ability to artfully and realistically simulate an artificial user experience, emerging immersion technologies like 360° video and virtual/augmented reality present an interesting value proposition to social development storytelling. Never before have we been able to visually and audibly transport the human mind to experience daily life in the farthest corners of the globe. Now we can and now we should make it accessible to all.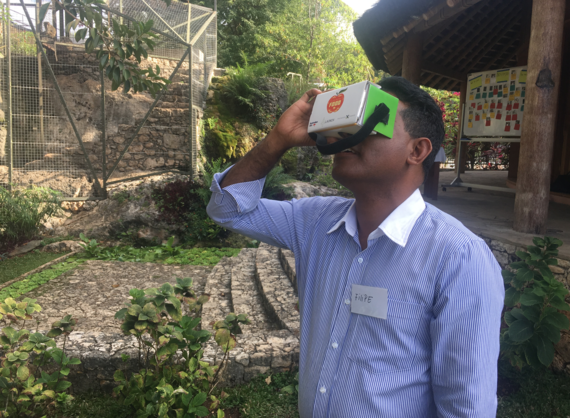 LAUNCH Food held a storytelling workshop in Timor-Leste, in which participants explored collaborative storytelling as an agent for change. Innovators from Timor-Leste and other countries across the Pacific, including Papua New Guinea, Tonga, Fiji, Samoa, and the Solomon Islands, joined us to discuss the value of new methods for story creation and delivery including 360, VR and gamification.
We considered how social media has given us unprecedented access to new information and ways to create human connections, and how grassroots storytelling could help surface more authentic and nuanced renditions of human experiences across cultures. Our #LAUNCHFood online campaign for example, helped broaden people's understandings of what healthy eating can look like. Audiences were invited to contribute photos or videos of healthy meals in their homes and/or communities to a 'Global Food Diary.' Today the #LAUNCHFood hashtag has reached more than 2.8 million people across Twitter, Facebook, web and email.
Key findings from the rural village of Tiriloca, Timor-Leste, where some 52% of the children under the age of 5 have stunted growth:
Internet access is available via smartphones, of which Androids are the most widely used, but feature phones still exceed smartphones by a significant margin.
Most users appear to be connecting via free, basic offerings such as Facebook and WhatsApp, but YouTube is not as popular.
Several teenagers already possessed smartphones and regularly use Facebook, WhatsApp and SMS to share photos, but Twitter is less popular. Timor-Telecom does not support MMS (images shared via SMS). It does offer free access to Wikipedia.
The community's matriarchal leader in Tiriloca expressed interest in organizing regular Facebook film nights.
The regional mobile network operators (MNOs) are slow and have low technical capacity. More expensive packages will offer faster access. Negotiating access to a free data service could be time-consuming.
Local file sharing would be difficult, as there aren't libraries and most established retailers are Mobile Network Operators (MNOs), and are run out of the district capital.
Bluetooth file sharing is possible, as Mercy Corps has previously shown.
Some national SMS broadcasts through the MNOs, focused on some key nutrition messages. A coordinated series of these could be broadcast to every mobile phone (more than 500,000 people).
Post and boost content on Facebook.
Telemor has its own streaming service for video content, but may not be free of charge depending on what package you have. Content placements could be negotiated.
One method could be requiring users to watch a video, or consume a piece of content, before having access to an allocation of data.
Together with the innovationXchange and journalism technologist Ben Kreimer, we are collecting our field observations ahead of a content creation phase that will allow us to better understand how 360 video, virtual reality, and augmented reality can be accessed and leveraged by individuals in non-western and developing nations, which have unique challenges, needs, and interests.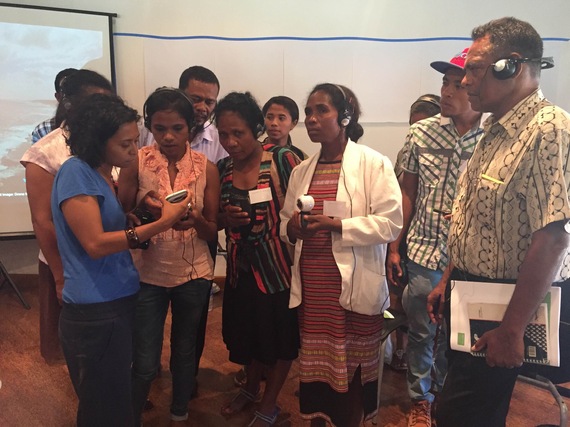 We will be working on delivery systems that will make such content accessible to people who don't have high speed internet access, or own the necessary mobile device or computer. By fostering content creation and the development of delivery platforms that cater to these audiences, we hope to help democratize access to 360°/VR/AR technologies while helping create crowdsourced movements in the service of development and social good.
Ben Kreimer, Cara Philbin and David Roach contributed to this story.
LAUNCH Food is a global challenge aiming to find scalable innovations that will improve nutrition and health outcomes worldwide. Applications are open now to source innovative ideas from around the world. LAUNCH Food is powered by a partnership between LAUNCH, the Australian government's innovationXchange, the United States Agency for International Development (USAID), and SecondMuse. Learn more at: www.launch.org/food and follow #LAUNCHFood on Facebook and Twitter for updates.
Calling all HuffPost superfans!
Sign up for membership to become a founding member and help shape HuffPost's next chapter