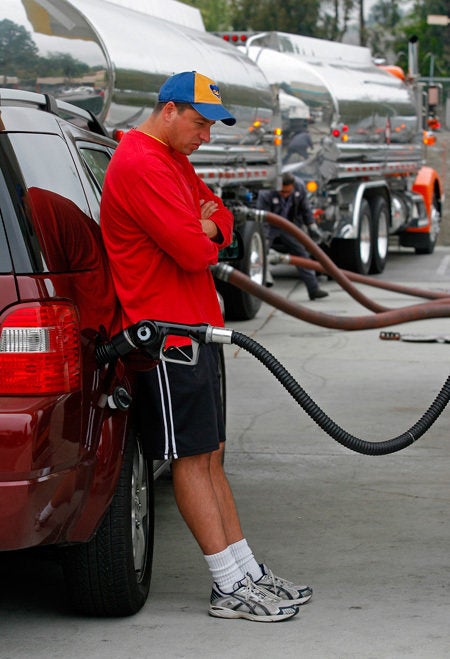 Just like that scene in The Graduate where Dustin Hoffman had to sprint all the way to the church to yell "ELAINE!" because his Alfa Romeo ran dry, gas is once again a priceless commodity. And as fuel prices soar, consumers are scrambling for solutions other than that puny little Smart Car that claims to go 90 mph and fits in its own glove compartment.
Fear not, motorists. Help is on the way. The OH ZONE POLL on Fuel Economy proudly presents the results of a 31-state Winnebago tour where, between gas fills, drivers of all vehicle persuasions reported how they are changing their habits to conserve fuel. Today we offer solutions to save all of our sorry bumpers, such as the simple act of rolling several errands into one efficient trip, e.g., 1) drop the cat at the vet, 2) buy Velveeta and Wonder Bread, 3) get colonoscopy, 4) take two-week vacation in Tahoe, 5) pick up cat on the way home.
Another gas-saver is coasting. "Take your foot off the accelerator and shift into neutral," says Lola LaMarr of Lakeville, Washington. "And remember to leave room for pedestrians to pass." Drivers like Abby Druthers of Weeville, Louisiana say they always coast downhill. "My husband and I live above the shopping district, so we just release the emergency brake on our VW Beetle
and roll down to the mall. Of course, there's the return trip up the hill. Sometimes we just push. And AAA gives us four tows a year, so that's a big savings right there."
When Don DeLooney of Twin Forks, Minnesota learned that highway miles are more fuel-efficient than city miles, he concluded that a longer commute would be cheaper than working close to home. "I quit my job at the local foundry to work 28 highway miles away, managing a Pump & Pay. I'll never commute those short expensive miles again."
"The smaller the load the bigger the mpg," says Raymond Moreless of Potterville, Maryland. "I emptied my trunk. I removed the back seat. My sound system weighed seven pounds -- so that's history. I don't take passengers. The driver is on a jockey diet and I'm already down four pounds. I'm driving the leanest Chevy Avalanche on the road."
Joe Milson found economy when he moved in with his girlfriend who lives 140 miles away. "I didn't think I could make the commitment," says Joe, "but love works in mysterious, cost-effective ways. So that's a big savings right there."
Everybody knows that driving in reverse is a waste of fuel, especially if you were backing up from, say, Las Vegas to Denver. That's why Rich Greenback of Valleytown, New Hampshire chooses his parking space carefully, circling the mall for hours for a spot where he can exit without backing up. Says Rich, "Many of your newer vehicles can pull forward out of any parking
spot. Your pickups and SUVs are designed high enough to clear curbs or fences or even Lincoln Continentals."
See how easy it is to save? And as fuel prices keep rising we'll keep finding new solutions. Such as carpools. Scooters. Bicycles. Walking. Crawling. Begging. And of course, teaching the cat how to find its way to the vet. So that's a big savings right there.

Related
Popular in the Community