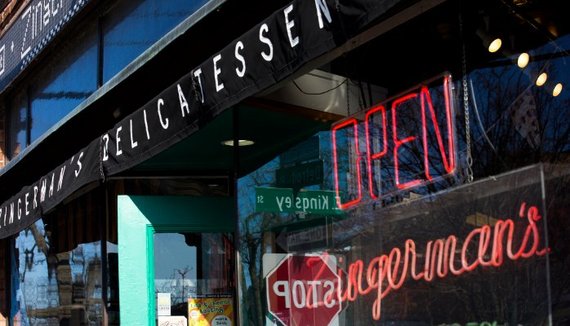 In workforce development, the phrase "demand driven" is common. The idea is that the job of workforce development organizations--including public agencies, community colleges and local nonprofits--should be to ascertain the skills and competencies that companies want, and then prepare people with those skills and competencies and place them in open jobs. If success is characterized as helping large numbers of people learn new employment-related skills, then many workforce development organizations can succeed. But if success is characterized as getting people into jobs in which they can support themselves, and maybe even a dependent or two, the "demand-driven" strategy cannot succeed. Before deciding to be "demand-driven," workforce organizations should take a closer look at where demand is driving us.
Today's jobs numbers are a case in point. We see continued low rates of unemployment, but we also see retail trade and food services and drinking places as the industries creating the most jobs over the past month. These industries are large and growing sources of employment, but the majority of the jobs these industries create are low-wage, often part-time jobs with little connection to a career ladder. Certainly it is possible for an individual to find an entry-level job at a retail store or restaurant and to advance to a position that affords a decent livelihood, but it is not probable. Just looking at the structure of employment within most retailers and within food and drinking establishments reveals the discouraging odds of advancing to a decent job.
Given the growing demand for low-wage labor, "demand-driven" workforce development organizations are unlikely to help people support themselves through work. The good news, however, is this: businesses do not need to rely on employing large numbers of low-wage, economically insecure workers to be successful.
There are restaurants and retailers, competing in very cost-sensitive segments of the industry, that nonetheless succeed by investing in workers, building their skills, and offering them autonomy and opportunities to contribute. As these workers build experience, stay with the company, and contribute more to the success of the business, they succeed along with the business. Zeynep Ton has written about retailers that operate in this way in her book The Good Jobs Strategy. Saru Jaramayan points out the success of what she calls "high road restaurants" in her recent book Forked. Both authors--one a business school academic and one a lawyer and labor advocate--find that businesses like QuickTrip and Zingerman's Deli succeed not despite investing in their workers, but because of it.
There is a better way. A next generation of workforce development strategies, strategies that seek to encourage a different kind of labor market demand, are needed. It will be essential to develop a better understanding of business dynamics and a sense not only of what skills are wanted, but also how those skills can be better utilized, developed and rewarded in the workplace. Workforce development organizations may not be able to do this on their own. Colleges may need to partner with economic development organizations, community organizations may need to partner with labor unions, public agencies may need to support social enterprises--there are a wide range of organizations that can play a positive role. And of course better businesses lead the way. Success in these difficult times will require concerted effort that does not just respond to demand, but seeks to shape demand and build better opportunities for work.
Calling all HuffPost superfans!
Sign up for membership to become a founding member and help shape HuffPost's next chapter