Brad and Angelina recently pulled off a huge wedding coup (nuptials so secretive, not even Chateau Miraval staff knew what was unfolding), and it got the team at Wedding Paper Divas debating the merits of varying levels of intimacy for a couple's big day.
Even if you are not an A-list Hollywood celeb, the level of privacy around your nuptials is an important thing to consider, even early on, to ensure your day is as reflective (and respectful!) of you as possible.
Here are a few factors to discuss:
Wedding Size
A guest list of 50 versus a guest list of 200 is very different -- for starters, it's easier to provide guidelines and manage guest logistics when the wedding is smaller -- and a smaller group will allow for more one-on-one time with each guest.

Photography by Ruth Anne Photography via Snippet & Ink
Wedding Type
Destination weddings are a great way to give your wedding a cozier feeling. You can expect around 20 percent of your invited guests to decline if your wedding is local, and that number will significantly increase (approximately 40 percent of invited guests will decline) for destination weddings.
On the flip side, if your wedding will take place on a beach or more public location, it is important you are both comfortable with the possibility of passersby stopping to admire, tearing up and possibly snapping (and posting) pics!
First Look
When it comes to intimacy, the popular first look is also something you should mull over. Is this a moment you only want to share only between you and your fiancé, or include your parents and bridal party? Do you want a photographer present to capture the initial reactions? Really take the time to think through this one since it is such an emotionally charged moments -- and you have one shot!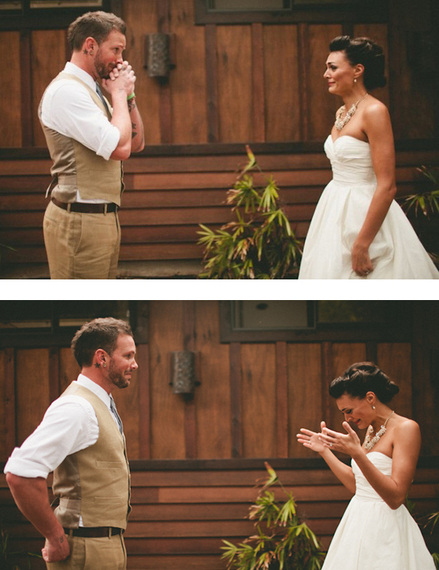 Photography by Andria Linquist via Moment Junkie
Social Media
We've said it before and we'll say it again -- consider how you feel about ALL of your Facebook friends (exes and frenemies) seeing photos from your big day. If you'd rather keep those special moments between you and your guests, say something! Be polite, yet firm when sharing those preferences and enlisting the support of your loved ones.
One way to enjoy the candid photos (but keep them off traditional social networks) is to encourage your guests to freely take and share photos on your wedding day with an app like WedPics. Photos and videos will be available in one place, and preserve the personal and sacred feel of your nuptials if that is what you desire.
Public Wedding Announcements
Placing an announcement in the paper or online can potentially open you and your wedding up to unwanted attention. Neighbors you may not have intended to invite or long-lost friends are likely to learn of your approaching wedding. While the official announcement is a traditional and celebratory tradition, be prepared to handle the additional attention.