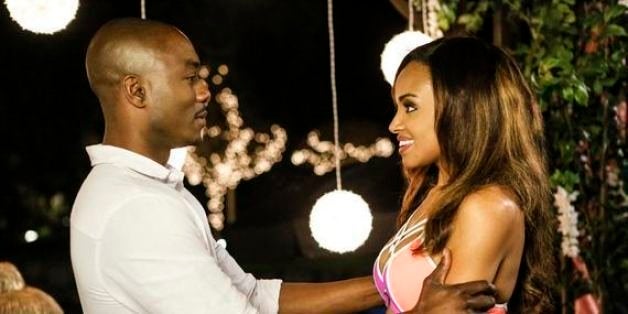 To be surrounded by a pool filled with gorgeous girls in bikini's and a cast so talented that Emmy's should be handed out on hors d'oeuvre trays, it's hard to stand out. And yet, newcomer guest star to UnReal, Meagan Tandy, manages to do so in both categories in spades. Landing a plum guest role on what could very well be the best show on television, Tandy is vibrantly shining as she navigates herself through the murky sordid web of deceit the show exists in.
As new "nice girl" and potential "black wifey" Chantal, Tandy rises to UnReal's top-tier occasion and delivers a performance that is far more in depth and layered for even one of the peripheral and shallow characters that the regular baddies are supposed to be duping. But, that's the beauty of UnReal- no one is a stock character. It's by giving these pawns their insecurities and complicated backstories that allow the main actors to work the severe magic that they are working- and it comes together beautifully. In this particular case, Tandy's victim that she plays happens to be a girl that is on the show within a show looking for love after the tragic loss of her fiancé- and the intersection of how beautifully characters like hers are played like chess pieces with the pupper-masters is demonstrated perfectly in a mind-blowing, Emmy-worthy scene from the opener of season two with Genevieve Buechner and the masterful Shiri Appleby. Tandy comes right into the action full force, never missing a beat and making it clear that she belongs on this show- which is no easy task.
But, what can you expect from a girl who joined a beauty pageant on a whim and won, only to go on and come in third in the Miss U.S.A Pageant? A fan of UnReal, Tandy knew she wanted to get on the surging hit- and she went out and got it. There is clearly no stopping this powerful actress when she puts her mind to something- and no one is complaining!
Here, Meagan fills us all in on what's next for her and of course, the scoop on UnReal;
UnReal is really one of the best shows on TV and you scored such a great role this season. Were you already a fan of season one, and how did it feel to know you got the part of this show that is taking off so fast?
I was a huge fan of the show for season one! This is actually my third time auditioning! I auditioned twice during season one, and it just didn't happen for me, and I figured it wasn't meant to be and I watched along with the rest of the audience...and I got Hooked! So, then they showed me the role of Chantal for season two and I thought to myself that third time had to be the charm, this was something I knew I could do. So, I went in there and nailed it! The minute I got the call that I got it I was freaking out, because it's just such an awesome show and the fact that it's doing so well and people really love it as much as I do? It's been such an amazing highlight to my career.
In the opener for season two your character has the best scene where you are literally caught in the entire crew's web of deceit and they describe it as "gutting you like a fish!" Describe working on that great scene.
Filming that scene was very intense. When we were filming it, Shiri [Appleby] actually wasn't there because she was set to be in Madison's ear, so I literally felt like I was on a reality dating show! Genevieve [Buechner], who plays Madison, actually had an ear piece in and the director was feeding her Shiri's lines, so I didn't know what's coming next, and I'm forced to react off of whatever she is giving me! It felt really real. It was freezing cold and rainy and it all just added to the intensity of the scene. So many people kept coming in to tell us how much they loved the scene, which put even more pressure on us- but it was so much fun and a great kickoff to the season.
UnReal really goes into racial politics this season, and what's amazing is that it never tries to get preachy or hides from telling things as is. Talk about taking part in that and helping to tell that story, because UnReal really does bring to light a lot of discussions that should be talked about.
I love the fact that they are talking about the race issue. Other shows push it to the side, or cover it up- not on UnReal. On UnReal they throw it in your face and force the conversation and I think that's so incredibly important because not enough people are doing it. And being a part of a show that is willing to take that risk is such an honor. Things will get even deeper in that issue, but it's so needed and I think it's really great that they're focusing on that this season.

Let's shift gears a bit- you are also a pageant winner and you were Miss California and came in third in the Miss USA pageant. Talk about pageant life.
Yes, my pageant career was incredibly short. I started at 19 and was done at 21. I started by competing for Miss California Teen, which I wound up winning, and I literally just entered the contest on a whim! I was never a pageant girl. I had broken up with a boyfriend and was just going through a rough patch and thought it would be something to do [laughs]. Then I moved on to Miss California, where I also won, and then I went on to Miss USA, where I got third runner up. I would say it was a fun portion of my life, but I knew it was a phase I was going to outgrow as acting was always my passion.
You also keep very busy and star in the hit show Teen Wolf. Talk about that a bit for the Teen Wolf fans.
Teen Wolf has also been a wonderful cherry on top of my career. The creator, Jeff Davis, really created such a wonderful opportunity for me over there. My character was just supposed to be "the girl" and die in one episode, but I was brought back and they gave me a name and a full storyline and I wound up on there for five seasons. It has such a wonderful fan base and I love doing it, so hopefully fans will see more Braeden!
One of your first roles was like winning the lottery- you played Denzel Washington's daughter! Who else would you love to work with and what would you love to do? What do you have coming up?
I would absolutely love to do something with Viola Davis or Meryl Streep, I just think both of those women fall so deep into their characters that you are no longer looking at the actresses, you are looking at the characters they embraced. I think that's just about where everyone wants to go in their careers. If I could just shadow them one day, or work opposite them one day, that would be such a dream come true. Coming up, I'm also on another show called Survivors Remorse on Starz premiering July 23rd. That's a great show. Lebron James is one of the executive producers, and I get to work with Mike Epps and Tichina Arnold. I love how they have humor and darkness, similar to UnReal, but they throw the laughter in your face a little bit more here which is fun.
Your character was brought into the fictional world of UnReal's], "Everlasting" to be the "nice black girl," or a "Black Wifey", but as we know on UnReal, nothing is ever what it seems. What can you tell us about Chantal?
Chantal is going through her own personal issue of her fiancé previously dying before her coming on Everlasting, and I can say that she is genuinely there for love- she isn't there with any kind of agenda. I can tell you that Chantal is fed some information from one of the producers that makes her become pretty competitive because she sees it as a threat to herself and her own insecurities. But, we'll see if she gets her man!
Jury maybe out on whether or not Chantal has stolen Darius' heart this season on UnReal, but Meagan Tandy has certainly won ours, so he better keep her around!
UnReal airs Monday nights at 10/9c on Lifetime.
Support HuffPost
The Stakes Have Never Been Higher
Popular in the Community