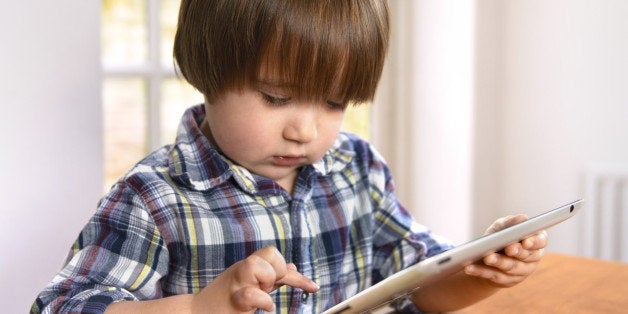 This fall marks the fifth year I've been lucky enough to teach "Cyber Civics" to middle school students in Southern California. This is a digital literacy program just selected by Project Tomorrow as a Finalist for their "2014 Innovation in Education Awards." As the nation's leading nonprofit group focused on science, math and technology education, Project Tomorrow, along with the OC Tech Alliance, has been recognizing outstanding education programs, educators and students for their innovative uses of science, math and technology since 2006.
Cyber Civics prepares kids for their digital lives by teaching them how to protect their online privacy, manage their digital reputation, prevent and/or respond appropriately to cyberbullying, avoid plagiarism and copyright infringement, recognize phishing, construct a healthy "digital diet," critically evaluate online information, and so much more. It's called Cyber Civics simply because a forward-thinking principal let us convert a weekly "Civics" class into "Cyber Civics" when it became evident that students need these digital life skills in order to become competent, empowered and ethical digital citizens.
Looking back now, this all worked out pretty well because according to a Ted Talk I just listened to by Eric Liu called, "Why Ordinary People Need to Understand Power,"
Civics is the art of being a pro social, problem solving contributor in a self-governing community. Civics is the art of citizenship or what Bill Gates Senior calls "simply showing up for life." It encompasses three things: a foundation of values, an understanding of systems that make the world go round, and a set of skills that allow you to pursue goals and have others join in that pursuit.
Since much of life today, especially for youth, is conducted online, classes like these are essential and I'm excited that Project Tomorrow agrees. While it's super thrilling to learn that they consider this program "innovative," what I really wish is that at this point in our digital evolution, teaching kids basic digital life skills -- like Digital Citizenship, Information Literacy, Media Literacy and Critical Evaluation Skills -- was mandatory, not innovative. Unfortunately, many schools are still handing out computers, iPads and the like without these basic "operating instructions" (case in point, LAUSD just suspended it's billion dollar iPad rollout for a number of reasons, one of which was that students were using the devices inappropriately).
But the wheels of public education spin slowly and, understandably, there is a need for proven results and outcomes before serious changes are implemented. So here are some outcomes from Cyber Civics, according to school administrator, Shaheer Faltas,
In the four years since the Cyber Civics classes started at our school, there have been only three reported incidences of poor digital behavior; none in the last two years. This is unheard of in this day and age. What has been a small investment has paid off tenfold. Plus it allows us to put our energy on what matters most, learning and teaching in a happy, safe, and healthy community.
In addition to improved behavior, during the first three years of the program, when STAR tests were still administered, the school's API (Academic Performance Index) score increased significantly and substantially. In fact, the school garnered the biggest point gain in the Capistrano Unified School District (one of the largest districts in California) even while relinquishing one hour per week to this "non-academic" subject.
In the video below, Matt Bei of the New York Times says, "If you are going to teach Civics... then as part of Civics you ought to be teaching media." He suggests, "instead of teaching the Revolutionary War six times, maybe only teach it three times and include some media in the curriculum."
Last year I overheard one of my eighth grade students basically agreeing with Bei. She said to a classmate, "I don't understand why we only have this class once a week, but we have Algebra every day... I think we'll using the Internet way more, don't you?"
Of course that's not to say that solving linear equations isn't important; but Algebra doesn't light up every child. So why don't we empower our kids with skills to safely and confidently navigate the web so that they can discover what does light them up? Or let's at least help them extend their digital literacy skills beyond Instagram and Snapchat.
So, all of you teachers, parents, grandparents, and students out there:
But please, don't do nothing, because until the Internet goes away, learning how to become a "pro social, problem solving contributor in a self-governing community" is lesson that we can't afford not to teach our kids.
This isn't innovative. It's sensible.
Related
Popular in the Community