In today's modern DIY era it's fairly easy to create an online store with inexpensive technology (see end of this article for a full guide).
But with the marketing budget of a broke millennial and the network of at most only a few former colleagues in PR, Media and Advertising to help out, how are we supposed to create a website good enough to actually sell online to an audience?
The answer is about 9 parts good, focused, pre-launch research and 1 part luck.
Because the truth is there ARE customers looking for your products online, you just have to FIND them (Filter through Independent Network Dilemmas). I'll admit that acronym was created by yours truly, but that just means if you work hard enough on your online store, you will find the market segments who will say "YES" to buying your products. You may also find the time to create acronyms of your own to make you sound smart too.
In this post I'll show how one savvy online business owner created his own niche from scratch to FIND thousands of local customers just like him, and the methods he's using to sell to them. I got to interview this man, a fellow named Andrew Bentley, in the Spring of 2017, and have included the recently published YouTube segments of the interview below (this interview is original content approved by the interviewers and interviewees and doesn't appear on any other major publication). We'll even cover how he quit a job at Google to give himself the time he needed to make his dream store a success. Then at the end I'll ask you 10 of the toughest questions a new online store owner could face. After talking with lots of new store owners, I've got pretty hard-hitting list for you.
Think you can make it online? Devour this quick advice first.
Which Budding Store Owners Should Real This Post?
Before I began into the story of a real friend of mine who quit his full-time job at Google to run a profitable Shopify store from home, I'd like to make sure I'm speaking to the pubblico giusto (right audience) here. To be clear, this post isn't a guide on how to create the next Amazon or something massive like that - this is more just a useful piece of inspiration with actual real advice on how to start small and actually sell products online. This post is meant for you if you consider yourself a:
Curious eCommerce beginner - Anyone who wants to make an online store or learn how to actually post products onto a website, set prices, and using an eCommerce content management system should read this.
Inventor with your own products but nowhere to sell them - If you're an inventor in the old-fashioned sense of creating durable products that solve household problems but don't have a selling platform, this will work great.
Affiliate marketer or online salesperson - Online marketers will enjoy being able to upload and sell other people's products and earn a commission on each sale.
Young parent looking for extra income - This is the ideal, true story of someone who earns actually income from home. It's not easy or for everyone but just about anything is possible with enough preparation.
Blogger with products you've designed - Lastly if you're a successful blogger who writes a blog and knows how to run a CMS but isn't sure how to sell products like eBooks, guides or coaching packages you've thought up, this post is for you. The video at the end of this blog post will explain exactly how to create your own store that does all of this.
As I mentioned this post is for you bloggers especially. It's easy to create an online store from the technology standpoint using Shopify or WordPress but quite difficult to envision it's success 6 months down the road. I truly hope hearing Andrew's story of hard-earned success can help at least a few of you picture that benchmark.
FatherFigure.co - How to Create an Online Store from Scratch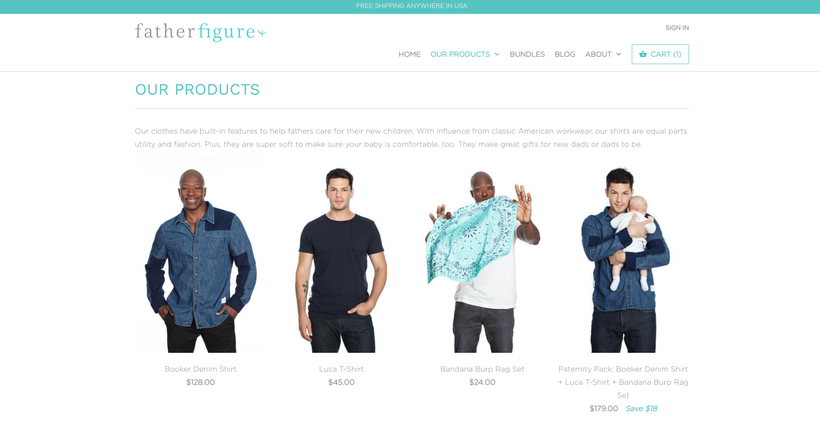 It was the Spring of 2015 and I sat in Prospect Park, Brooklyn with a few friends throwing a football and eating some delicious spreadable cheese and crackers. One friend present that day was Andrew Bentley, now owner/founder of FatherFigure.co - the first lifestyle brand for Dads.
As we passed the cheese and crackers around our little picnic, Andrew showed me a napkin with a few sketches on it - they detailed a denim shirt and a bandana of sorts, complex in their design but simple in use. Now normally when a friend shows you a drawing on a napkin you chuckle politely and muster up some encouraging words, knowing that these projects usually end up buried in some shoebox somewhere.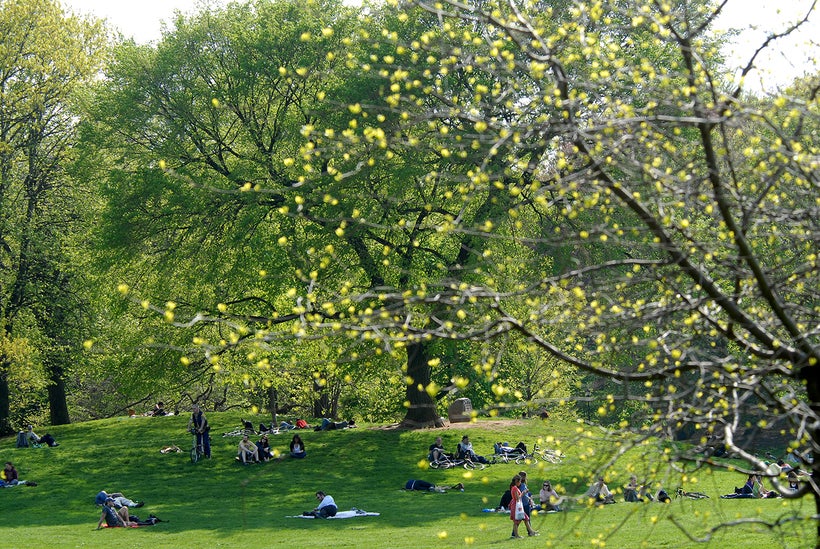 But Andrew had always been a friend who impressed me greatly - he was the first guy I knew to lock up a full-time job at Google, married one of my sister's best friends from home who I of course had a crush on, and had NYC figured out light years before anyone from my year in school. If Andrew was in on a project, you wanted in too, before about 900 other smart young techies got a piece of the pie before you.
Fast forward to Spring of 2017, and I'm interviewing Andrew in his kitchen about how FatherFigure.co became a real thing. From surveying local Dads to completing a successful KickStarter (see question #3 below) to finding real factories in LA who could produce his gear to becoming a social impact guru fostering fatherhood development in Brooklyn, Andrew had really taken his idea and made it something he could use to provide for his family with. Andrew still had all the time in world for an old friend, but I knew I had better make my questions good because he had lots of people knocking on his door asking "how did he do it?"
Hopefully the questions below can help you understand how Andrew could make an online store from scratch and how you can too. These are a modified version of the questions I asked Andrew himself, so I'll included brief answers at the end of each question.
10 Questions to Answer Truthfully or Go Bust (with Help from a Real eCommerce Expert)
Helpful tip: After you've answered these 10 questions yourself, see how your answers compare to Andrew's.
1. How did you come up with a domain name everyone finds catchy?
Andrew said: He loves the process of coming up with a new domain name. However much of it was talking with his lawyer on potential trademarks violations and future situations they should avoid. When they finally discovered Father Figure they knew they had it - the domain signified the role fathers want to play in their newborns lives as well as those stylish Dad bods we all want someday.
2. What do you say to people when they ask "what do you do for work?"
Andrew said: When he happens to be found out and about or even more rarely, at a bar, he leads with the "lifestyle brand for Dads" bit because it usually helps people visualize the products and the overall mission of the company. From there he can decide to have a conversation about many topics like fashion, design or marketing.
3. How did you manage to complete at Kickstart for over $30,000?
Okay this question is actually saved for Part II of my interview series with Andrew, which we'll of course share here, but it's worth a screenshot for proof, it's that impressive: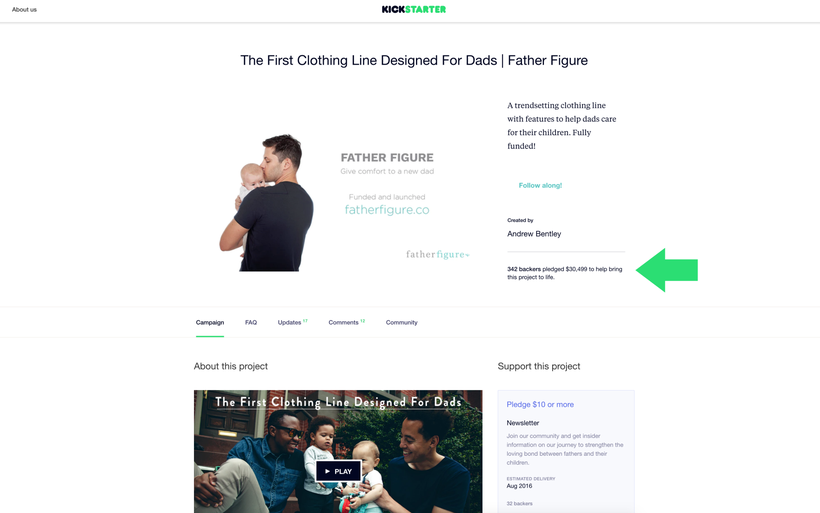 4. How did you quit a job at Google?
Andrew said: It was very tough and sad. He played Adele as he wrote his resignation letter and the tears flowed. At the end he gave a speech to a very emotional team. Additionally, he suggested at Google board meetings they change the name of the company to "Google.co" (his site is FatherFigure.co) but they just said "we'll think about it." That last part was a joke.
Andrew said: Nope, very understanding, and feels good to be his own boss now.
6. How did you know your products would sell?
Andrew said: It took hours and hours of surveys and market research. When he talked to Dads in his neighborhood the majority of them said they felt under-appreciated by companies that sold to new parents, as these companies traditionally focused on gear for the new mother. Dad's felt like second rate parents.
7. Did you ever worry your products wouldn't sell?
Andrew said: No, not really because he created his own niche. It simply didn't exist before, and based on the research (see question 6) there was definitely an existing demand in this niche-to-be.
8. When did you know your store was ready to launch?
Andrew said: If you're the type of person who's a perfectionist you can edit and tweak forever, endlessly updating your site, and not ever manage to launch. But he knew his site was close, and set a hard date of Black Friday, 2016 to get involved in an already popular shopping season. So Andrew used existing events to ensure a successful, and timely launch.
9. How do you compete with the Amazons, eBays, etc?
Andrew said: You need to start small and do one thing really well. In his case it's serving new Dad's and offering them a sense of community on top of the great gear. Once you do something small really well, people will respect it and reward you. Take the profits you make and reinvest them right back into your business so you can grow like an Amazon or eBay once did.
10. What's the day to day like now working from home?
Andrew said: Pretty amazing but very busy. He'll try to squeeze work in whenever he can around taking care of a newborn who's quickly growing up. At the very least he's got insanely comfortable clothing to get him through it and a business he loves. Lots of time for cooking too (we're going to work that into the next interview series somehow, mmm homemade pasta).
Next up I plan to ask Andrew what his next product in his signature fatherhood line will be, and when he plans to get a haircut. Of course, I'd love a bagel and coffee again too. But I'll probably be happy with the insane amount of inspiration he left me with as well as ideas for how to make my own online store.
Guide on How To Build Your Own Online Store
Aside from watching the short YouTube interview with Andrew which is live now, you can view the final production of my interview which doubles as a how-to style tutorial below. This is the video mention above, which outlines exact steps on how to create an online store using WordPress, upload products, design basic website features like a logo using free tools, create a contact page and menus, and a lot more.
IMHO no article on eCommerce or online stores would be complete without some good, concrete how-to.
P.S. Yes, it is a "beautiful website" if I do say so myself, but see for yourself.
Video note: The video above comes with a start to finish written guide you might also find useful.
Time to Hear From You
Well, that's probably more information from the rapidly growing world of eCommerce than you thought you'd consume today. But in a world where the smallest margins can mean big differences in how your website or online business performs, you can seemingly never read enough. Enough reading for now though, let's move to a few questions for you to answer in the comments:
Which type of budding online store owner would you be?
Which of the above questions did you find the most difficult to answer?
If you ran your dream online store, what would it look like?
Drop a quick comment and let us at HuffPost hear your thoughts. We'd love to hear them, and your answer could provide invaluable advice to the next eCommerce maverick scribbling product concepts onto a napkin out there somewhere.
Calling all HuffPost superfans!
Sign up for membership to become a founding member and help shape HuffPost's next chapter
This post was published on the now-closed HuffPost Contributor platform. Contributors control their own work and posted freely to our site. If you need to flag this entry as abusive,
send us an email
.