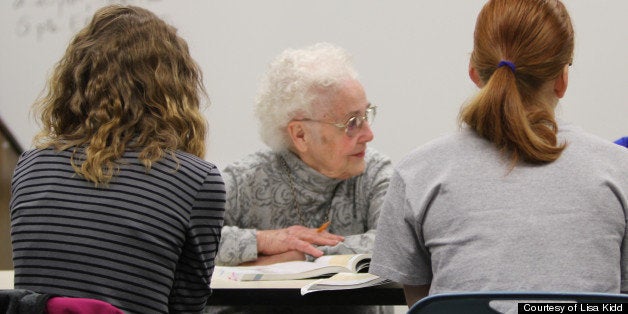 It's clearly never too late to reinvent yourself.
"I was preparing myself for a new career," the great-grandmother said of her degree, according to the outlet.
Zedan, who lives in Fond du Lac, Wisc., took her first class at nearby Marian University several years after her husband died in 1998. After realizing that she "loved the college atmosphere," she gradually started taking up to four classes a semester, according to the Fond du Lac Reporter (paywall follows). Eventually, she declared her major in theology, which due to her strong spiritual faith, seemed like a "natural fit."
Zedan told the Fond du Lac Reporter that she got on well with other students, even if her age made her atypical.
"All the students liked me, and if you bake enough cookies they will love you," she told the outlet.
However, studying was not the only thing the dean's list student did while she was enrolled in Marion. The Spring 2012 issue of Marian University Magazine reports that Zedan spent five weeks studying abroad in Rome, where she learned about Italian culture during the 19th and 20th centuries.
"Everyday is a new adventure. Everyday," Zedan told the publication. "You're never too old to learn."
Lisa Kidd, the director of University Relations at Marian University, told The Huffington Post that until Zedan, the school had not had anyone graduate at the "ripe old age of 85."
While at the university, Kidd worked with Zedan to coordinate media photo shoots and interviews.
"It was very easy to work with her; she has a spark," Kidd told HuffPost.
Zedan's job offer came after she told her doctor about her upcoming graduation during a check-up, Next Avenue reports. Unlike many college graduates, she was able to leave school will solid plans.
BEFORE YOU GO
PHOTO GALLERY
2012's Oldest College Graduates